The See Colombia Travel Best Meme of 2012
Keep Calm and See Colombia
Sometimes, all the pieces fit. The best memes are simple, memorable, visually arresting, and put a little twist on something that's in the collective consciousness. Here, we have a familiar formula given a little spin, using a bright, effective and relevant visual arrangement. When someone asks me (and it still (!) happens) if Colombia dangerous, I feel that instead of dignifying it with an answer, I should just get this as a flashcard.
Runners up: Come to Colombia Arepa; Anthony Bourdain; "The only U in Colombia should be YOU".
The See Colombia Travel Best Song of 2012
Volví a Nacer – Carlos Vives
In a world where irony often trumps sincerity, it can be refreshing to hear a song so openly heart on sle… No, I can't do it. I find this song incredibly cheesy. But, such is the force of repeated listens (and I mean repeated – you can't escape this song in Colombia) that I've eventually come around and begun to like the song. That might be called 'indoctrination' by some, but here in the See Colombia towers we just ride the wave and enjoy the groove.
Runners up: Monsieur Perine – Sabor a Mi; Esteman – Pobre Corazón
The See Colombia Travel Best Post of 2012
The New Sound of Colombian Music: Five underground artists you have to hear
Think Colombian music is all Vallenato and Reggaeton? Think again! Paul F took a look at some of the best up-and-coming Colombian artists including the sultry Parisian-inspired Monsieur Periné and the 60s girl-group sounding band Esteban.
Runners up: Why I chose to live in Colombia (JL);
8 frases que solo he escuchado en Colombia (JL)
The See Colombia Travel Funniest Post of 2012
Adopt a Hipster
Paul G got us giggling at the thought of adopting a hipster this year. "What do you get when you take a hobo, add some emo, a touch of metro? A hipster. I'm not one, though." Sure you're not Paul.
Runners up: Colombinglés – The Colombia Travel Blog's Definitive Guide to Colombian English; Halloween in Colombia: The Spooky Urban Legends of Bogotá; Arepas – love them or hate them? The great arepa debate
The See Colombia Travel Best Video of 2012
People Around the World Vote for Colombia!
It wasn't enough to win the FITUR competition, but damnit we came second and were named best blog in Colombia and for that we're hugely proud. This video was fun to make and, best of all, shows the diversity of backpackers that are making their way through our fantastic country. It's thanks to people like these that the reputation of Colombia is changing.
Runners up: A Baby and a Dog; Nicole reunited with her family; Paul on Caracol
The See Colombia Travel Most WTF Moment of 2012
Well, I don't know if you're aware, but we here at See Colombia Travel are kind of a big deal. Like best blog in Colombia kind of big deal. Anyway, while we were frantically canvassing for votes in the FITUR competition for the best blog in South America (we were finally squeezed out by a Peruvian blog, but I think there were some inconsistencies in the Florida ballots), our esteemed blogger-in-chief, Paul swung around to  See Colombia's towers to find JL, our commander in chief, crouched over a shaking cup of coffee, eyes glazed over and smiling with a barely contained manic intensity. "Hi, Paul; welcome!!! I've been up since 4:30," was the greeting; "Let's get to work!" Fun and frivolities were destined to follow such a frantic greeting.
Runners up: Paul, Chris, and big booty ants; Sarah stumbling on moustachioed women; JL's encounter with a crazy bird.
The See Colombia Travel Best Photo of 2012
Josmi Amin Martelo
This photo, I feel, perfectly captures the feeling of one of my favourite poems: "Taking Leave of a Friend" by Ezra Pound.
Blue mountains to the north of the walls,
White river winding about them;
Here we must make separation
And go out through a thousand miles of dead grass.
Mind like a floating wide cloud,
Sunset like the parting of old acquaintances
Who bow over their clasped hands at a distance.
Our horses neigh to each others
as we are departing.
Runners up: Wayuu Dancing by Paul Fowler; El Cocuy by Chris Bell; Alligator by Harold Schafer
The See Colombia Travel Best Meal of 2012
Chamberí
There have been a whole host of good meals this year, from the traditional fried fare to the elegantly prepared gourmet feasts. But the best meal has to go to Chamberí the Spanish-inspired restaurant created by chef Daniel Meroño. We shared a variety of dishes but the most talked-about meal on the menu at Chamberí is "Homage Au Pied de Cochon" which is a share plate of different types of pork including croquettes and shredded pork portions. The idea is to share the dish which is accompanied by lettuce pockets. Topped with meat and a variety of salsas, both sweet and spicy, this rich and delicious meal was the perfect Christmas treat.
Runners up: La Goya for their delicious paella and tapas; Cebiche from La Mar, Usaquén; Traditional tamales and hot chocolate from La Puerta Falsa, La Candelaria
The See Colombia Travel Best Club of 2012
La Villa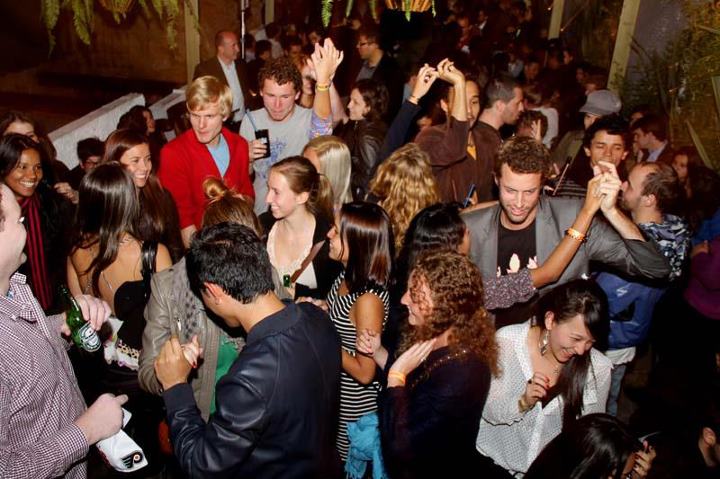 With the arrival of Exchange Salsa, La Villa confirmed its place as one of the best and most popular clubs in Bogotá. With music ranging from techno to house to salsa to reggaeton and drink offers that have me salivating RIGHT NOW, there are few options in the city that can beat La Villa.
Runners up: El Tibiri (Medellín); El Mirador (Taganga); Cabaret (Cali).
The See Colombia Travel Best Bar of 2012
Billiards Bar, Salento
Even though this is the kind of place where ordering a scotch and coke– let alone a Manhattan – would occasion the near-imperceptible raise of a sceptical moustache, the beers are ice-cold; and the rum and aguardiente flows profusely at impressively inexpensive prices. The main drawcard, however, is the opportunity to rub shoulders with real-life cowboys, replete with hats, ponchos, belt-buckles and facial hair. Plus, it's in picturesque Salento, smack-bang in the middle of the coffee triangle.
Runners up:  Ceci's (dive) Bar in La Candelaria, Bogota; Casa 53-76, Chapinero, Bogota; Malagana Café and Bar, Getsemani, Cartagena.
The See Colombia Travel Most Unusual Search Term Used to Find Us
"What's the Spanish for Juan Valdez?"
Back in July my reaction to this search term was: "aaaaand we're all a little bit more stupid having read that". I haven't changed my mind. This search term did have to fight off some pretty stiff competition though, and I recommend you check out some more hilarious keywords used to find See Colombia Travel.
Runners up: "Aaron, what are young doing?"; "Racist ice cream"; "Where to cash a $500 peso coin?".
The See Colombia Travel Best Moment of 2012
Nicole Finding Her Family
Nicole finding her family was undoubtedly the best moment we have ever experienced at See Colombia Travel. After she was kidnapped as a child, her being reunited with her parents made headlines around the globe and we were honored to be a part of her amazing journey and to help her find her family. We had a lot of other great moments, including being voted the best blog in Colombia and second best in Latin America by FITUR, but this one topped them all.
Runners up: Toya Viudes joining the See Colombia Team; See Colombia Travel voted as one of the best Travel Blogs in the Spanish-speaking world.
The See Colombia Travel Most Underappreciated Post of 2012
Colombia's Caribbean Coast in Photos: From Cartagena to La Guajira
Who doesn't love the Caribbean, right? Pure, turquoise waters; carnivals; a lost city, not to mention one of the hottest destinations in the world, Cartagena. So, who wouldn't love to marvel at all these wonders in a gallery of beautiful photos capturing these different facets of the Caribbean? Everyone except seven people, apparently. See the post here.
Runners up: Cafes in Bogota – Casa 53*76; Plane VS Bus.
The See Colombia Travel Best Hostel 2012
The Cranky Croc, Bogota
What I look for most in a hostel, apart from cleanliness and hot water, is the people. And, although it is always a lottery as to what the backpackers themselves are like, the staff themselves are much less of a gamble. So, when it comes to affability, helpfulness and downright goofiness, the local staff at this Croc are anything but cranky. There's also a well-appreciated TV room and communal area, and a cat and dog couple with an endearing – if a little weird – relationship.
Runners up: Explora Hostel, Bogota; The Dreamer Hostel, Santa Marta; La Serrana, Salento.
The See Colombia Travel Best Destination of 2012
La Guajira
Two of the team (Paul Fowler and JL) were fortunate enough to visit La Guajira this year, and the contrasting accounts (Paul's and JL's) of the trips just go to demonstrate the stunning diversity on show in this area of Colombia. From vast, firey red deserts that border bright turquoise shores to rich, verdant flora and vallenato, La Guajira is a region that seems to have everything.
Best of all, it's thoroughly off the beaten track. Go there now, is our advice.
Runners up: Bogotá; Medellín; Nariño
The See Colombia Travel Best Blog 2012 (Besides ours, of course 😉 )
Colombia de Una
Toya Viudes hails from Spain but settled down in Bogotá when she was convinced to visit the country by friend and chef Daniel Meroño. Toya created her blog to share all that she had fallen in love with about Colombia and is the most widely-read Spanish blog about Colombia in the whole world. You can check out our interview with her here.
Runners up: Banana Skin Flip-Flops; Medellín Living.
The See Colombia Travel Team