Colombia, as we're at pains to stress here at the Colombia Travel Blog, is a country of baffling diversity. Here I've visited huge metropolises, beautiful countryside, coffee plantations, the Amazon jungle and now the arid deserts and raw coastlines of La Guajira.
I was fortunate enough to be given the opportunity to go to La Guajira by virtue of this blog being an Official Colombia Blogger. I flew into Riohacha, where I was greeted by my guide and taken immediately to a ranch; home of a family of Wayuus. It was a great insight into an ancient culture, and I learnt a great deal about how they lived. I was treated to a traditional dance show in which I had to participate, but thanks to my mediocre Spanish and their thick coastal accents, it's fair to say my understanding of what to do was limited. I did not shine.
The following day I had to wake at 5am (which is an hour I only see on Saturday or Sunday mornings) to be taken to Punta Gallinas, La Guajira. This was the part I was looking forward to. As someone who writes about Colombia I'd heard a great deal about the wonders of this part of the world, and I was aching to explore it. It was a grueling journey on a bumpy dirt-track, but eventually we arrived at Las Dunas.
At Las Dunas you see nothing but windswept sand and sea for miles and miles. It's the first point on the trip that brings home to you how far away from anything resembling civilization you are. This is a practically untouched part of the world, and for the most part uninhabitable.
Still, there's little to do at this point but appreciate the view, so we're shortly back in the car and on our way to where I'll be staying the night: Hospedaje Luzmila. It's another hour and a half to get there, but the reggaeton kept me going.
We arrived at the ranch and were greeted with a delicious fish lunch. After this I took my time strolling around the area, taking in the incredible views at Punta Gallinas.
I spent my night in a hammock reading. The perfect antidote to life in hectic Bogota. It was probably the first time in years I went to sleep before 10.30pm.
The next day I was taken to Cabo de La Vela, which for many is one of the highlights of La Guajira. It's easy to see why. The beach, for starters, is swimmable, and the views from the Pilon de Azucar are stunning. It is, all in all, a photographers dream. Me and my amateur skills did the best we could, but thanks to the natural beauty of the place it all came out pretty well.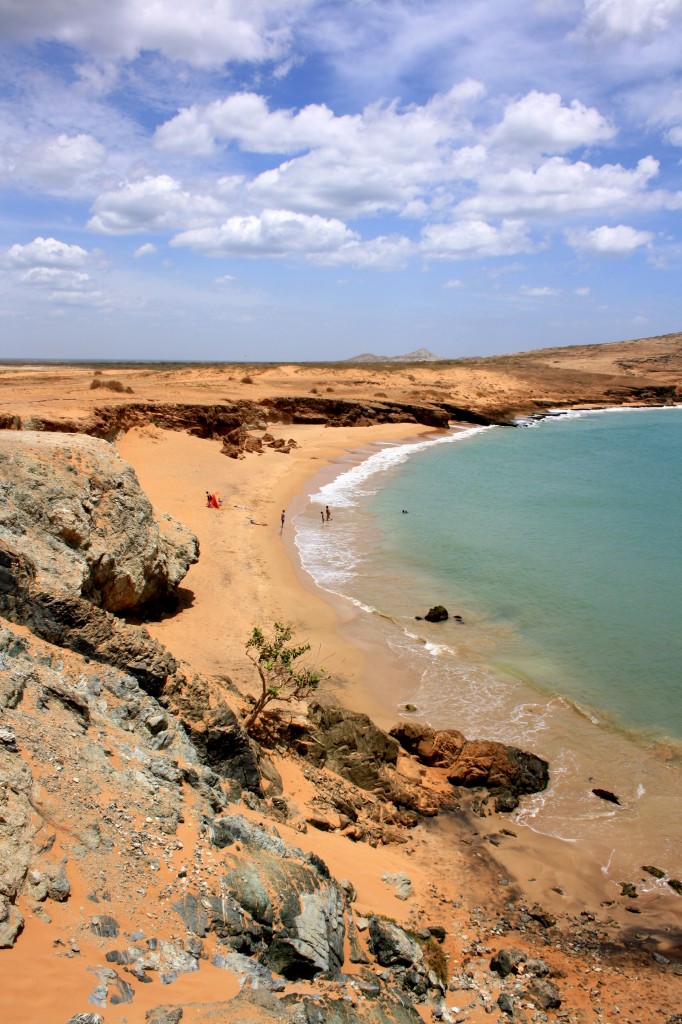 Having taken a dip in the Caribbean there was little left to do but head for some more delicious seafood and drive back to Riohacha.
There are few places in the world like La Guajira, and my trip there was one of the highlights of my time in Colombia. Being an Official Colombia Blogger is all in all pretty sweet so far. La Guajira is definite must visit if you travel to Colombia.
If you're interested in visiting La Guajira, get in touch with See Colombia Travel for more information.
Paul