This Saturday, May 13, is a massive day for Colombia; a chance for the country to break a world record and make history. However, unless you, like me, are a binocular-sporting bird enthusiast it's highly unlikely that you have this date triple-circled in red marker pen in your diary. But I, and thousands of birders worldwide, have been waiting for May 13 for months now! Why? This Saturday is the Global Big Day…I can hear you asking:
What is the Global Big Day?
The Global Big Day is one day a year when teams of birders worldwide spend the entire day (and I mean the entire day: you have 24 hours from midnight to midnight!) trying to see and hear as many species of bird as possible. The results are logged on eBird (there's a great little app you can download to log species on the go) and there are competitions within cities, regions, countries and continents to see who can observe the most birds. The big contest is for the country that collectively observes the most species. Colombia is No. 1 in the world for bird species, so Colombia always sees the highest number, right?! Wrong sadly. South America, as a continent, collectively saw the most species last year, but Colombia lagged behind in third, with Peru and Brazil occupying spots 1 and 2 respectively. Colombia's birders didn't actually break the 1000 species mark – no disrespect to the dedicated birders who got out that day and logged all those species, but we can do better!
And this year we will do better, thanks to the highly dedicated efforts of a team of birders who have thrown all their energy into pushing Colombia to claim the No. 1 spot this year, and giving the country a shot at breaking the world record for species seen in one country in one day! The (tricky) goal is to get past Peru's total of 1223 from 2016 and claim the top spot in the rankings for the world's birdiest country: it's where we belong after all! This team, led by bird guiding legend Diego Calderon, have dedicated months of time and effort to making sure that Colombian birders are collectively organised and ready to bird like they've never birded before this Saturday. They have identified the key regions of the country for maximum bird numbers, and made sure that all of those regions have a strong team of observers ready to get out and see those species! They have also created a detailed spreadsheet of all the species missing from Colombia's list last year, and made sure that many of these (often relatively easy) species will be on the list this year by assigning teams to key habitats. They have created a clever and eye-catching series of "Wanted!" posters of key missing species to encourage local birders to get out and register those species in 2017. The slogan of "Cada ave cuenta" or "every bird counts" perfectly captures the spirit of the event: it doesn't matter how much of an expert you are, where you are birding, or who you get out birding with – every species counts this Saturday! You can check out the Global Big Day Colombia Facebook page for more information and to see what species are still required.
Sadly, there are some really bird-rich regions which are unlikely to be represented this Saturday – Diego pinpointed the Darien highlands on the Panama border as "simply out of reach" – key species to be found there include the Pirre Hummingbird and Tacarcuna Wood Quail. Similarly, the remote Chiribiquete National Park, which contains a rare and endemic hummingbird, the Chiribiquete Emerald, is equally out of reach. Maybe next year! However, the exciting possibilities of these hard-to-reach and remote sites is not lost on Diego: "We are still living the Victorian times of exploration and discovery here in Colombia – finding a completely new species whilst on a trip is not a crazy or impossible idea here in Colombia!"
But why does it matter so much that Colombia claims the No. 1 slot? According to Diego it is important for Colombia to be No. 1 for two reasons: the first is that "being competitive" in the Global Dig Day helps push for more "development of our own tourism infrastructure." The second reason is really more important in the long term: "The Global Big Day is the perfect excuse to get people out in nature and go and enjoy themselves while seeing some birds… in nature reserves, national parks, or even the neighbourhood local park in front of your house." Diego summed the true appeal and impact of this day perfectly when he said that "having almost a thousand Colombians out seeing birds for the GBD is simply a mind-blowing, beautiful excuse to get in touch with nature." He couldn't be more right: regardless of records, inspiring new generations of birders is the true goal here.
So where will I be spending the Big Day? As an avid birder I have been anxiously waiting for this day since I first spoke with Diego about it at the Colombia BirdFair in Cali earlier this year – I thought carefully about where I would travel on May 13. I considered staying in Bogota where I live, but wanted to be able to get out and make the most of the big day in a more exotic birding spot. My mind was made up for me when I was invited to take part in the Global Big Day in Guaviare department which, as followers of this blog will know, is fast becoming my very favourite Colombian department to visit, and offers an excellent combination of jungle and llanos birding.
I will be be enjoying the Global Big Day with my friend Cesar Arredondo (an excellent guide in Guaviare as well for anyone who's looking) – we will be up at about 4am on Saturday morning and drive around 4 hours through the plains and jungles to the east of the city. Along the way we'll be stopping at key sites to try and pick up species in a diverse range of habitats. Our ultimate destination is the Damas de Nare lake, a tiny little Amazonian oxbow lake deep in the jungle where we will be able to register a variety of species in many different ecosystems. We will stay overnight (getting out in the evening to look for owls and nighthawks by torchlight) and head back on the Sunday morning. Cezar's last list from this trip is 160 species, so we should be able to contribute strongly to the national Big Day list, and have an amazing travel experience at the same time. Nare is famous for its friendly pink dolphin population, so there will hopefully be some non-feathered friends to maximise the fun! I asked Diego for some key species to aim for, that are "wanted" for the national Big Day list, and he named some tough ones (who doesn't love a challenge, eh?!) – if we can register any of Cinereous Tinamou, Cinnamon Attila, Black-spotted Bare-eye, Velvet-fronted Grackle, Tawny-bellied Screech-Owl or Rufous-crowned Elaenia we'll be a big part of any success Colombia has on May 13.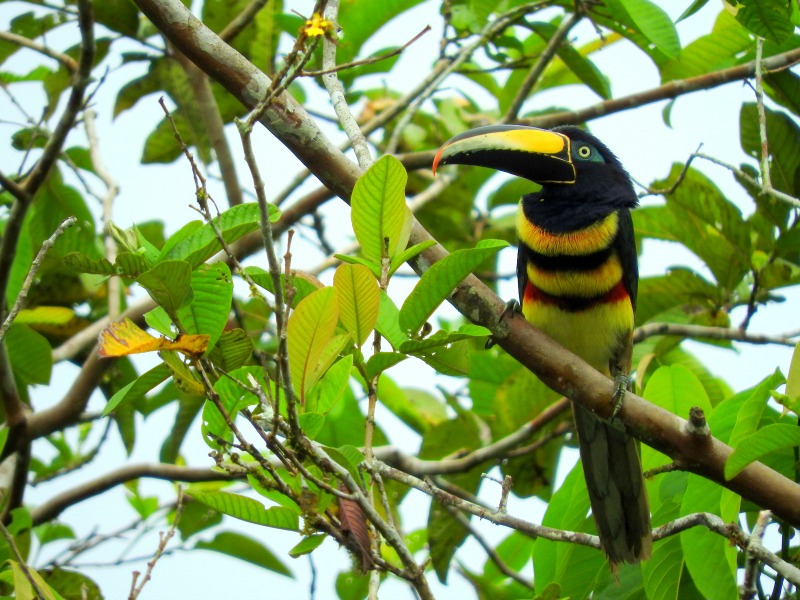 At the end of the day the Global Big Day is about getting the world outside looking for the birds: planet-wide birders logged over 6,000 species last year, and the goal for 2017 is over 7,000. It's about being part of a global community of like-minded, passionate individuals. It's also about contributing to scientific knowledge and conservation: eBird take the data from all those lists and can use it to better understand habitats and movements of species. And within Colombia, it has been about bringing a community together in a shared goal – connections have been made between local and regional birders who might never have met, but can now bond over a shared goal. Birding will be key to Colombian tourism in the future, and a strong Big Day can really send an international message to birders about where their next birding trip will be.
So how can you get involved? Diego has the answer to that question: "If you are a birder, no matter if you only have a tiny bit of experience, and had not idea about this GBD, go out birding on Saturday 13th and DO UPLOAD your list(s) to eBird… if you're not an eBird user, it is easy to create an account and upload your data [they have an excellent App that works offline as well]." Alternatively you could send a message to the Global Big Day organisers; find out where there's a team near you and sign up. As we said, you don't have to be an expert, just willing and with a pair of eyes and binoculars (you might even be able to borrow these). You will meet interesting people and have a fun day out, but above all, you will be part of a historic event for Colombia; you will become part of this country's birding history. Not a bad way to spend a Saturday, eh!?
Chris