Click aquí para la versión en castellano de este post.
Phew! What an emotional week this has been. I'm sure you've all already heard the story of our dear friend Nicole – how she was kidnapped, put up for adoption and never told anything about her past. We were delighted to announce last week that we found her biological family! Before going on, I urge you to watch the video below because it has me in tears every time!
It was about 5 years ago when I started my Colombia Travel Blog from our flat in Buenos Aires.  It was my objective to let the world know about the new Colombia; thanks to God and an amazing team in no time it became one of the most important sources of information about Colombia.
But what I could never have imagined then, on my balcony, watching the sunset in BA, was that we would be the link in one of the most amazing stories I have come across.
As some of my passengers will know I love being in contact with people that are planning to travel to Colombia  and even though I have a fabulous sales team, I can't help myself and I take some of the requests that get to us.  I'm so glad I took this particular request. Her name is Nicole, she was planning to come to Colombia for the 70th anniversary of the adoption house from which he had been adopted more than 35 years ago.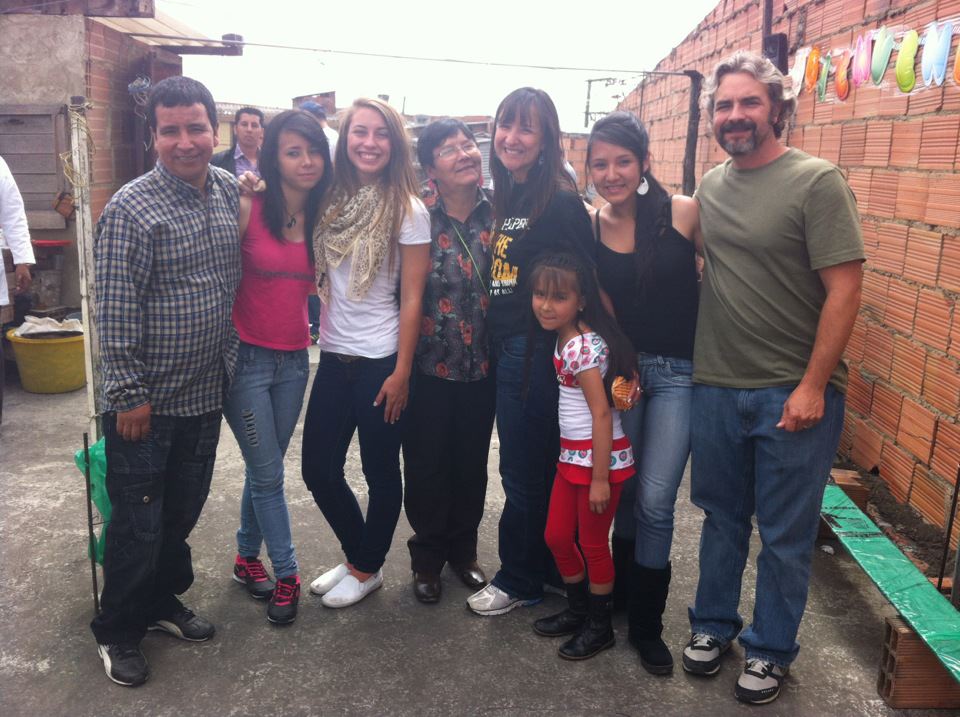 I always get very happy to hear that our fellow Colombians are looking back to their roots and I just thought this was one of the many we have assisted in the past. But her story was not a simple one; after 4 hours on the phone and loads of tears she told me very specific details about the precise moment in which she had been KIDNAPPED!
She remembers that a lady dressed in black took her away from her brother and family and about a month later she was flying to the states with her new family.  What made me cry the most is that she, after almost 40 years, remembered very specific details about the park where she was playing with her brother, the wall where she sat crying because she had an argument with her brother, her mum's food cart with a little door, her dad's dimple in his chin, and… well I must stop there otherwise this post would be too long and too sad when in fact it's completely the opposite!
I did say earlier that this is one of the most amazing stories I have come across but I forgot to mention that it's also one of the happiest and life-changing stories I've witnessed. Not long ago the well-known founder of Apple – Steve Jobs – said: "You can't connect the dots looking forward; you can only connect them looking backwards. So you have to trust that the dots will somehow connect in your future. You have to trust in something – your gut, destiny, life, karma, whatever." Well, I have the pleasure of sharing with you that See Colombia, my fabulous team, amazing friends, my beautiful husband and our fantastic use of social networks; we all were the dots in Nicole's life that after so many years found her back in the loving arms of her family.
To make a 4 month long story short, it makes me very happy to say that WE FOUND NICOLE'S FAMILY!!!  =) From the very moment I spoke to Nicole on the phone I promised her I would do everything in my power to help her find her family and so we did. Immediately after I told JL about her story and we started working on an online strategy that involved all our social platforms. We shared videos, pictures, and wrote numerous articles about it on our blog. We were lucky that the whole thing got viralized and eventually found its way onto national news networks!
I was also very active offline. I would tell the story to anyone I could, family, friends, taxi drivers… Just about everyone!!! I spoke to Michelle, a very good friend whom I met in an interview she did on us about Medellin for CCTV (Chinese English speaking channel).
The reach was unbelievable; we got leads from Spain, Colombia and Venezuela. We arranged a private vehicle to take Nicole everywhere and I offered myself as a translator in her search for her family.  There were ups and downs, loads of tears and laughs but she never lost her faith. Everywhere we went we found and met more families that were also looking for daughters, sisters that had gotten lost during the 70s and 80s. It was just heartbreaking to see their faces when they realized Nicole wasn't her. It was more heartbreaking to see Nicole's face when the stories didn't match and hear her saying… "and I still don't know my name!"
She had planned to visit Cartagena in her attempt to make this visit to Colombia a holiday, also. They'd been there for just a day and at 3am we got an email saying that there was a potential lead that started in Venezuela and took us to a southern neighborhood of Bogota. Next thing in the morning I'm on the phone talking to HER MUM! She sounded like a very sweet lady and she told me her side of the story which matched perfectly with Nicole's (that by then I knew by heart!), I also had Nicole on skype and I was translating for her in Cartagena. Michelle was also on the phone with the sister… It was just unreal!!!
After emailing old pictures and new pictures from the whole family back and forth, it was clear that the resemblance was incredible…. she looked just like them!!!  Nicole decided to get on a plane that same day and I arranged with Nicole's Colombian family that we'd all go the next day. When we got there, all I could hear from everyone was "that's her" ; then her mum met her on the street and hugged her. All we could do was cry, but this time it was definitely tears of joy, Nicole or,better, Irene was finally home again.
But, there was someone very special missing – the brother – who had been the last one to see her before she was taken.  We were told he lived in Venezuela and that as soon as they heard that Nicole was in fact Irene, he and his dad took a bus followed by a plane and got to Colombia the following day.  I thought I'd stop crying by then but, it started all over again when I got to the family's house to find them ALL finally reunited. They both held me tight and I started translating for them, they were both in tears and wanted me to say how much they loved and missed each other and how difficult life had been.  Jose, the brother, wanted me to tell Nicole how sorry he was for having left her alone in that park 36 years ago.
After many pictures were taken and blessings received the Medina Blanco family in full celebrated this beautiful event with a fantastic BBQ on the terrace; and JL, Maria del Mar and I were there to see Irene dance and celebrate until the early hours.
Irene, we all here at See Colombia Travel wish you a very happy and joyful life together with an even bigger family and please remember that you have friends in Colombia that you can always count on.
Dear readers thank you for reading and sharing with us these tears of joy =)
Marcela