Bogotá has been called 'The Athens of South America' thanks to the wealth of museums and galleries in the city. But art doesn't stop at the doors of the gallery; Bogotá is a city that lives and breathes art, as is evidenced by the sheer quantity of street art that decorates the city's streets.
Bogotá's graffiti has long been something I've wanted to learn more about. Why is there so much of it? Who are the artists? What are the meanings behind these murals sprawled over walls? How do they get away with it? Well, last Thursday I had the pleasure of joining a Bogotá Graffiti Tour and having all my questions answered by the very knowledgeable guide (and owner of Bogotá Graffiti Tours), Christian Peterson.
Rather than go ahead and give you the answers to all those questions, I'm going to implore you instead to take the tour yourself. It's (almost) free, after all (most people donate $20,000 to keep the tours running), and a great way to learn more about this often overlooked aspect of the city. I will divulge, though, that Bogotá has very different laws to back in the UK, and that accounts for how much graffiti there is in prime locations. It also means you can observe some truly excellent pieces on a Bogotá Graffiti Tour.
Tours take place on Tuesdays, Thursdays and Saturdays at 1pm and finish around 3.30pm.
People wishing to take the tour should sign up on the Bogotá Graffiti Tour website, and then meet with the rest of the graffiti-lovers in La Plaza de Los Periodistas, in the center of Bogotá.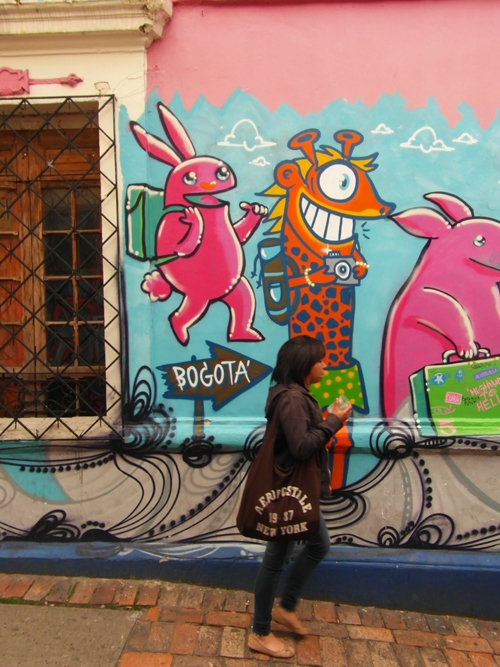 Many companies actually commission work from graffiti artists, as is the case with the piece above. This is on the outside of a hostel, and the mural stops vogue graffiti artists 'tagging' the building out of respect for the original street artists. For the hostel owner, this means a much more attractive façade.
But it's not just savvy hostel owners protecting their buildings. Some big companies are capitalising on graffiti's appeal to youth:
While Drive might be a great film, graffiti like this is still accused of having sold out. The commercialisation of graffiti may be somewhat inevitable, but many still fight the changes that come about with the arrival of money onto the scene.
Much graffiti in Bogotá retains an anti-government, anti-capitalist and all-round punk-influenced message: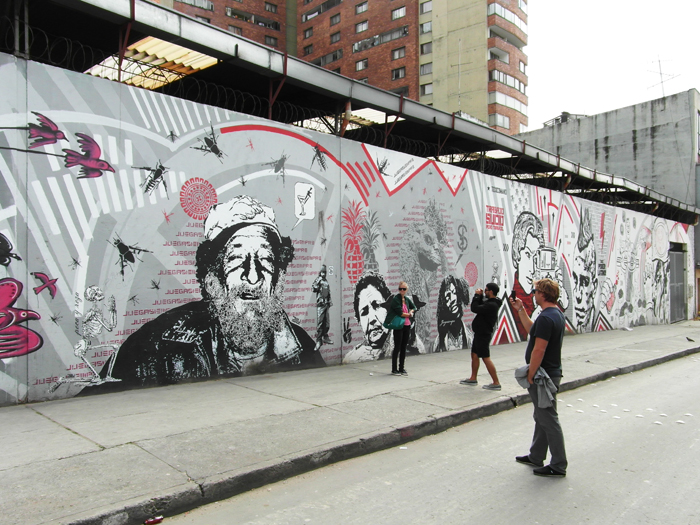 Even without the political message, it's still great just to appreciate the imagination behind much of the graffiti here: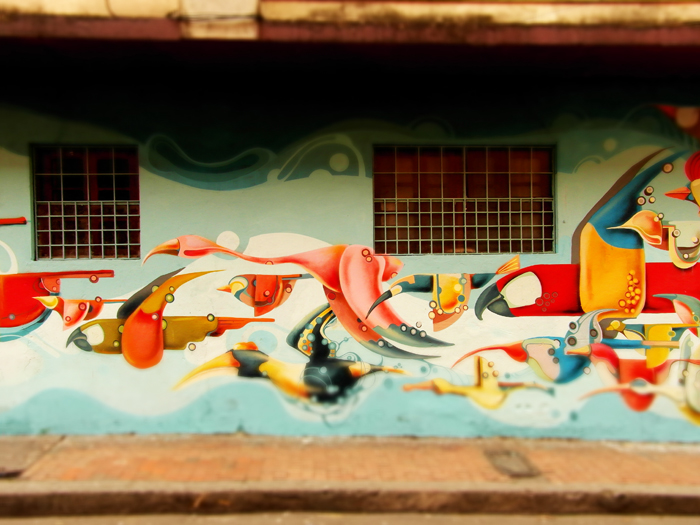 Be sure to get in touch with the guys at Bogotá Graffiti Tours for more information on one of the best tours in the city.
Paul
Thanks for visiting our Colombia Travel Blog. If you want to learn more about coming to Colombia please check out our Colombia tours.