Colombia had around 2 million foreign tourists in 2011, and experts are predicting this year to completely eclipse that already record breaking one: 4 million foreign tourists in 2012! Two of them were my parents…that's right, my parents in Colombia! Compare that to 1998, when about 70,000 visited this country (definitely not including my parents), and you have some idea of the changes afoot. However, this got Colombia Travel Blog thinking about the people who braved the challenges of Colombian travel in the '90's: why where they here, what did they do, what was it like, etc.? 
So, to start with, here is David Wood writing about the Lost City Trek in the 1990's, long before it became the backpacker magnet it is today: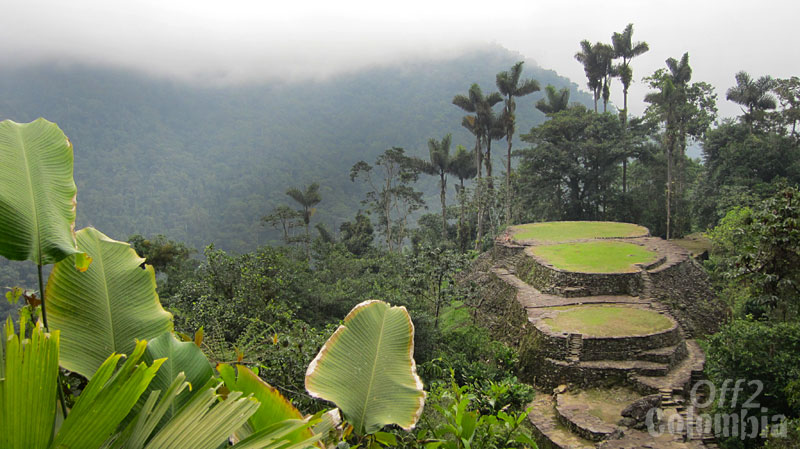 Expedition to the Lost City in Colombia
With the pack mules laden with sacks of food we began our journey. Two professional German climbers and a guide from Santa Marta named Miguel Ramirez accompanied me. Armed with a handgun and experienced in the mountains Miguel led the expedition. Miguel's Afro-Colombian wife who he called 'Gordita' cooked the food and proved to be very agile when climbing while two other Colombians named Pedro and Juan carried the equipment and led the mules. Pedro wore a pair of football boots without laces but climbed like a mountain goat and had the ability to spear fish in the mountain streams which proved to be useful. We intended to climb to the Lost City of the Tairona Indians high in the Sierra Nevada Mountains of Northern Colombia.
We set off over the foothills and into the jungle covered mountains with temperatures soaring above 100 degrees and spent the first night sleeping in a shack with noisy piglets. Next morning our mules escaped into the jungle with our equipment and had to be recaptured then we continued higher up the slopes which became steeper until the mules were unable progress further and they had to be left with a local farmer. Torrential rain at night turned the ground to mud. This made climbing treacherous and tiring as mist rose from the jungle, monkeys hooted from the canopy above, toucans and colourful warblers perched on branches and huge blue and yellow butterflies occasionally fluttered past.
Late on the second day we stumbled into a Cogi Indian village. The Indians lived in huts with their animals. They wore traditional white clothing with upturned flower pot hats covering their black shoulder length hair. They were passive, treated us with suspicion and took cigarettes from us. Several hours later after climbing some steep and difficult slopes and passing through an illegal cocaine plantation, we bathed under a cold waterfall which refreshed our tired bodies. With available pure drinking water we used the site for our encampment. Hammocks were slung up between trees, plastic covers were erected as protection from rain and a fire lit before everyone fell asleep after a gruelling day.
Next day we reached a towering vertical mountain face with hundreds of fragile steps leading upwards. These dated back centuries. After a long, hazardous climb in unbearable humidity and overhanging vegetation we eventually reached the top totally exhausted. We continued through thick undergrowth speckled with pink flowers towards the Lost City. Several armed soldiers in olive green uniforms suddenly appeared. They approached and asked to inspect our papers then let us pass to explore the ruins of the Lost City which the Tairona Indians had constructed to escape the invading Spanish conquistadors centuries earlier.
The Lost City, discovered in 1972, is known as 'Teyuna' to the indigenous Indians and is thought to have been founded in 800 AD, about 650 years earlier than Macchu Pichu in Peru. The Tairona Indians who constructed it had a sophisticated culture. They produced gold artefacts, built stone roads and bridges, maintained an efficient system of agriculture and a religious belief that the Sierra Nevada was at the heart of the world. The four Indian tribes who live in the Sierra Nevada still continue this old traditional culture and regard themselves as guardians of the area but are non violent, passive people.
Much of the vegetation had been cleared and there were some magnificent views of the surrounding terrain available from this high position. A portion of the area had been cleared for helicopters, allowing soldiers to be transported in and out for their campaign against the FARC (The Revolutionary Armed Forces of Colombia) guerrillas and to seek out and destroy illegal coca factories concealed in the surrounding jungle. The location, desolate and peaceful, had been the perfect refuge for the Tairona Indians and more recently for their descendants.
After a welcome rest and a good meal which lasted for several hours, our return journey began. The porters put the baggage on their backs and we departed. Struggling down the vertical steps which led from the Lost City back into the jungle was dangerous and one slip could have sent everyone crashing to certain death but we reached the bottom safely. We quickly continued down slopes and through thick vegetation which meant that we didn't have to rest as frequently as on the upward journey. Going downhill felt a lot easier. We occasionally passed peasant farmersaccompanying their mules along the mountain paths but we didn't meet any FARC guerrillas. On the way Andreas fell into a shallow ravine and we had to rescue him. Fortunately, he didn't fall very far so there wasn't a big problem as several of us were able to go down and pull him out uninjured.
After days of walking and climbing sleeping became easier and getting covered in mud and sweat remained the only problem. Bathing in a stream or under a waterfall was a welcome relief but moving quickly we eventually reached the clearing where we had left the mules. We collected these from the farmer who had looked after them and then we continued our journey which became easier after we put our bags on the animals' backs then finally reached our original starting point at the foot of the Sierra where a minibus awaited us. Although the trek had been a fascinating experience, I felt a sense of relief that the adventure had ended and enjoyed the exotic beaches of Santa Marta when we finally arrived at the coastal town several hours later.
David Wood
If you travelled to Colombia in the '90's, or before, and have any interesting stories or perspectives on the country please get in touch, we'd love to hear about it.
Chris