There are 32 departments in Colombia, and I'd bet that the average visitor to the country only visits around 6 or 7, perhaps even fewer. Most people who spend more time here will make it to some of the more off-the-beaten-track destinations, yet there are many regions that have been so forgotten about by tourism that many travellers, be they foreign or Colombian, will never make it there – but this situation is changing. I woke up this morning to the news that a second Colombian peace deal with FARC guerrillas will be signed tomorrow, and many departments which had previously been classified as no-go zones for travellers will strongly benefit from Colombia's shift towards peace with the FARC. One of these is Guaviare department…
Guaviare is essentially Colombia's 'gateway to the Amazon,' located as it is at the point where the vast Eastern Plains begin to end, and the seemingly endless expanse of the Amazon rainforest begins. It's a remarkable place to visit: in just a few days travellers can experience jungles, red rivers, ancient rock formations, a variety of indigenous cultures, and wonderful wildlife and natural diversity. However, for me, the true magic of a visit to San Jose del Guaviare and the surrounding areas is that chance to experience the mysterious and beautiful rock paintings left behind by ancient cultures thousands of years ago; cultures and people that remain unknown to anthropologists and archaeologists. A trip to Guaviare offers the chance to delve deep into Colombia's past, when these jungles and tepuys weren't part of any place named Colombia, and the planet had yet to learn to write. If this sounds hyperbolic, that's because these places are worthy of hyperbole – I'd challenge anyone to stand on the rocky outcrop of Nuevo Tolima, watching monkeys swing through the canopy below in the jungle, and seeing the blood-red images of monkeys etched onto the rock behind you thousands of years ago, and not be moved. It's rare that I use this word, but visiting these paintings is a deeply spiritual experience.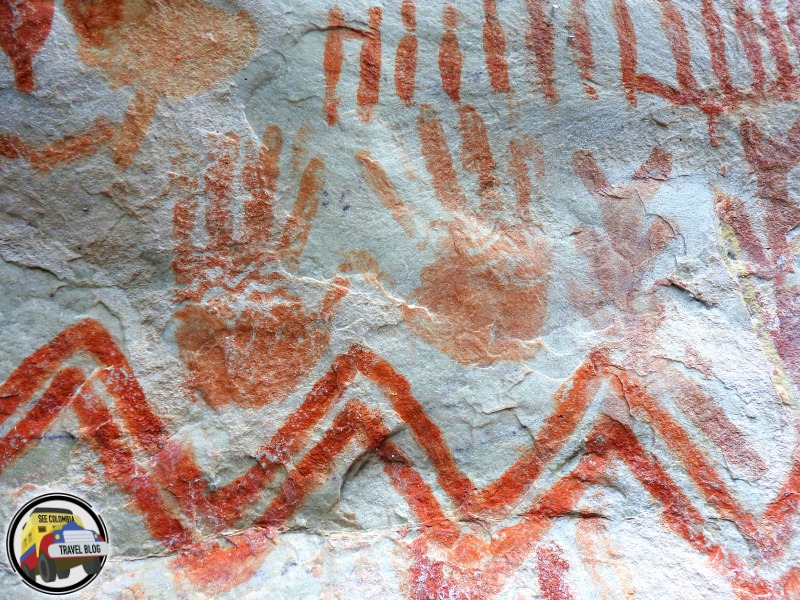 There are three principal sites where visitors can observe these ancient 'cave' paintings – Nuevo Tolima, Cerro Azul (also known as Cerro Pinturas), and El Raudal del Guayabero. In fact, most people believe that the surrounding rock formations hold many more secrets yet to be revealed, but for now we have to be content with these three. All three sites have their unique charms, but for a short trip a visit to any one should satisfy your curiosity. In short, Cerro Azul has probably the clearest and most well-preserved paintings, Nuevo Tolima is the most easily accessible and connects easily with a day-trip to other unique sites such as the Ciudad de Piedra and Los Tuneles, and the Raudal del Guayabero is probably the most off-the-beaten-track site. All of them offer the chance to hike along trails in the jungle, observe a variety of flora and fauna, and all three have spectacular viewpoints over the surrounding jungles (although, for my money, El Raudal has the best).
The paintings themselves are remarkable to see in person: the walls are covered with blood-red images of people, animals and birds, and large geometric patterns. There are some amazing clues as to the age of the images and their progression through time. At Cerro Azul there appear to be depictions of giant land sloths (which became extinct in the Americas nearly 11,000 years ago, giving some window into the age of some of these images), whilst, at a more recent site, images of huntings dogs attacking groups of indigenous men give some insight into the arrival of outsiders into this region. Many of the animals and birds can be identifyed and recognised as similar to the species that abound in this region today: a keen eye can pick out tapirs, sloths, capybaras, herons, monkeys, turtles, sting-rays, deer, and several others. There are also amazing images which appear to show men climbing up ladders, which maybe gives a clue as to how they were able to paint so high on such smooth and innaccessible rock faces. Anthropologists have visited these sites and found evidence of basic camps and fish bones, but no signs of more permanent settlements, suggesting the people who painted the images were nomadic groups. The oldest images have been dated to 10,500 years, and most are at least 5,000 years old according to estimates. However, part of the magic of visiting these places is that no-one truly knows who painted this art, and when.
Yet, for me, the most touching images were simply hand-prints on the walls – it gave me chills to imagine these painted hands pressing up against the rock I was gazing at, thousands of years ago, and practically reaching out to me from the past. During the trip these prints took on extra significance when, in the forest near Nuevo Tolima, a nomadic group of Nukak-Maku indigenous people came out from their camp to greet us, and a woman shook my hand. When I looked down at it, it was stained red from the dyes she had on her hand – these paintings might be thousands of years old, but their creator's ancestors live amongst us, and their way of live is severely threatened.
In a practical sense, it's relatively easy to visit all three sites, although Cerro Azul and El Raudal are slightly more inaccessible and time-consuming. The best way to visit Nuevo Tolima is on a day-trip that includes the attractions mentioned above – a 4×4 with a driver costs 300.000 COP. The same car for the day to Cerro Azul is 350.000 COP (the slight price increase is due to the distance), plus a cost of 50.000 COP for a local guide to the paintings, whilst El Raudal is best visited on a boat trip leaving from the Nowen Bridge outside Guaviare. This day-trip is perhaps the most varied – the first hour is a canoe trip along the Guayabero river where you can observe river dolphins, turtles, monkeys and caiman, followed by the smaller boat ride along the narrow stretch of the river that is home to the rapids. There's also the chance to stop at a lovely hidden pool and waterfall just off the bank of the river. For a group of roughly 4-6 people, this whole trip, including all transport and a local guide to the paintings should cost roughly 70.000 COP per person. If you're looking for a good local guide to accompany your group to all of these sights and provide assistance and information, Cesar Arredondo (313-478-5605) offers ecotourism and bird-watching trips, and is a real local authority on tourism in the area. Going with a tour guide is definitely the easiest way to visit any of the three sites mentioned: trying to do so independently is tricky and not recommended, as many of the sites are poorly signposted and hard to visit alone. If you contact Cesar he can plan a package involving some or all of the rock painting sites mentioned in this post (try to get a small group together, it's better value).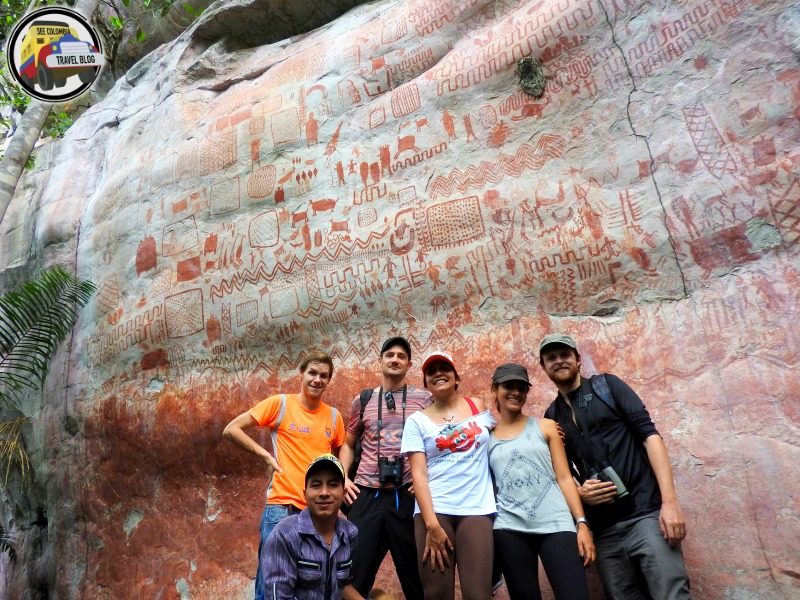 As you can see from the prices and details above, visiting the rock paintings of San Jose del Guaviare isn't necessarily the cheapest trip in Colombia, especially for solo travellers, but for anyone with a decent budget or 3/4 friends who are keen to explore some of Colombian's most hidden wonders (mot likely in perfect peace – our group didn't come across a single other soul during any of our visits to all three sites, and it was a weekend!) this trip should be a must! Just skip Andres Carne de Res and a few big nights out and hop on a bus to San Jose del Guaviare (did I mention it was just 7 hours from Bogota!) to visit the ancient rock paintings of Cerro Azul, Nuevo Tolima and El Raudal – you'll thank me!
Chris