So, despite Mr and Mrs Smith's experience there, Bogota turns out to be a pretty good spot for kids, right? Guess what? Despite Madge's kid, Rocco's fit of badmouthing, you'll find that Medellin's got one or two things the kids will love. So here's our guide to make a trip with your kids to Medellin go down in the most delightful way.
Right, let's get right into it. Your kids have woken you up early (bless the little tykes), hyped to be in a new city, and with possibly even a little too much energy. Where should you take them to absolute exhaust them before the night? We suggest hopping on the Metro (or take a taxi if that's going to tactically more feasible) to University Station. Once you get there, you have a myriad of options right as you get out. Well, alright; so four. But they're good options, OK?
Number one is Explora Park. This beast of a kid's science park spans three floors full of completely interactive exhibits for your kids to go nuts on. Have a go at a few of them, yourself, when they're not looking – you may even enjoy them. For me, being a dinosaur nut from way back (I still stand by my 5-year-old assertion that the Stegosaurus is way cooler than the Triceritops), the highlight is outside – with dinosaurs that totally move! There's also a pretty good aquarium to gawk at. The signs, like a lot of places in Colombia, are just in Spanish, but a bunch of staff know a bit of English, and what kid really reads the signs anyway, huh? The most expensive ticket for Explora costs less than 10 bucks, and kids under a metre get in for free!! Limbo, anyone?
If the three or so hours of mucking around hasn't slowed them down appreciably, don't despair, as there are a few more of those options floating around. Parque Norte is just across from Explora, and it's a fairly standard amusement park with dodgem cars, log rides, and all that sort of thing kids like to scare themselves with. There's also a planetarium a hop, skip and a jump away. And, take them to the botanic gardens. They'll love the awesome, out-of-the world architecture of the orchid enclosure, and will have fun looking for monkeys, squirrels, and birds hiding in the trees. A butterfly enclosure, too!
I remember that at the Sydney Royal Easter Show, I loved there little ski-lift that took you around the park. If I compare that crappy little thing to the Metrocable in Medellin, I fail to understand what I was so excited about back then. Take the significantly cooler Metrocable, with its slightly eerie, commanding view of the city, from Acedevo Station up to Park Arvi for a quick sticky-beak at this new nature reserve (best to stay close to the Metrocable station). And, before we exhaust the attractions accessible from the quality Metro, take a ride to Berrio Station so the kids (closely supervised by you, of course) can mess around on the pudgy cat, horse, and head statues in the park containing the amazing sculptures of that eternal child, Fernando Botero.
But wait, there's more! Grab a taxi to the Paisa Pueblito, where kids can have a look at what things may have looked like waay back in the day around these parts. Apparently, souvenir shops were pretty big back then. If that's not your thing, why not get your kids soaking wet at the Water Park just outside town? They deserve it! Still not satisfied? How about a day trip to the pretty colonial charms of Santa Fe de Antioquia?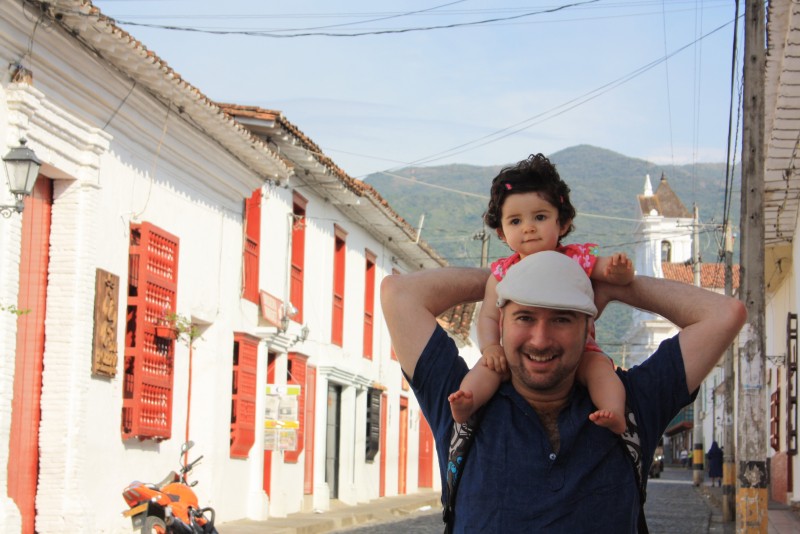 And to really clinch the Medellin deal for you and your kids, come in August during the Flower Festival, with parades covering all bases – from incredible flower displays to an antique car parade. Just in case Medellin wasn't enough for you and your kids already…
There you have it: the City of Eternal Spring has thought of the children. Next stop, the magical realism of Cartagena.