I'm Megan Kennedy; I lived in Chile and traveled in Central and South America in my pre-kid days, when the Internet was young and so was I. I didn't make it to Colombia until 2012, when I moved with my husband and two young boys to Medellín. I immediately fell in love with the country and, like See Colombia Travel, I am committed to correcting outdated stereotypes and misconceptions about Colombia and convincing everyone I know to come visit. I work in international education, occasionally teach English, and try to keep up with my five-year-old's Spanish.
If you're traveling to Colombia with kids, do not miss Medellin. The City of Eternal Spring has perfect weather, gorgeous scenery, warm and welcoming Paisas, and a long list of things to do with kids. See Colombia Travel has posted before about things to do with kids (see here) but if you've done it all and are looking for more, here are some things that should keep the family busy for another day or two. (And if you're not traveling with kids, you should also do these things, glitter tattoos and cotton candy optional).
El Salado Ecotourism Park
This park is a secret gem, right outside the city. On a weekday, you might have the place to yourselves. You can take a city bus or a taxi to the park and entrance is around $2. There is a river for wading and swimming, zip lines for the older kids, and manicured paths and gardens. A short 15 minute hike will take you to a lookout point for a gorgeous view of the park and the city, and along the way you're sure to see birds, butterflies and exotic plants. The park includes a small restaurant and areas for picnicking.
Ciudad del Rio
The Ciudad del Rio neighborhood is a former industrial area that is now home to a park, restaurants and Medellin's Museum of Modern Art. The museum is small (perfect for kids' short attention spans) but if modern art isn't their thing, you can see plenty of art outside as well. The walls surrounding the area are adorned with spectacular graffiti. The park is a popular spot for picnics, dog walkers and performers. As one of the few flat spots in Medellin, it's also a good place to ride a bike or skateboard. On the weekends there is a constant parade of ice cream sellers (and the occasional michelada vendor for parents). If you need something more substantial, go to Bonuar, a Creole fusion restaurant that has brunch on the weekends and serves great fries and burgers (including the rarest of Colombian burgers, the veggie burger!).
Barefoot Park/ Water Museum:
You're exhausted but they still need to burn off steam? Go to Barefoot Park. Take off your shoes (or the park staff will remind you to), cool off in the fountains, play in the giant sand box and run through bamboo groves. If the kids tire of the park or need a break from the heat, visit the EPM Water Museum, which is right next door. EPM, Medellin's utility, provides funding for high quality attractions around the city (see Parque Explora) and their water museum is well designed and surprisingly fun. The museum starts with a trip through a dark tunnel where images of planets, volcanoes and dinosaurs are projected onto the walls. The narrative journey continues through themed rooms full of hands-on activities. Kids can learn about the ecosystems of Colombia, engulf themselves in giant soap bubbles, and make tidal waves with their hands.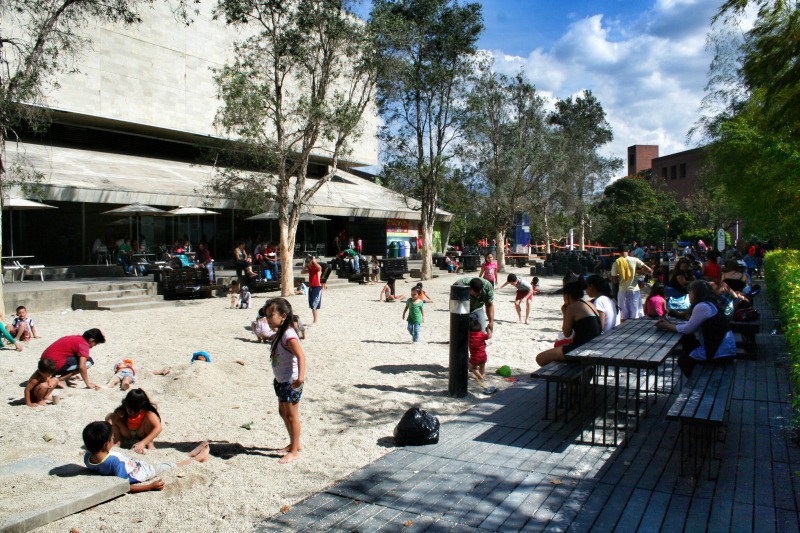 El Tesoro Mall
In the evening, head to the upscale El Tesoro Mall. You can view the lights of the city from the outdoor walkways and enjoy some fabulous people watching inside the mall. There are multiple play areas for kids of all ages, plus carnival rides and an arcade. Ride on the Ferris wheel, get a glitter tattoo and then head to Crepes and Waffles, Colombia's best chain restaurant, for dinner.
You can read all about traveling to Colombia with kids here, and stay tuned for Colombia with Kids: Parque Arvi edition…
Megan Kennedy