Helen Lovejoy, we're way ahead of you, you old gossip, you. Although Hollywood would like you to think otherwise (check out our posts on Colombia in movies), we reckon Colombia's alright for the kids. And the kids are alright. They'll particularly be alright in what we reckon are the top three tourist (is touristic really word, now?) cities over this way.
Though we all know Hollywood doesn't know what they're talking about; please remember, you're in a foreign country with your tyke! Stick to the places we talk about here, always keep at least an eye on your kids, and don't let them run with scissors, and you should be alright. Today, in our series that's doing it for the kids, we bring you the Bog itself.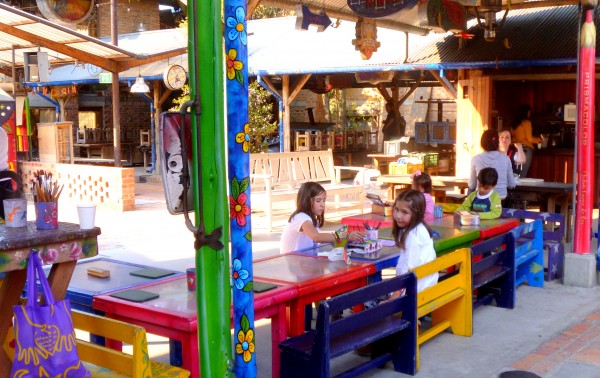 Bogota
If you've based all your research about this city on that historical fiction, Mr and Mrs Smith, you're probably thinking about avoiding this tropical, Mexican-infested badland. Well, we're happy to say, there are a couple of minor inaccuracies in this movie, and there's plenty of fun stuff for your kids, no matter what ages they are.
There's a whole bunch of stuff out west, Salitre-way. There's the Maloka, an interactive science (but fun science – surprisingly very little about the electron cloud distribution of Boron) park, complete with a cinema in a very cool looking spherical (that's a scientific term, btw) structure. A short taxi-ride away is an enormous park complex – go on a Saturday, and check out one of the amusement parks, like Salitre Magico and the Aquapark for a swim next door or Mundo Aventura a little further afield.
There's also a Children's Museum, with the interactive sort of stuff kids go for and a real-life jumbo jet to look in, and the Botanic Gardens with its butterflies. The evil-clown vibe of restaurant La Jugueteria, a cheapish taxi-ride away in La Macarena would make a pretty memorable dinner. The kids will probably dig it, too. Another option for dinner is Andres Carne de Res, found in nearby Chia.
The other kid epicentre is La Candelaria, during the day. If you head there on a Sunday, Ciclovia shuts down a bunch of streets for bikes (hire some at Bogota Bike Tours), and, so, your kids can get their bike on. Ciclovia also turns Plaza Bolivar into a bit of a festival, with food vendors, street art, and even llamas to gawk at, or even possibly ride. Of course there's a bunch of museums here, too (free – but more packed – on a Sunday). The best ones for the little-'uns are the chubbiness of the Botero Museum, and the gilded Ooohs and Aaaaahs of the Gold Museum. A trip up the funicular Monserrate's jaw-dropping views is a quick jaunt away, too.
Another weekend option, if you want to get out of town, is to hop on the for-real steam train that heads to Zipaquira. What kid doesn't love a steam train? This one also has a bunch of bands that make their way down the carriages. Most kids will think the Salt Cathedral is pretty damn awesome, too.
Well that's it for the capital itself. Stay tuned, sports fans: we've got Medellin and Cartagena to come!