I don't mean to brag or anything, but jeez, we're generous. We've already regaled you with what to do with your lil'un in Bogota, Medellin, and Cartagena. Quite frankly, that's quite a lot of travel, already. But, you know what? We thought we'd go you one better, and tell you all about what to do in that Caribbean paradise, Tayrona, when you've got your tykes in tow.
Now, if you've been paying attention to us, and if you don't know Tayrona by now; you will never ever ever know it. No you won't. No—oha.
That is, of course, unless you look here, here or even here.
One thing you may notice about what we've said so far about the place is that, while it is one of the most beautiful places in the world, accomodation options are kinda limited. Simplifying things a bit, you're either got hammocks, or Ecohabs, the latter of which are on the costly side.
What this does mean, though, is that it makes these options tough for kids, particularly if you take into account accessibility – both to the park itself, and the unavoidable trail hikes when in Tayrona itself. Great for backpackers and weekenders, not so great for a four year old.
So, should one conclude that this area is no good for kids?
Hellz no.
As always in Colombia, there's another option…
Palomino.
 ** It's best to get to Palomino from either Santa Marta or Riohacha (in La Guajira) airports, as, if you book ahead, the accomodating guys at the Ecohotel will arrange for you to be picked up. It's an hour and a half from Santa Marta, but only one hour from Riohacha, so we'd suggest the latter, if you've got the choice!
A great overnighter option up Tayrona way is Palomino, which is on the way to La Guajira. Not only is it easier to get to by car than Tayrona itself  (no need to traipse through mud and horse-related residue), but what's more, the accomodation is comfy – there's even air-conditioning!  La Roca EcoHotel, run by a beautiful couple of former hippy-Koguis, are cabanas lovingly made from local materials, and, being Kogui-inspired, is environmentally friendly. Thankfully, it's no five-star monstrosity, but does serve excellent food, and is really close to the beach, which is where your kids will want to be, anyway. Plenty of tours are available at these happy hippy huts as well, many more than in Tayrona itself.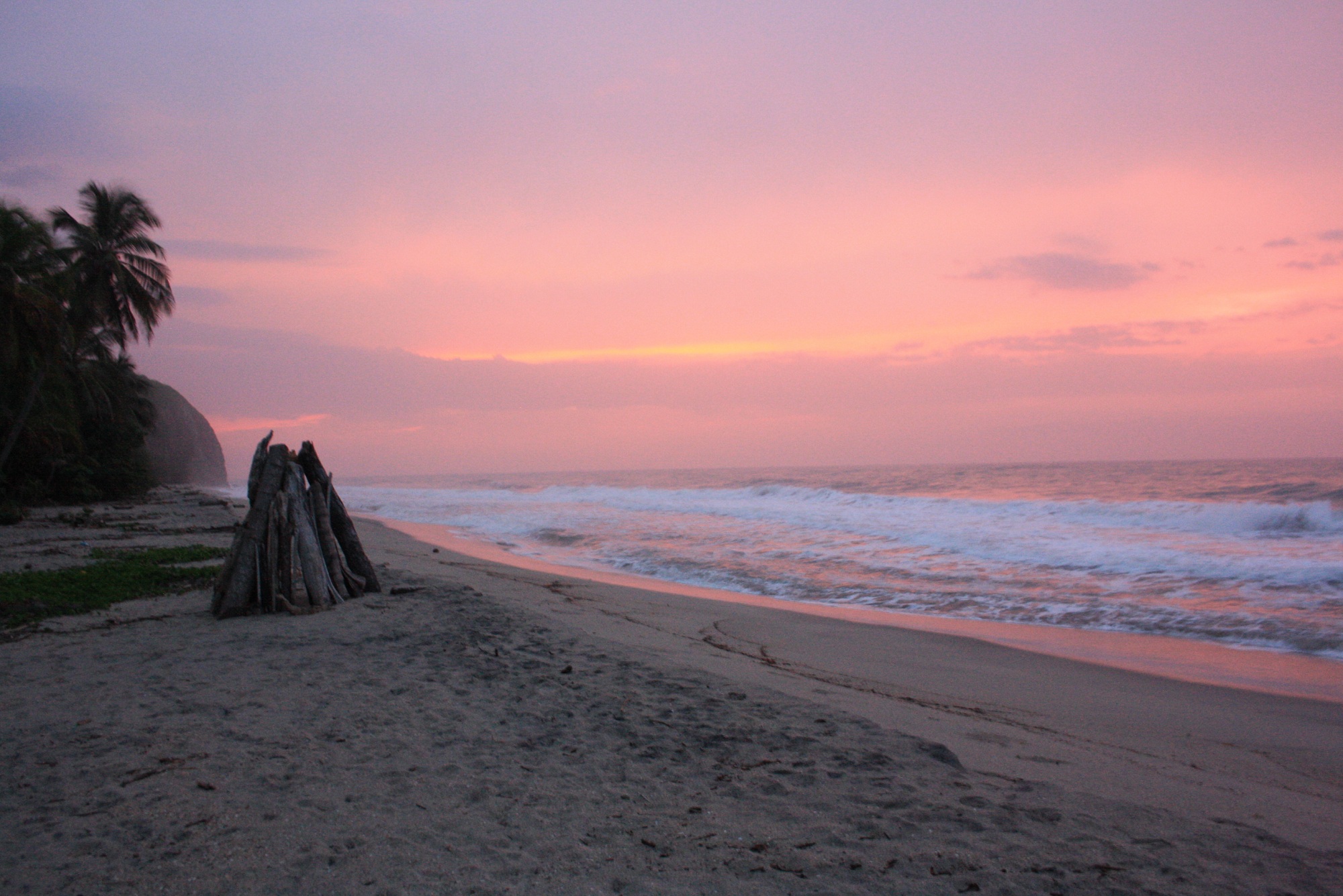 For example, make your way (early in the morning to beat the crowds) to Quebrada Valencia, an awesome little waterfall not that far away. There's also tubing and rafting on the rivers for the more energetic kids, as well as local indigenous communities and villages to spark interests. And, once you've exhausted them, what better thing to do than to look out at the sunset from one of the most beautiful beaches in the world? Personally, I'm stumped for answers…