Well, I don't know if you're aware or not, but there's a little thing called the Barranquilla Carnival starting this weekend.
If you don't know, now you know, blogger.
So, in celebration of this massive excuse for Barranquilla (and the rest of the country lucky enough to make it) to cut wickedly loose; which is also cleverly disguised as a Masterpiece of the Oral and Intangible Heritage of Humanity (UNESCO has an amazing knack for coming up with catchy titles), here are our Top 5 party-parties in Colombia. I hope you already know that Colombia likes to rock the party.
1 (of course): Barranquilla Carnival.

OK, so this is kind of a big deal. Some like to say it's the second-biggest carnival in the world. Others like to say it's the most colourful festival in the world. What do we say about such claims? What are we, scientists?
All we know is that Barranquilla is a sweltering, hard-working, kind of industrial type of city for most of the year. But, then, for some mysterious, mythical, historical reason, all of a sudden, at around this time of year, its true colours come shining through.
And what a rip-roaring time it is. If you haven't planned it already, we're afraid time's running out. The Carnival buzz has been steadily building in Barranquilla for weeks now, and it's just about to erupt for real tomorrow night, as the Party-Party officially starts. The weekend will see a massive range of festivities, such as the gorgeous-sounding Battle of Flowers, Grand Parade, and it all concludes with a mock-mournful burial of the hungover spirit of the entire festival, Joselito Carvajal, on Tuesday. Hungover, we say? Be warned: along with all the dancing, spectacular costumes, and parades, there will be rum. Oh yo ho ho. There will be rum.
Barranquilla is the party of Colombia, a country not unknown for its love of celebrations. If you're not there now, there's not much time left. RUN!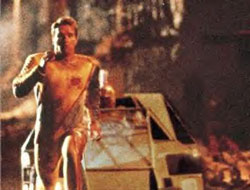 2. Pasto's Carnival of Black and Whites.
Coming in second both for cray-cray parties, and also for the remarkable temporary transformation of a city, is Pasto's Carnival of Blacks and Whites. Like Barranquilla's, Pasto's Carnival has been dubbed a Masterpiece of the Oral and Intangible Heritage of Humanity (just rolls off the tongue, doesn't it?), and they are both recognised with good reason. All jokes aside, both carnivals are incredibly rich with ancient, living, cultural treasures, and both represent a heady fusion of cultures, mainly the Indigenous, African, and Spanish traditions. Having said that, the two carnivals manifest this fusion in strikingly different ways.
Both are massive parties, but Pasto also turns into an all-out war of powder, paint and foam. Leave your good clothes at home, because things will get messy. It's all in the name of good fun, though. Starting at the beginning of the year, this outrageous manifiestation of traditional and contemporary culture transforms this slightly sleepy, ever-unique southern city into an all-out party machine.
3. Medellin Flower Festival.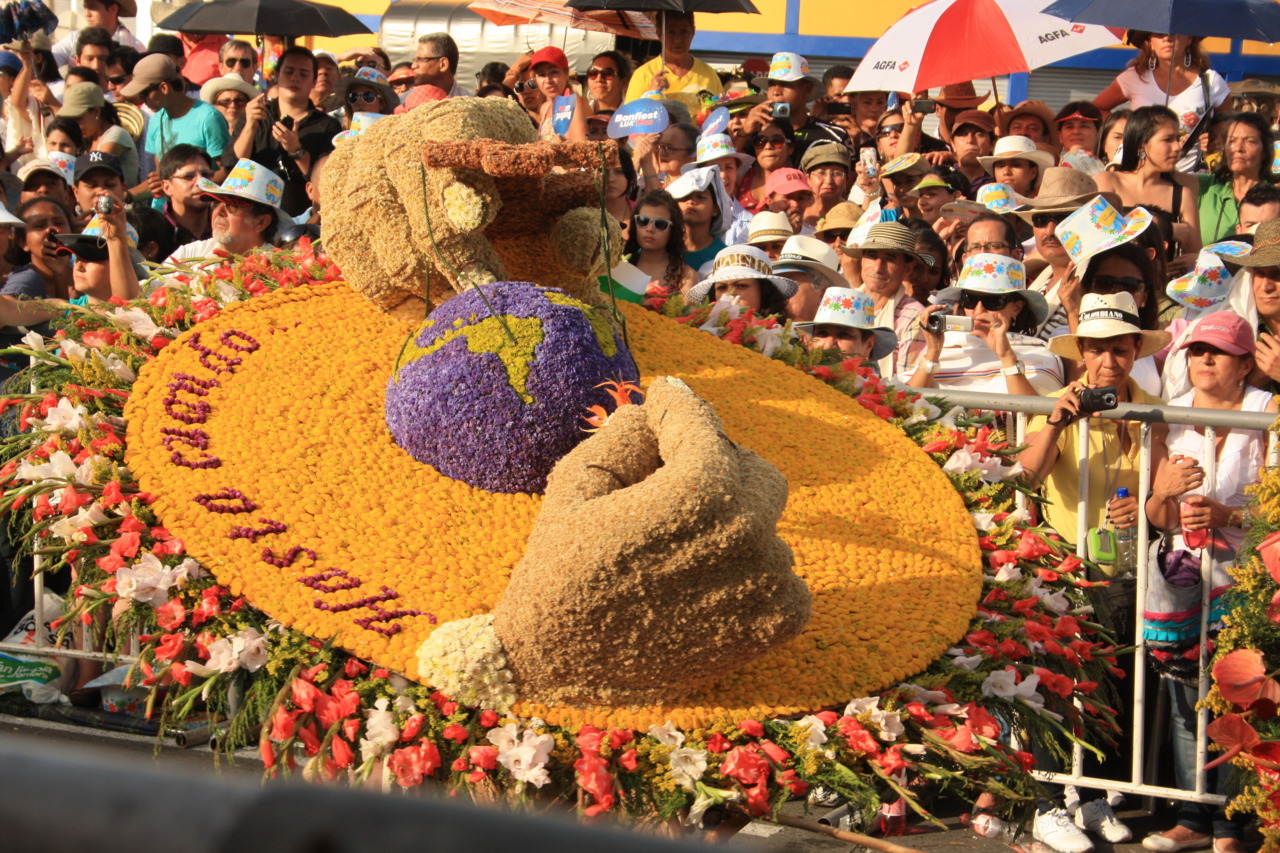 OK, so, flowers?? Really? That's a bit…um…floral?… isn't it? It doesn't sound like much of a party, right?
You forgot one thing. This is Medellin. So, of course there are lots of pretty flowers and amazing floats, and that's all nice and lovely, but it's also a massive excuse to party – paisa style. You think the City of the Everlasting Spring is beautiful and welcoming during the ordinary course of the year? Just you wait til the first couple of weeks of August, and see it at its colourful, glamourous best.
4. Cali Fair.
Cali is the Salsa Capital of the World. We'll let that sink in for a few moments.
Alright, that should be long enough.
If you have any love for Latin music and dancing at all, it would probably be remiss of you to not go to Cali between Christmas and the New Year at least once in your life. Because that's when Cali – who does like to dabble in Salsa a bit even usually – bursts out into a riot of drums, horns, and shaking hips. Nowhere parties like Cali, and it parties hardest at its Fair. Fair enough, we say.
5. Bogota's Ibero-american Theatre Festival.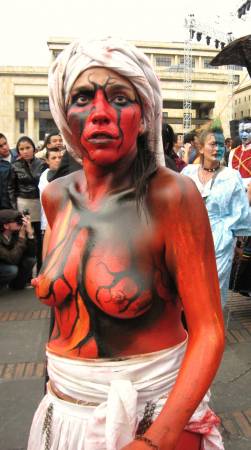 Colombia is a bit theatrical, we'd admit. But, every two years, the entire Spanish-speaking world (and other worlds, too) descends onto this country's capital and lets loose a veritable storm of all things pertaining to the performing arts – including drama, dance, circus, performance art, pantomime, and puppetry. That's not an all-inclusive list, either. It's the biggest theatre festival in the world, and during the middle of March (the next one's next year), Theatre takes over the entire city. Get amongst it!
Right, so there are the top 5. But that's just five! Colombia has literally hundreds of festivals spread throughout the year and the country. What can we say? Colombia finds any excuse to party. We think you should come and make a few excuses of your own.
Paul G.