December is amazing in Colombia. It's like Christmas for the entire month, what with the parties, family gatherings, and pretty lights all over the country. It's probably high time you thought about getting your loved ones some presents, seeing as it's like only a couple of weeks away, so we thought we'd give you a few true-blue-gold-and-red gift ideas to make your loved ones' Christmases a little bit more Colombian. It's been a couple of years since we've given you such advice, so we've had a bit of time to come up with a few more to consider.
Hammock
Well you can't really take a Colombian Caribbean tropical beach back with you as a gift (believe me; I've tried), so why not try the next best thing? No! I don't mean a Colombian Pacific tropical beach; I mean a hammock. Your proud present recipient can swing low and pretend they're in Colombia, and not Slough or Milwaukee. Colombian hammocks are relatively cheap, and come in a dazzling array of bright colours. Splash out a bit and buy a double one. Available all around the country, but recommended spots are Bogota's own Hammock District (San Victorino, just down the road from La Candelaria), way up in La Guajira for a truly stunning Wayuu one; or Raquira, one of Villa de Leyva's neighbours.
Pottery
Did somebody say Raquira? If you happen to be in this little Town of Pots, you'll find endless options for cheap-as-chips gift ideas. My favourite, of course, is the traditional Spider Piggy Bank, but you'll also find all kinds of other little trinkets and tid-bits, such as mugs, key holders and plates. If you happily find yourself in Antioquia, shoot over to the interestingly-named El Carmen de Viboral for some more pottery goodness, as this small, plate-crazy town creates beautifully delicate, detailed ceramics. If not, you can find the pottery from places such as these two sweet little towns all over the place, if a little more expensively.
Ponchos
Who doesn't want to be a cowboy? Fools, that's who. You're going to be a pretty lame old cowboy, though, if you don't have yourself an authentic, Colombian Paisa poncho. It's rumoured that the best are from Pereira. That's done it, I've just started a paisa war! But, that's not the beginning and end of ponchos in Colombia. Pick up a beautifully warm and wooly one (called a ruana) in Boyaca or Antioquia; or, do what I did, and opt for a bright, busy Andean poncho from places down in the south of Colombia, such as Pasto.
Botero
Well, with all due respect, I doubt that you can afford to buy the man himself, but many spots around the country flog off little replicas of his distinctively chubby statues. Odd, cute, and recognisably Colombian: they're worth the haul.
Rum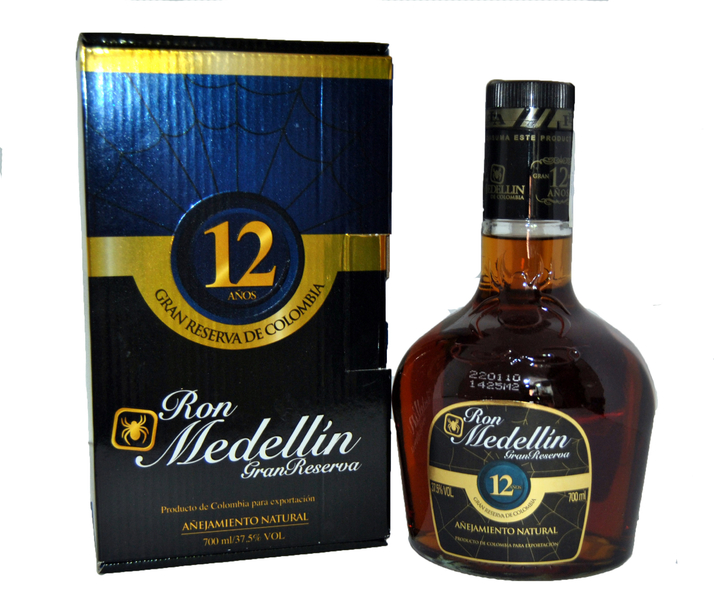 It's definitely not the same thing to sing "yo ho ho" if you don´t happen to have a bottle of rum. Trust me, I've tried that as well. We've discussed this before, but Colombian rum is surprisingly good, and relatively cheap here. The Caldas 8 year old is a great drop, as is the Medellin 12. Juan Valdez is putting out a pretty tasty coffee rum liqueur now, too. If you wanted to, you could buy me a bottle as well. Just saying…
2016 Note: Ron La Hechicera is now recognized as Colombia's finest rum. It's a bit pricey (around $40 a bottle), but with a lovely presentation and a lovingly designed bottle, it makes a cracking Christmas gift. Think about it…
Colombia National Football Top
No self-respecting Colombian lacks a yellow Colombian football shirt. In such a football-rabid country, there's been no small share of controversy regarding the new design, but I for one dig it, especially with the beloved Sombrero Vueltiao making an appearance on the front. Our legal team has advised us to say you should walk past the guys on the street selling near-identical replicas, and go to a shop in a mall to buy the more expensive, genuine variety. You don't want your football enthusiast having to settle for a Brazilian top when Colombia beats them in the World Cup Final, now…
Bonus Round: A Local Club's Jersey.
It's just possible that you might find a Colombian team jersey outside the country, but it's going to be a bit more difficult to get an Atletico Nacional or Once Caldas shirt. That ought to shut the football hipsters up.
Colombia
Well, this would be the ultimate Colombian gift. The best way to spread the Colombian love is to send someone you love over here.
Paul G