As far as I remember, Christmas traditions in Sydney, Australia go something like this. You spend December stressing out about which ridiculously overpriced dance party you'll invest all that money you should be buying presents for your family with, fight through the crowd gawking at the fireworks, get ridiculously inebriated; and, if you're in a relationship, have a fight with your partner, or if you're single, feel utterly depressed come midnight because you have noone to kiss – and you have to kiss someone at midnight. Or maybe that's just my jaded retrospect kicking in there.
Well, in Colombia, things – of course – are a little different. Of course, if you're in one of the main cities, there are plenty of big fancy clubs to get into and go off in, but, a staggering majority of Colombians get nice and staggery at a family house. For the former, Cartagena – with its fancy-pants parties on the beach or in the club (Bogota's own Baum heads to a Cartagena rooftop for a massive night) – and Bogota (try watching the sun come up from the 30th floor at The End, or our favourite La Villa's biggest Gringo Tuesday ever) are the best bets. For the latter, get yourself adopted! If you're lucky enough to find yourself in a Colombian house for NYE, make sure you do the following:
Yellow Underpants.
Strap them yellow undies on, kids!! Yellow, such as on our beloved Colombian flag, represents gold – everybody's favourite metal. If you want money coming your way this new year, make sure your daks are as yellow as a Civil War deserter.
Money in the Hand.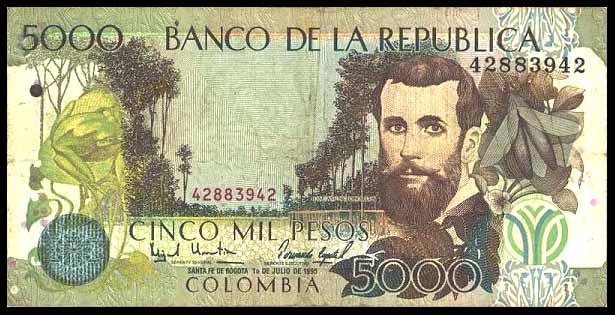 There seems to be a lot about money about Colombian New Year Traditions. And, unless you're some kind of stinking pinko like yours truly (from time to time), you'll do your best to get on board. Another way to ensure you've got cashola for the upcoming year is to make sure you've got some Colombian pesos in your hand for New Year's. Of course, a fifty thousand peso bill is best.
Twelve Grapes and Twelve Wishes
Now, this is something you have to prepare well in advance. The grapes are the easy part: every Colombian supermarket at the moment is equal parts booze and grapes right now. As soon as midnight swings around, you have to quickly gobble twelve delicious Colombian grapes while making a wish for the coming year. Apparently, this tradition was founded back in Spain by crafty grape-growers with a surplus. Still, make sure you've got twelve GOOD wishes ready in advance. One of mine is going to be for a gold-plated toilet. Damn! I just said that out loud. It's never going to happen now.
The Suitcase.
If you're unlucky enough not to be in Colombia, New Year's Eve is your best chance to rectify this appalling situation. Grab your suitcase and run around your block as fast as you can. If you do this correctly, and in the right spirit, you are absolutely guaranteed to travel in the coming year. It's a Science thing; please don't try to argue.
Lentils.
This is another tradition that somehow orginated in old Europe. Eating lentils with rice is going to bring you good luck and money in the new year. In some instances, you might get away with just putting a handful of these hearty legumes in your pocket instead. It's no lechona, but, you know, sometimes you've just got to bite the bullet. And the lentil. It's all in the name of luck, after all.
Eating (and Drinking).
You might have noticed a theme of eating and luck being developed here. Really, December in Colombia seems to be about stuffing yourself stupid, and New Year's Eve is certainly no exception here. All the Christmas food we've been talking about will probably make an appearance on the table, and it's best if you eat as much of it as your conscience and digestive tract can take. Also, beware!! Our old friendly foe, aguardiente, is probably going to make an appearance, as well as some whiskey (depending on your geography, it could well be Old Parr), and, certainly, a beer or two. There will also probably be some champagne, which is primarily used for showering everybody with. LMFAO's got nothing on Colombia. And, being Colombia, this will be accompanied by some dancing too. Bring your eating, drinking and dancing shoes, my good friends.
Blow up the Old Year.
As any Michael Bay afficionado will know, fun and danger go hand in hand. Have you seen Bad Boys 2? It's even badder than Bad Boys 1! Well, probably the most diverting Colombian New Year's Tradition is blowing up the personified Old Year. This, although fun, has resulted in injuries in the past, so make sure you're safe with this one – you don't want anyone walking close by when the Old Man's fireworks get cracking. If done correctly, there's no better way to say goodbye to the old year, and make ready for a new, exciting, hopefully Colombian, year.
Well, there's a lucky seven. Which other Colombian New Year's traditions do you dig? Let us know; we don't want anybody missing out on any…