Guest Post: We'd like to introduce you to Matthias Scherer, a Colombian-born who has been living in Germany and the UK since he was just a kid. But now he's back and living in Colombia to see if he feels at home in the land of his birth. Six months later and so far so good. 
"Welcome home!" the portly elderly man said, beaming as he shook my hand. I had been wandering around Villa de Leyva, a gorgeous colonial town in Boyacá, and walked into a courtyard filled with paintings and handicrafts. The man had been painting a still life near the exit, and when he noticed that I was watching him work, we struck up a conversation.
I explained to him that I had been born in Colombia but had grown up in Germany and the UK, and that I had come back to live here to get a more accurate and in-depth picture of what life was like rather than the one I had pieced together from sporadic 3-week-visits over the last 20 years.
"It's a very different country now to the one it was when you left", the painter said, "you will have a great time."
As my Colombia travel reaches the 6-month-mark, I realise that the man was right on both counts. My mother took me to the US, where my father lived, two years after the bloody Palace of Justice siege and two years before 107 people died on an Avianca flight brought down by a bomb attack attributed to the Medellín drug cartel. Colombia's murder rate was among the highest in the world around that time, and the idea of foreigners going there to travel, let alone live and/or set up a business, seemed laughable.
When I landed in Bogotá last summer, I had already been emailing a few Brits who had recently come back from Colombia and they all said the same thing: I wish I could've stayed longer.
This had helped to ease a lot of my worries: "Will there be work? Will it be safe? What if the other kids don't like me?" But there were other questions on my mind, like "Will I fit in?"
That last one was the one I thought about most during my last few weeks in England. London had become my hometown, but my passport still said that I was a) German and b) born in Bogotá. I had been feeling curious, but also a sense of obligation to return and to try to connect with this country, for two years before I finally made it over here, but the possibility that the whole experience would not provide me with the sense of belonging and familiarity that I was hoping for was very real.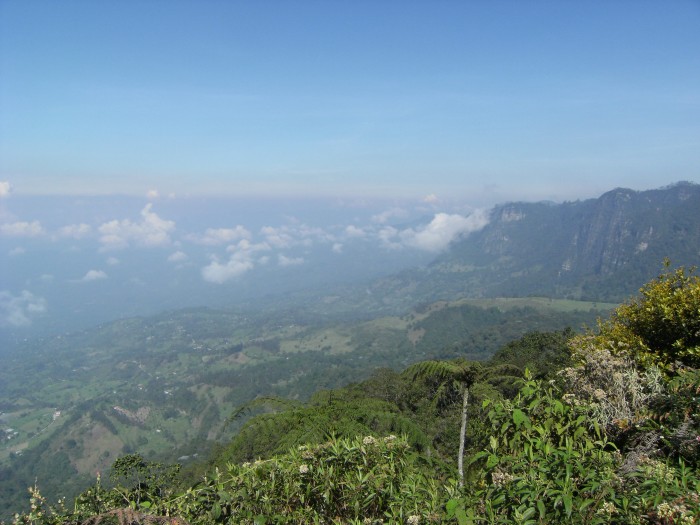 So have I become a fully-fledged Colombian in those 6 months? In short: no. I still can't dance Salsa without my partner tutting and moving my hips for me, and my timekeeping remains compulsively spot-on. I look like a Colombian, but only to foreigners, and my accent whenever I speak Spanish apparently ranges from Danish to Mexican.
I have a Colombian ID card and could get a passport as well, but these formalities won't help me assimilate as well as travelling around the country, eating fried ants (ugh) and chorizo (yum) in Santander, listening to paisa girls talk, spending hours in Bogotá's museums, and enjoying a sunset on the Caribbean coast will. Apart from spending more time with my family here, discovering the diversity of this place has been the most rewarding thing about coming here.
For example, seeing the mountain ranges of the Cordillera Oriental on a long bus ride makes me feel happy about being able to say that I am from a place this beautiful and welcoming. The same way that the generosity, hospitality and perpetual optimism of so many Colombians make me aware of my own hang-ups and grumpiness.
I am constantly reminded that I am not really from here – for example when trying to bargain with a tourism-hardened costeño or when, for the umpteenth time, dunking bland cheese into delicious hot chocolate and wondering what the fuss is about. But if there's one thing I've been picking up from the locals is that there's little point in stressing about this sort of thing.
Instead, I fully aim to tick off the many, many unknown places left on my personal map of Colombia – and maybe this place will feel like home after another six months.
Guest Post by Matthias Scherer