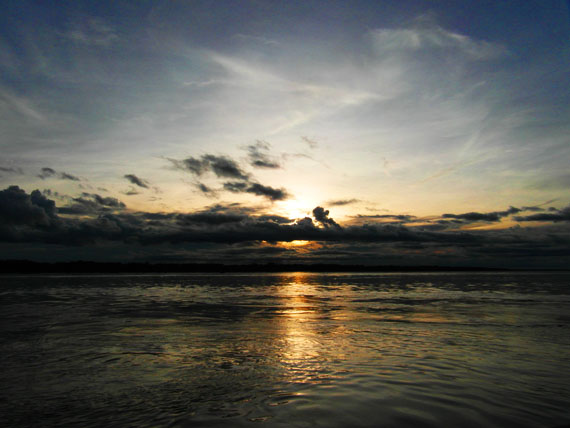 The Amazon has captivated the traveller's imagination throughout the ages – treasured it as a pinnacle of adventure. The wild, untamed nature that lurks on land and in the water; the untouched communities that inhabit hidden corners of the Amazon rainforest; the real and imagined sense of danger that seeps into the mind as you rest at night, trying to sleep among the cacophony of animal sounds.
Every adventure in the Amazon, no matter how small, is accompanied by a sense of amazement at just where you are. "I'm walking through forests in the Amazon…", or "I'm kayaking on the Amazon." It's such a mythologised place that even the simple act of eating lunch seems epic.
And this is what really makes the Kurupira Floating House so special. Sure, there are accommodation options in the city of Leticia, which sits on the edge of the river, but then you're in Leticia. If you opt to stay at the Kurupira Floating House (or floatel as we nicknamed it), you'll be doing absolutely everything – from showering to eating to relaxing on a hammock – while you're floating on the Amazon. It's a truly unique and inspiring experience.
Fortunately, it's not all about impressing yourself. I stayed at the Floating House for 2 nights and 3 days, using it as a base to go on tours of the Amazon. The service we received was great, including all our trips being organised, as well as all our food being complimentary and (more importantly) delicious.
The house is a wooden structure with views of the sprawling Amazon River, the edge of Peru and a faint silhouette of Brazil. It's ideally located for exploring the Amazon since it's 10 minutes from Leticia by boat, around 20 minutes from Monkey Island and just 5 minutes from the famous Victoria Regia. The rooms are comfortable and stylish but aren't luxurious. They have a rustic charm that is in line with an Amazon adventure – accommodation in the Amazon wouldn't seem right if you had all your home comforts, after all.
All this, and it's reasonably priced. For the best deals, be sure to check out See Colombia Travel's Amazon tours. 
Paul