I get asked for Colombia travel tips a lot. I mean on a daily basis (and not via the blog, that's my job: I mean personally). Sometimes people want to know things that it would definitely be quicker to Google ("Dude, how much do flights to Santa Marta cost?" – really?!) and sometimes they're asking for broader advice on where to travel in Colombia. Whenever I get a message with the latter type of query I basically have an answer cued up in my head already. "Hey man, where would you recommend I visit for an adventure?"; "What would be your top recommendation for places to visit?"; "What's your favourite off-the-beaten-track spot in Colombia?" Answer to all of the above: San José del Guaviare.
Guaviare department is basically brand new to tourism: an epicentre of the conflict and the drug trade, the jungle covered region was a no-go zone for many years. In fact, say to the average Colombian that you have visited 3 times in the last 6 months and they will give you a look like you're nuts. The truth is that the entire department is by no means safe and 100% ready for tourism; but the area around the capital of San José del Guaviare is stunning, diverse, satisfyingly remote, and completely ready for you to visit. So here are 8 pretty darn compelling reasons to visit San José del Guaviare this year…
1. Macarenia clavígera (aka 'that red algae')
As the name suggests, this species of algae is generally found in La Macarena National Park; more specifically, in the iconic Cano Cristales. San Jose, however, is another place where this stunning red algae grows. There are several rivers within half an hour of the urban area that, in the right season (June-November), run red. Visiting Cano Cristales can be quite pricey; a trip to San Jose del Guaviare is much simpler and cheaper, and, whilst these red rivers might not be quite on Cano Cristales' scale, they are stunning and wild nonetheless. They are also very under-visited, so you will be comparatively alone compared to visiting their iconic big brother. For 6 months of the year, these red rivers alone are a wonderful reason to head down to Guaviare.
2. Cerro Azul, Nuevo Tolima & El Raudal del Guayabero
You see the value you get on this blog? 8 reasons, but this one is a 3-for-1 deal! The 3 places listed here are all sites where you can visit remarkable ancient rock paintings, some dating back up to 10,000 years according to archaeologists and anthropologists, who are still in the dark about which culture painted these stunning images. The blood-red paintings, daubed on the face of ancient tepui-like rock formations in the jungles of Guaviare, are vivid reminders of our ancient ancestors, and offer a fascinating window into our past: hunters, extinct animals, geometric patterns – a visitor could spend hours gazing at the walls, picking out patterns, themes and different species. All the sites are similar but distinct (and you can take a canoe along the gorgeous rapids of the Guayabero river to reach the third), and all are worth visiting. Cerro Azul has a stunning viewpoint over the jungle, and you can explore caves beneath the rock as well; Nuevo Tolima is wonderful for wildlife (I have never failed to see monkeys there); El Raudal is the wildest and least-visited. One thing is certain: these awe-inspiring paintings are one of Colombia's greatest hidden travel treasures and are, for me, reason alone to pay a visit to Guaviare.
3. Playa Güio
The beauty of San Jose del Guaviare is its remarkable diversity – you can visit jungle, plains, rivers etc. in just a few days. The best way to experience the jungle part of the trip is to spend a night or two in the cabins at Playa Guio. A little ecotourism collective, based on the banks of a small creek about 20 minutes outside town, the cabins are the perfect place for the nature loving traveller. You'll be awoken by the guttural baying of Howler Monkeys (which, along with Brown Woolly and Squirrel Monkeys, are quite easily seen here), and eat breakfast with toucans, parrots and myriad other colourful tropical bird species. You can walk the jungle trails around the cabins, or take a dugout canoe along the river and creeks surrounding the area. Meals of freshly caught fish are delicious, and the owner Alvaro is always appearing with some random jungle fruit fresh from the forest. And, best of all, a whole cabin (that can sleep up to 4) costs about 80.000 COP per night! It's got to be the best value ecolodge experience in Colombia!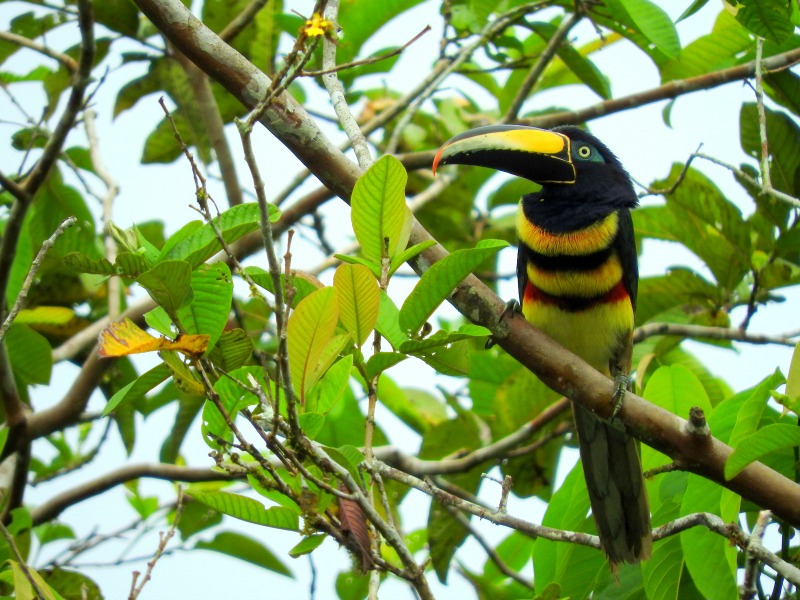 4. The Serrania de la Lindosa
One of the sights that makes Guaviare a truly unique place to visit, and so different from other 'jungle' destinations, is the Serrania de la Lindosa – this ancient plateau bordering the south of San Jose rises from the surrounding lowland jungle and offers a completely distinct ecological region to explore. Characterised by grassy scrubland forest, rocky formations and drier climate, the Serrania is like an alien landscape in many ways. The area used to be underwater billions of years ago, and the evidence is still there: the surreal rock formations of the Ciudad de Piedra, which appear like the avenues and squares of an ancient ruined city, are a particular highlight. Wandering these formations, watched over by silent vultures in the treetops, it can be tempting to feel like you've discovered the lost city of Atlantis by mistake. The nearby caves, Dali-esque rocks and swimming holes of Los Tuneles are another highlight, and the wide-open vistas over the distant jungle make this a truly special place to enjoy sunset as well. The nearby Serrania de la Macarena might be more well-known, but Guaviare's Lindosa hosts far fewer tourists, and is a truly special and surreal place to visit.
5. Water, water and more water! 
We're on the edge of the Amazon here, so the region is characterised by water: mighty rivers, lakes, creeks and swimming holes abound in Guaviare and if, like me, you love a swim, then you'll be very satisfied during your visit. San Jose itself lies on a bend in the Guaviare river (you can grab a canoe at the docks and head to a river beach for a dip and to enjoy the sunset). Further afield, you can kayak on the stunning Laguna Negra, which perfectly reflects the sky like a mirror on a calm day, dive into the eroded 'jacuzzis' of Los Tuneles or the Pozos Naturales, or discover the hidden waterfalls of Las Delicias. Then there are the aforementioned Cano Cristales-like rivers. All of this water supports the remarkable biodiversity discussed in No. 6, and makes for a truly diverse visit. So grab your trunks and get on the bus…Guaviare awaits!
6. Guaviare = biodiversity!
This region is so biodiverse it can be quite unbelievable! Even non-obsessive nature-lovers (I'm more of the obsessive kind) will find something to be amazed by here: pink dolphins, caiman and turtles on the Guayabero river, at least 4 species of monkeys seen regularly in the jungles around the town, toucans, parrots and hummingbirds all over the place (even the town square) – Guaviare is truly a naturalists paradise. Simply by travelling to the places mentioned above on regular day-trips you can observe some of Colombia's most diverse and beautiful wildlife; expertise is not required to enjoy Guaviare's natural treasures. If you are more obsessive, like me, contact Cesar Arredondo (313-478-5605) – a local bird guide who specialises in organising wildlife-watching trips. The real gem of the area is Damas del Nare lake (I haven't made it here yet) – here you can swim alongside a very friendly group of wild pink river dolphins! So make sure to pack the binoculars along with the trunks…
7. Fascinating culture
As the gateway to the Amazon and, sadly, the new home of many indigenous people displaced by the conflict in the southern jungles of the department, San Jose del Guaviare is a fascinating place to discover the cultures of many of Colombia's 80+ indigenous people. The famous Nukak-Maku people were displaced here from their home in the Nukak-Maku national park, and live in poverty in reservations around the town – some have relocated to the nearby jungles and live semi-nomadic lifestyles, attempting to recapture some of their traditional practices. The Tukano people live in more prosperous reservations and are more encouraging of visitors and tourism: the Panure indigenous reservation is the home of a touring traditonal music group and many local artisan products. Contact them via Facebook to arrange a visit. There aren't many tourism oppurtunities involving the local indigenous groups, but several local tourist operators are working alongside the communities to eventually offer a sensitive, sustainable tourism that involves the local people. And, of course, the ancient cave paintings of No. 2 offer a fascinating window into the ancient cultures which once populated the region. Come for the wildlife, stay for the culture!
8. The spirit of adventure
There are so many regions of Colombia that are really starting to welcome large numbers of tourists (and before you say: I'm a traveller, not a tourist; I've covered that here!), but there are just as many that basically don't see any tourism at all. Guaviare falls firmly into the latter category – a visit to San Jose is a real adventure, one that is firmly off-the-beaten-track. If you're the kind of person that enjoys one-upping other travellers in hostels (but hopefully you aren't!) then this is the place to visit. You won't meet many other people who have travelled here, that's for sure!
Chris