The Complete Guide to Tayrona – Part 1: How to get there & what to pack
The Complete Guide to Tayrona – Part 2: Where to stay & Safety and security tips
The Complete Guide to Tayrona – Part 3: Beaches
The Complete Guide to Tayrona – Part 4: What to do in Tayrona
Tayrona National Park has wonderful beaches; we all know this…we even wrote about it in Part 3 of this guide (see!)…but there is so much more to Tayrona than just beaches! Most guides to Tayrona focus entirely on the Caribbean coastal element and forget the magical experiences to be had throughout the rest of the park. So here is Part 4 of our Complete Guide to Tayrona – 'Beyond the Beaches…'
What activities are there to do in Tayrona? Where can you hike? What wonderful wildlife is hidden out there in the jungle to be spotted (you'd be shocked how easy it all is to see if you make the effort)? And what do you need to do to make your stay in Tayrona a well-rounded visit, and maybe even a little bit different to everyone else's? Here's the only Tayrona guide you'll need!
Activities in Tayrona
Hike to Pueblito:
This is Tayrona's very own mini-Lost City trek, but much shorter and more manageable, and perfect for anyone with a little bit less time and an interest in history and culture. The hike begins behind the Cabo San Juan campsite and, after a short (10 minutes) flat section along a coconut lined path, climbs steeply uphill for much of the remainder of the hour-and-a-half walking time (this is a rough estimate – it's about 2 1/2km total, but the heat and the uphill can slow it all down a bit). It can be hard going, but the reward is a delightful hike, scrambling up giant boulders fashioned into a path by the former inhabitants of this jungle settlement many hundreds of years ago; at some points even having to pull yourself up smooth surfaces with the help of a rope. Upon arriving you are met with the well-preserved remains of Pueblito itself; a former Tairona settlement, and currently occupied by a small group of indigenous Colombians, whose huts give a clue as to what this place may have looked like all those years ago. Please be respectful of the residents and don't take their photo.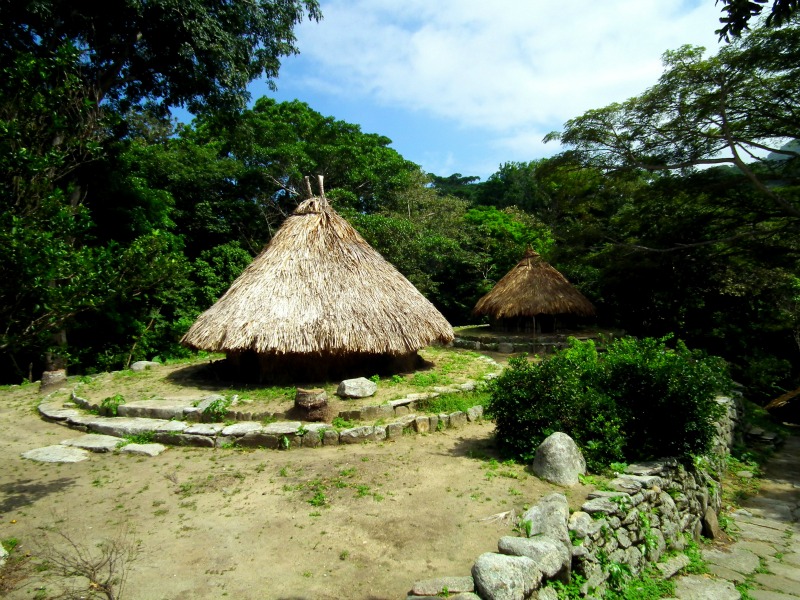 The primary reason for doing this hike is definitely to experience the culture and history of the ruined city; however, if this isn't your main interest then don't just assume that it's not for you. The boulder-strewn path alone is worth your time, and the wildlife is amazing: I have seen Howler Monkeys, Iguanas and bats just along this path alone.
'9 Piedras' Hike: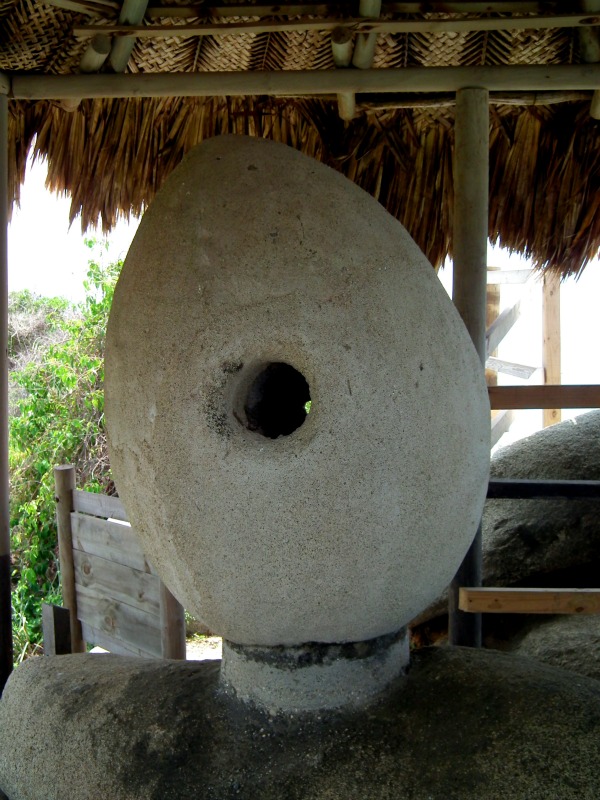 The '9 Piedras' or 'Nine Stones' hike is, like the Pueblito walk, connected to indigenous rituals and customs. In this case, the titular '9 stones' refers to a series of remarkable, egg-like stones standing at points along the trail: these stones contain perfect, round holes, designed for observing the passage of the cosmos, possibly over 1000 years ago, by ancient indigenous groups. I'm pretty sure there aren't 9 to be seen, but the trail connecting them is one of the loveliest walks you can do in Tayrona (and one of the least well-known). It takes in the eastern section of the park, including the beaches of Canaveral and Castilletes, and many smaller ones along the way. It is mostly a cliff-top and jungle trail, offering stunning views along the entire length of the park; it is also one of the only sections with a privileged high viewpoint to take in the jungle behind the beaches. Hiking this section of the park was one of my favorite Tayrona experiences, made even better by the fact that we didn't see another person along the whole trail…a rarity indeed in Tayrona! Make time to experience this hike for sure…
Tayrona Park Wildlife Guide
The wildlife in Tayrona is one of its principal appeals to me: don't get me wrong, I love a good beach…but I love seeing monkeys in the jungle about a billion times more! And you can see plenty, right here in Tayrona…along with loads of other rare and beautiful species! Here's a guide to the most exciting animals you can see, as well as some tips on how to see them…
Monkeys in Tayrona:
Tayrona is home to 3 species of monkey: Red Howler Monkeys, Capuchin Monkeys and the rare and endemic Cotton-top Tamarin. The good news is that all of these species are fairly common within Tayrona and not too hard to spot with some patience and a little hiking around! The Red Howlers are the ones you hear making those terrifying bellowing noises from the jungle at dusk and dawn, whilst the other 2 species are more likely to be heard twittering and screaming like little birds in the forest. Often the noises (along with the sounds of cracking branches) are the best way to be alert to the presence of monkeys around you, but there are some other things you can do to help your chances of seeing monkeys in Tayrona:
I have seen the most monkeys along the entrance road into Tayrona between the first gate and the car-park: why? With mostly cars passing through here, the monkeys seem not to be as keen to avoid the path…the main entrance hike to the beaches is quite trafficked by people and I have only ever seen Capuchins there once. So maybe consider making the hike in/out of the park at dusk or dawn to be in with a great shot of seeing some monkeys.
Get out hiking at dusk and dawn – this tip applies to most animal viewing; however, it's especially good advice when it comes to seeing monkeys in Tayrona. They are far more active first thing in the morning and just before evening, so make the effort to get out early into the jungle to be in with a good shot. Added bonus: the whole park is much quieter at this time so the chances of seeing all sorts of wildlife is much better.
Hike down some of the lesser-visited trails. One place where I have often seen capuchins and howler monkeys is along the horse trail from the car-park to Arrecifes – officially this is just for horses, but anyone can hike along it. It's much quiter, and goes right through the forest, so offers great chances to observe wild monkeys in natural, peaceful conditions.
Of course, you might get lucky and just see lots of monkeys near the campsites and along the entrance hike; however, follow some or all of the above tips if you want to make sure you stand the best chance of observing wild monkeys in Tayrona.
Other Tayrona Wildlife:
I know, the photo below is crazy, right!? My friend took this photo on her trip to Tayrona: a giant boa in the process of eating a tamarin (and staring right down the lense of the camera to make it even crazier!). This a rare sight in Tayrona, but a good example of the kind of amazing wildlife hidden in the depths of Tayrona's jungles. There is a tiny Jaguar population still resident in those jungles as well: I know because I've seen a paw-print on a jungle bird-watching hike with a local guide.
However, there are plenty of other amazing species that you are actually likely to see on a visit to Tayrona. Iguanas are a common sight, often hanging out right next to the campsites, or sunning themselves on Cabo's boulders. A small hike anywhere near a stream or freshwater source should reveal the tiny endemic poison dart frog species that calls Tayrona home: the Yellow-striped Poison Frog (Dendrobates truncatus). They are beautiful little frogs and quite common in the park: off the trails you can see tiny tadpoles in almost any puddle of water! It is also possible to see caiman (small crocodiles) in Tayrona: they are mostly present in the freshwater lagoons near the sea, and very hard to observe; however, I encountered a young one under a rock in essentially a puddle on the aforementioned nature hike!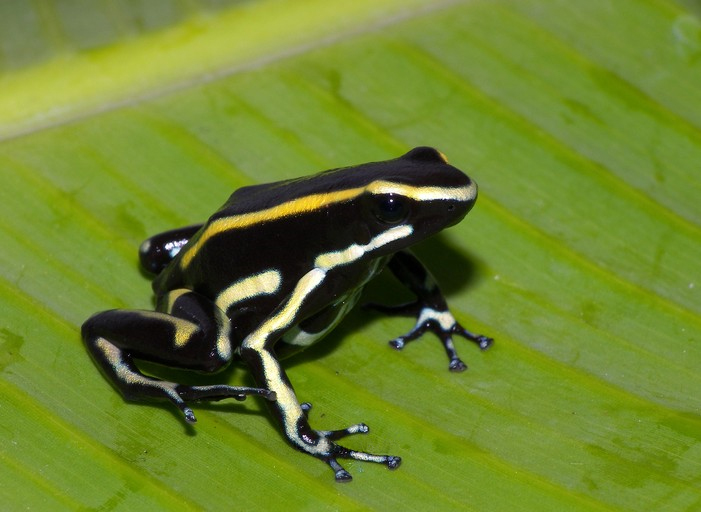 It's also quite common to encounter the Basilisk lizard (or Jesus Christ Lizard): a crazy, beautiful little lizard with a crest on it's head, and the ability to run on water! Keep an eye out at streams and ponds, and on the large rocks around them. If you get close to the lizard it might even perform it's signature "walking on water" trick – quite a sight!
The other animal you'll almost certainly come across is a sweet little mammal called an Agouti. This animal is commonly confused – I have heard the following sentence so much from travelers in Colombia: "Tayrona was amazing…and we saw capybaras!" I always hate to burst the bubble, but they saw Agoutis – there aren't any capybaras in Tayrona National Park. But that doesn't mean the agoutis aren't exciting: they are like mini-capybaras and are most commonly seen at dusk and dawn running across the paths through Tayrona.
Along with all these different species you will also encounter a large number of birds throughout the park. At the coast you are most likely to see Brown Pelicans, Royal Terns and Yellow-headed and Crested Caracaras, whilst the forest and mountains can yield a large number of beautiful tropical species; highlights are the Blue-billed Curassow, Rufous-tailed Jacamar, Keel-billed Toucan and the Lance-tailed and White-bibbed Manakin (they make the amazing little noises that sounds like firecrackers in the jungle!). Birding in Tayrona is an excellent way to see a lot of the park and enjoy some of it's beautiful wildlife at the same time. As always, an early morning stands you in better stead…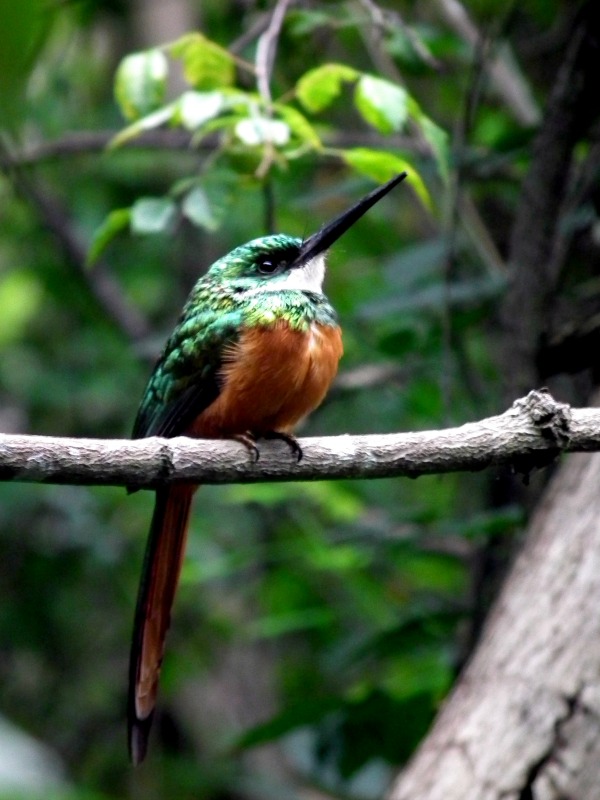 So that's The Complete Guide to Tayrona: Park 4 – What to Do in Tayrona National Park. For the previous 3 parts just follow the links at the top of the page, and if you have any further questions about Tayrona please leave a comment below.
Chris