The Complete Guide to Tayrona – Part 1: How to get there & what to pack
The Complete Guide to Tayrona – Part 2: Where to stay & Safety and security tips
The Complete Guide to Tayrona – Part 3: Beaches
The Complete Guide to Tayrona – Part 4: What to do in Tayrona
In this 4 part series from See Colombia Travel we offer a complete, up-to-date guide to Tayrona National Park on Colombia's stunning Caribbean coast – information about the park, getting there, what to pack, where to stay, safety and security etc. Hopefully this will help anyone wanting to visit Tayrona plan their visit accordingly and smoothly. In Part 2 we will look at where to stay in the park, eating and drinking in Tayrona, and some safety and security tips…
Tayrona National Park is a stunning part of an already stunning country. However, visiting Tayrona, whilst easy enough to do, often prompts a lot of questions from first time visitors. How do I get there? What do I pack? Where do I stay? We dealt with the first two questions in Part 1, and, here in Part 2 of the Complete Guide to Tayrona, we're going to deal with that last question primarily. I've heard a disappointing number of backpackers complaining recently that they thought Tayrona was overrated; usually it turns out that these people visited on a day-trip from Taganga (a trip which hostels are increasingly pushing) – I can't emphasize this strongly enough: spend a night or two in the park! Tayrona is a place to relax on the beach, but it's also a national park to explore, full of wildlife and ancient ruins! So read on for the complete guide to Tayrona National Park accommodation…
WHERE TO STAY IN TAYRONA
Cabo San Juan: the most iconic Tayrona sleeping spot, this lovely (swimmable) beach to the west of the park offers accommodation in both hammocks and tents. It is also the busiest place to stay by far, particularly during Colombian national holidays and school breaks (ie. December, Easter Week and July/August).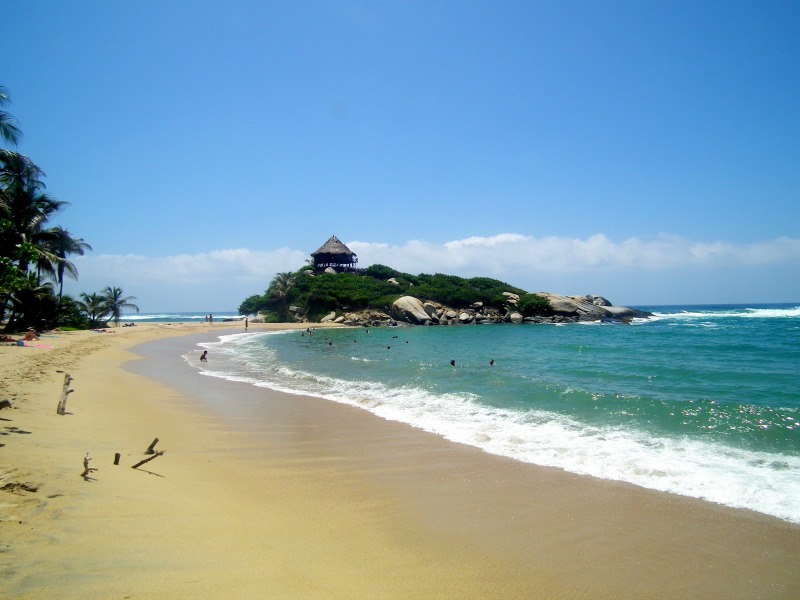 The famous hammock hut (pictured above) in Cabo is home to about 20 hammocks costing 25.000 per night. Word of warning: as beautiful as the spot looks, it gets really cold at night, and pretty windy too. Personally I'd enjoy the views (it's public anyway) and sleep behind the beach in a hammock or tent for 20.000/25.000 COP. Checkout is at 2pm when you decide to leave. If you want a hammock in the hut you might have to put your name down before 11am for a space (and perhaps even wait a night during high season) – demand is high! 
There are lockers available next to the restaurant, and electricity between 6-10pm as well. The restaurant offers meals between 10-25.000COP, of varying quality. There are also freshly squeezed fruit juices on site as well.
Arrecifes (Bukaru & Don Pedro): Unlike Cabo San Juan, which is just the one site, the area set behind Arrecifes beach offers a number of different campsites with hammocks and tents to rent. Arrecifes is less popular than Cabo (possibly as you can't swim here) but that's no reason to dismiss it. I have stayed at Arrecifes campsites twice and preferred the experience to Cabo – fewer people, more central, and calmer. Plus, nowhere is excessively far to walk in Tayrona – the hike (either through the jungle or along beaches) to Cabo from Arrecifes takes less than an hour and horses are always available to rent for those with less stamina. Hammocks or tents cost more or less the same here as in Cabo – expect to pay no more than 20.000 for either one. The main Arrecifes campsite is run by Aviatur and costs between 15-20.000 per night for tents or hammocks. Another option is Bukaru campsite, which is smaller and privately run, costing much the same (but with room for negotiation during low season).
One Arrecifes campsite I would recommend is Camping Don Pedro: it is set about a 10 minutes walk back from the beach and other (busier) campsites, and is much more peaceful for it. They have a nice restaurant for reasonably priced meals (arroz con pollo at just 15.000), and a large clearing amongst palm tress and Tayrona's trademark giant rocks. Renting a tent (with mattress) here costs just 15.000 total. Some hammocks (with mosquito nets) are available too for the same cost.
Cañaveral & Castilletes: This is definitely the least visited area of Tayrona camping beaches, which is a shame as it is also set along arguably the most beautiful stretch of coastline in the park. Located to the east of the park, closer to the entrance, car-park and the Ecohabs (see below), both Cañaveral and Castilletes are long, non-swimming beaches with large waves surrounded by palm trees and giant rocks (so far, so Tayrona, eh?!), with access to the lovely '9 Piedras' hike along the eastern coast of the park (more in Part 4).
When staying at the Ecohabs I hiked these trails along the coast and can honestly say that it was the most beautiful part of the park for me! If you have a few nights in Tayrona definitely consider spending the first or last here (convenient as it is closer to the entrance/exit). Compared to the previous busier sites, Castilletes is a peaceful pleasure, as this section of the park remains relatively undiscovered by the crowds. To reach it either follow the signs from the car-park where the horses leave from, or take a right turn on the entrance road into the park when you see a campsite sign – don't be fooled, this turn-off looks like a forest campsites, but the curved coastline of the park means the beach is closer than you realize!). Castilletes also has hammocks and tents for between 7/12.000 in low season and 8/15.000 in high season and a restaurant on site, where prices are much the same as the rest of the park (but make sure they know you want dinner, it's a long hike to anywhere else with food). It also has basic rooms available, but these are expensive for what is on offer: 40.000 for a single, and up to 150.000 for 3/4 person rooms. Their website has complete information and contact details.
Ecohabs: The Ecohabs are the fancy option in Tayrona: these are the ones to stay in on family holidays/romantic getaways/lottery win celebration trips (delete as appropriate). In fairness, for people visiting from countries where the local currency is strong vs. the peso, the Ecohabs might not seem crazy expensive. I stayed with my parents and they didn't find it over the top. A 3-person cabin will set you back just over $100 per person depending on the season, with your breakfast and lunch included in the total. For the luxury element of your holiday in Colombia it could be worth looking into…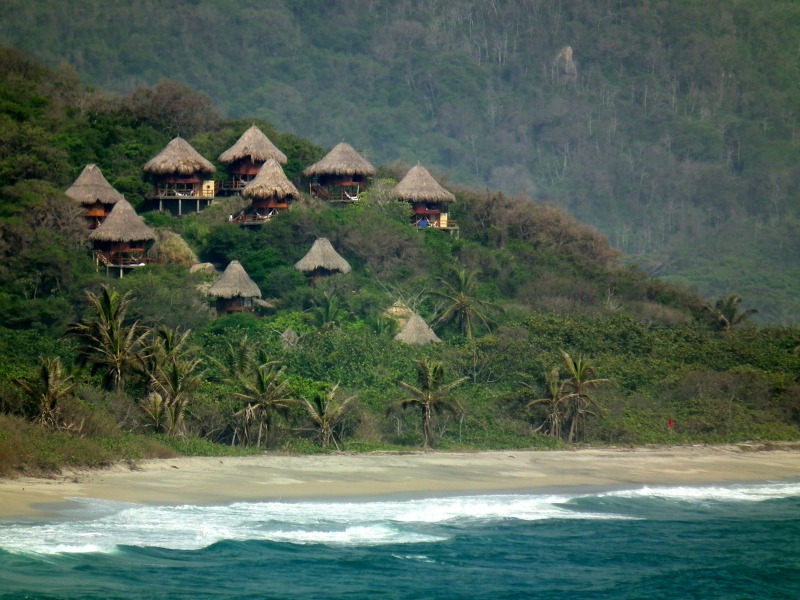 The selling point here is both luxury and location: at just 800m from the car-park, with access to two stunning beaches, and both the east and west of the park, the Ecohabs are certainly offering decent value for money if you aren't on a budget. The restaurant is pretty pricey for dinner (but the food is excellent), and there is also a luxurious spa on the beach for a cheeky massage. Almost private access to the lovely (swimmable) La Piscinita beach, with tables, umbrellas and a bar makes for an added bonus!
BUDGET FOR VISITING TAYRONA
So, adding up all of the costs from Part 1 ('Costs of Entering Tayrona') and the accommodation and food costs explained in this part, we can form an idea of the cash required to stay in the park (remember: no cash machines!)…
For the average foreign traveller (camping and hammocks; most meals on-site) a 2 night stay in the park should cost in the region of 120.000-180.000: 2 nights camping, breakfast and dinner (and lunch in the upper budget), snacks and drinks (budget less if you plan on not drinking as much alcohol), and entry to the park itself.
A Colombian visitor can take about 25.000 off this cost for the cheaper entry fee.
Budget slightly higher if you're not a hiker for the added horse-rental costs.
This does not include any additional items that you bring in with you i.e. water
Tayrona is not the cheapest place to visit in Colombia; however, smart budgeting and bringing in some food/drink items can make it all a bit cheaper! 
SAFETY AND SECURITY IN TAYRONA
As a protected national park Tayrona is almost certainly one of the safest places in the entire country, but you always be more safe and secure, right?! So here are some (pretty easy to follow) tips for how to be safe in Tayrona…
Use the lockers! As I've mentioned, the campsites all have lockers available…so use them! With so many people hanging around, camping and working, you can never be too secure with your valuables. Bring a padlock (which should be on your list if you read Part 1!), or buy one from the Cabo San Juan shop for 10.000.
Obey the swimming signs! This is the big one people! Those signs exist for a reason – many people have drowned at Tayrona due to the strong currents and riptides. Don't be like one blogger I read (who shall remain nameless) who chose to interpret the signs as relating to swimming ability and plunged in at Arrecifes, only to nearly drown! Part 3 of this post deals with all the beaches in detail, but don't swim at Arrecifes or Canaveral, and only swim a little way out at Cabo. Tayrona's waters are lovely, but it's not worth losing your life!
Beware of coconuts! Seriously people: while I was in Tayrona a woman was evacuated via the Ecohabs in a stretcher after a coconut landed on her head! She was ok, but pretty badly knocked about…A coconut falling from a 10m palm tree can give you quite a headache. So don't avoid walking near the (ubiquitous) palm trees, just be aware.
Stay sun-creamed and hydrated. Obvious one maybe, but the sun here is baking, and there's lots of hiking involved in a Tayrona visit (see Part 4), so bring lots of water and sunblock and use both.
Respect the nature – there's nothing super dangerous in the park (not if you follow this tip anyway), but there are large snakes, small caiman, monkeys  and iguanas, any of which could give you a nasty bite if you don't respect them as wild animals.
Finally: I cannot stress this enough: care for the park! The money visitors bring in is essential to maintaining the park, but visitors must retain a level of responsibility as well – don't litter, try not to make excessive noise, and take out what you bring in. If everyone does this then the park can remain as beautiful as ever! (I know, a repeat from Part 1…but it's really important!)…
So there we have it: Part 2 of our Complete Guide to Tayrona National Park. Follow the links at the top of the post for the other parts of this series, and, above all, have an amazing experience in Tayrona. And please comment below with any questions or doubts.
Chris