I have lived, worked and traveled in Colombia for almost 3 years now, on and off, and have been lucky enough to have my parents come over and visit me 3 times (I'm an only child, it helps!). We have had some amazing trips to a variety of diverse and beautiful places, but these visits have not been without their challenges. Planning a family visit, be that by parents, siblings or (probably not!) grandparents, can be a challenge: you might have been here for a while, or be used to traveling in slightly more challenging places, but they haven't/aren't. And while Colombia is generally an extremely safe place to travel with your family, it can be nerve-wracking for them. It's important to bear that in mind and plan accordingly: following a few simple tips can make the whole experience far more positive and rewarding. So here are my top 10 tips for planning an excellent family trip to Colombia:
1. Be patient!
These tips are in no particular order, but if they were, this would be No. 1! I have been guilty of impatience when traveling with my folks and it just makes things difficult. We know, you're a young, seasoned traveler, who speaks Spanish etc. etc. Your family might not be, and they are likely to be well outside their comfort zones, not to mention struggling with altitude/humidity/heat. So take a deep breath and be patient with them, they'll settle in soon enough.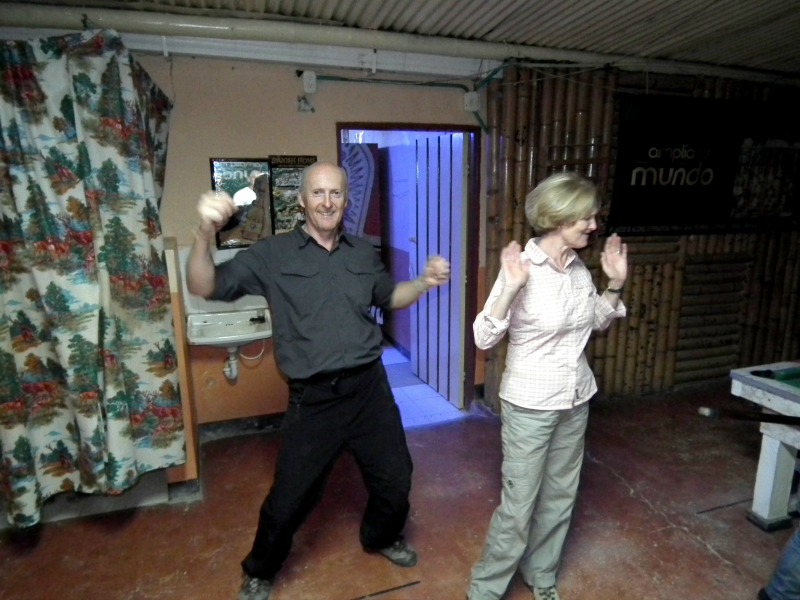 2. Prepare to be a translator
Congratulations, you've mastered Spanish. You can now understand a paisa, costeno, rolo and pastuso in their native tongue. You're so happy to show off to your parents your mastery of that strange foreign language. Well done, but you've also consigned yourself to the role of unpaid translator and interpreter on your upcoming family holiday in Colombia. Enjoy!
3. Plan a smart route
Yep, we know, you've been itching to get off-the-beaten-track in Colombia: Punta Gallinas sounds beautiful, Mocoa is so under-visited, riding the brujitas in San Cipriano is a unique experience…well, unless your family happen to be the 'Grylls' family, they probably aren't quite ready for this yet! Pick a smart itinerary and they'll be happier for it, and you'll be more relaxed. Nice fincas in the coffee region: check; Cartagena: check; Tayrona: check. You can see our list of the best places to visit with your parents for some good ideas based on my experiences.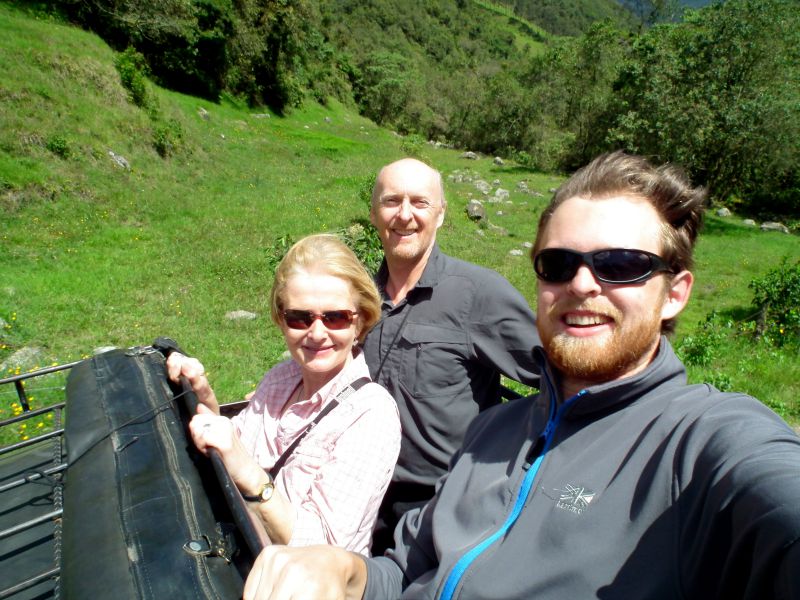 4. Day-trips are your friend…
Day-trips have saved my life when traveling with my parents: a good day-trip allows you to experience a few different things, see some of the country, all while retaining the promise of a reliable evening meal and good hotel to return to. Cundinamarca coffee-farms with Andes Ecotours, San Basilio de Palenque and the Mangrove swamps from Cartagena, El Dorado bird-lodge from Minca: my parents loved all of these experiences but they were relaxed and comfortable at the end of the day.
5. Relax on the food front!
My Dad learned the hard way that street food is not always your friend when he got a pretty nasty stomach bug from something or other in Merida in Venezuela in 2009. Now, don't get me wrong, I'm all for street-food (the best meal I have ever eaten was under a tarpaulin in a bus station in Venezuela), but for newcomers to Colombia or to travel in South America, their stomachs might not be quite up to it! I know, you really want them to try a delicious street hot-dog, Colombian-style…but maybe just find some nice restaurants with local food for them to enjoy: everyone's happy!
6. Don't underestimate them!
It's weird, everything I've been saying thus far makes it sound like I'm underestimating my family (and yours), and maybe I am, but I prefer to think of it as knowing and understanding people's limits and not pushing them. However, to counteract that somewhat: test them a little! My Mum was unsure about being able to make the hike to Pueblito in Tayrona National Park, but I convinced her to join, we took it slow, and she absolutely loved it; ditto the long day-hike in the Cocora Valley. Obviously it depends on your family, but don't let them talk themselves out of amazing experiences just 'cause they're nervous. Make a judgement call, but try to encourage them.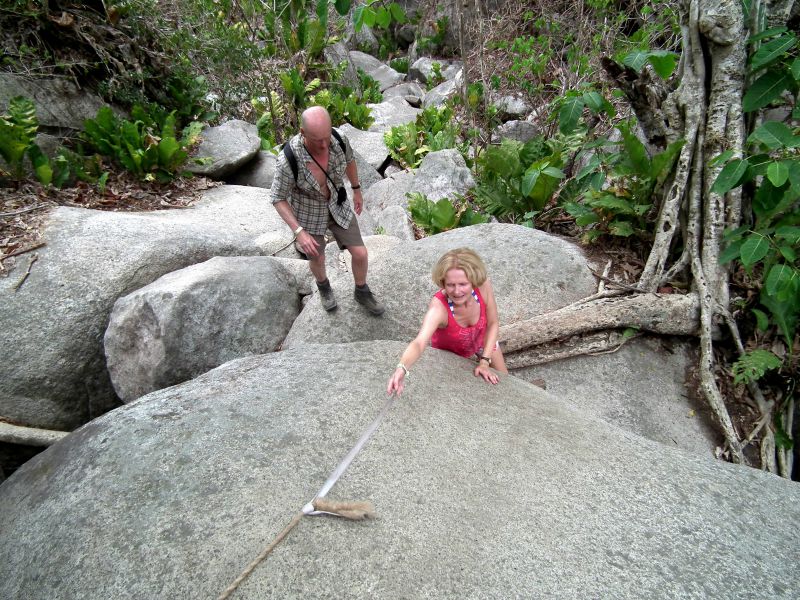 7. Engage with people
Let me explain: them (perhaps) not speaking Spanish, and being new to the country might put you off planning activities where your family engage with local people. This is a huge mistake: language barriers may exist but you'd be amazed at how people can break them just by non-verbal communication. My parents are outgoing people with no Spanish at all (my Dad will chat to anyone in a pidgin mixture of Italian, French and Greek, none of which he speaks either!) and they bonded with everyone they met through gestures and shared laughter. They got on especially well with people roughly their age: coffee-farmers in Tibacuy, boatmen in Providencia, Willy drivers in Salento – people have an innate ability to cross cultural boundaries and enjoy each other's company, so let that happen naturally. And in a country like Colombia it would be a crime to not show off the amazing openness and kindness of the people.
8. Embrace the cliches…
Yep, Cartagena is touristy; I know, you've seen so many monkeys during your travels in Colombia; sure, Monserrate and the Gold Museum are for newbies! There are so many things that people with experience living and traveling in Colombia might believe about what, for newcomers, are some of the most exciting parts of the whole experience. They'll probably love Cartagena's architecture and lovely restaurants, seeing monkeys in the jungle is always super-exciting (I don't care how many you've seen, it's always awesome!), and the views from Monserrate are breathtaking. Sure, you've seen it before, but they haven't so embrace it.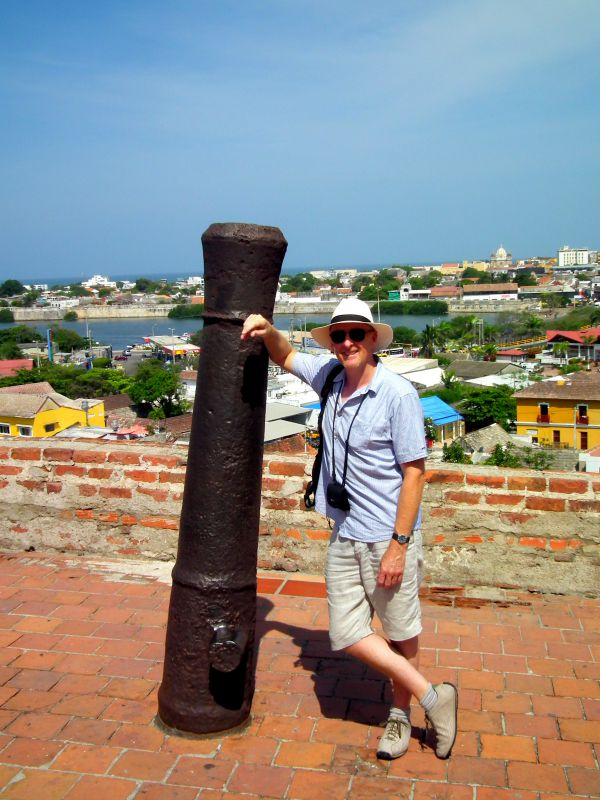 9. Fly…
I know it's not the most environmentally-friendly of messages, but neither is a cross-country gas-guzzling bus! If your family, especially parents, are anything like mine, they have about a 4 hour bus/car limit before the bad-backs and legs start to kick in. Colombia's geography means that any decent destination for a longer holiday will be further on a bus. But this difficult terrain also means the country has one of the continent's best services when it comes to internal airlines and flights. So, unless your family are unnaturally well-preserved…fly!
10. Play tejo!
Seriously…just do it! They'll love it. Everyone loves it!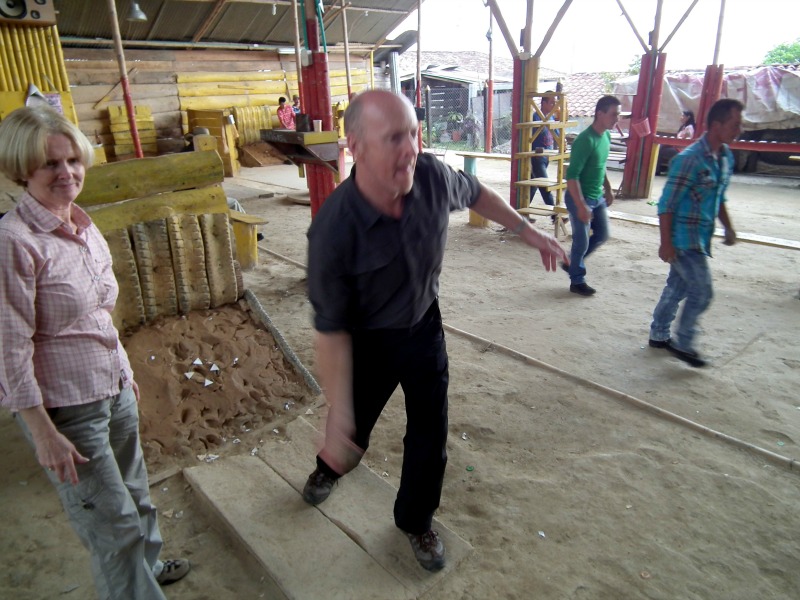 Chris