I have travelled on some unusual modes of transportation over my many years of travel: tuk-tuks through Bangkok, sea-planes over Vancouver Island, a hot-air balloon over the Masai Mara. Even in Colombia you can often find yourself crammed into the back of a 6-seater bus with 14 other people or, as happened to me once in la Guajira, several freshly slaughtered goats! However, I have never travelled on anything as unique or unusual as the brujitas of San Cipriano in Valle del Cauca…
The brujitas are a testament to the ingenuity of the Afro-Colombian inhabitants of this tiny little Pacific jungle village, around 3 hours from Cali by bus towards the port city of Buenaventura. A train line passes by the entrance to their town, but passenger trains don't run anymore, and only the occasional freight train passes by, wailing solemnly in the night most of the time. So, rather than risk becoming cut off from the world, and missing out on lucrative income from tourism, San Cipriano's residents have invented the brujitas – old motorbikes attached to wooden platforms with benches on them, placed on the train tracks and driven, with no small amount of screeching, scraping and rattling, at break-neck speeds between the town and the road!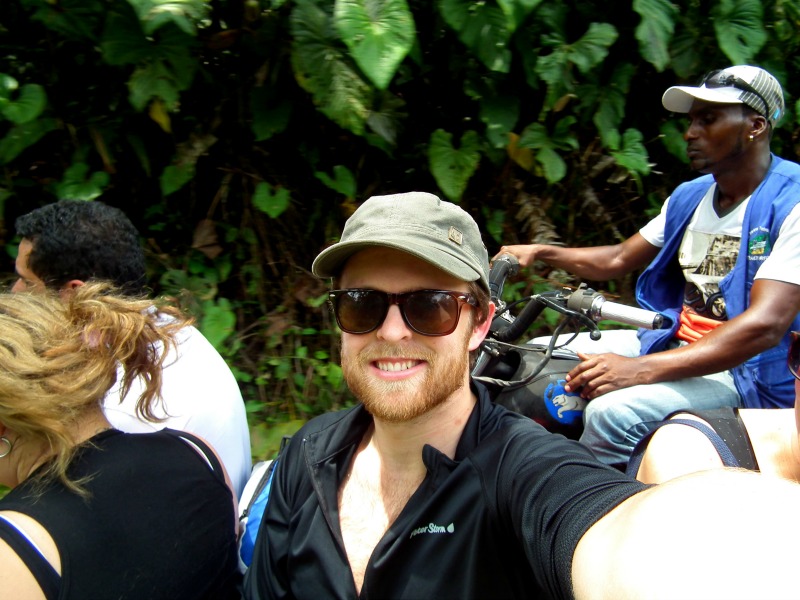 You can catch these 'trains' from two places: Zaragoza, a roadside village closer to Cali, or Cordoba, nearer Buenaventura, and more of a large town. Either one is fine, it makes little difference to the amazing nature of a brujita ride, but perhaps Zaragoza is a little calmer. Because, whilst San Cipriano remains relatively undiscovered by the backpacker circuit, it's pretty well known to the folks in Valle del Cauca, who flock to the town on weekends and holidays to take advantage of its tasty seafood, clear, fresh rivers, and (this might just be me) ample birdwatching opportunities. There'll be more to come about the town itself next week; this post is about those 'little witches'…
A ride from Zaragoza on a brujita costs a very reasonable 10.000COP for a return ticket (makes sense: there's no other way out!): pay at the small ticket kiosk and cross a rickety swinging bridge to the train tracks. From there it's simple: position yourself on a bench on your brujita (try and sit facing forwards, it's way more fun), hold on tight, and enjoy! The ride takes around 20 minutes and passes through beautiful jungle, eerie, crumbling tunnels, and over one very Indiana Jones-ish bridge! At one point the forest opens up and you are presented with a breathtaking panorama of the river as it works its way through the forest. It's as if Universal Studios commissioned a ride for their theme park, based on some jungle film that never got made, and then abandoned it to be taken over by entrepreneurial Colombians!
Part of the fun is the inevitable standoff that occurs when two brujitas meet travelling in opposite directions! Naturally people want to get in and out of San Cipriano, so they have to go both ways – basically the brujita with more people is deferred to, and the other driver has to pick up his contraption and move it off the track. It's even more panicked when the train's low whistle is heard in the distance...let me tell you, the track clear pretty darn fast then!
San Cipriano is highly worth a visit regardless of the brujitas – it's forests are pristine, the rivers are some of the nicest I have ever swum in, and the food is just delicious…however, a ride on these strangely archaic/futuristic devices is the real icing on the cake. It's simply unique, and with the exotic jungle setting, it truly feels like an adventure as you whip through the trees, on your way to who-knows-where…
Chris