Tejo is one of those things that nobody really believes in outside of Colombia: try telling people that the national sport of the country you live in involves chucking metal lumps at gunpowder whilst getting slowly (and often compulsorily) drunk, and they often won't believe you, or at least assume you're exaggerating. The game receives a fairly cursory mention in the Lonely Planet guides, and even then the amazingness of a tejo experience is heavily understated. The assumption is generally that the explosions that you have so obsessively described over Skype are more like little firecracker pops; the kind of thing you might not let a toddler play with, but really no more dramatic than that.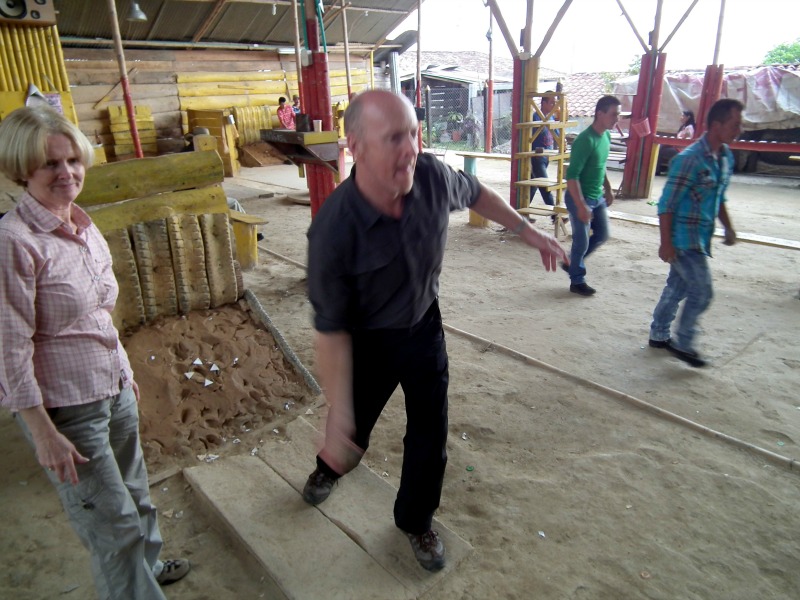 So it was with great pleasure that I took my parents to play their first ever game of tejo in a traditional cancha in Salento earlier this week: the chance to demonstrate my not inconsiderable skill notwithstanding, it was exciting to be able to show them the national sport of my adopted homeland. They approached the experience with some trepidation, and a few little jumps at the loud explosions coming from adjacent lanes, but with an open mind, ready to have some fun. The rules were explained clearly (and in English) by Juan, the very friendly owner of the cancha, and three excited Colombian kids jumped in and offered to play us 3 on 3; England vs. Colombia. Even though their combined age wouldn't have topped my 26 years, I was still anticipating a beating; I mean, my parents were brand new to all this, and surely wouldn't be any good, right?!
Wrong! My Mum in particular took to tejo like a duck to water; she was consistently hitting the clay, and seemed to be always inches away from making a mecha. My Dad started a little slower, but once he got his eye in he was the same; my aforementioned skills kept us in the game for the first round, and we lost 21-20 (thanks to some fairly creative score-keeping from our young charges).
However, as the beers flowed, and the gunpowder smell filled our nostrils, the game began to turn in our favor. Mechas came from both parents, and my Mum even managed an elusive 9-pointer! We claimed the second game by a dominant score of 21-10, and rolled through our (tiny) opposition by 8 points in the final round to claim a 2-1 victory. Palms were slapped, fives were highed, and all I could hear the kids whispering was: "Man, that lady can play!" Needless to say, my Mum was pretty chuffed with that! She'll be dining out on it for years!
I love a good game of tejo in any circumstance, but, I have to say that playing with my parents was about as fun a way of experiencing the Colombian national sport than any other. And what is even more impressive is how good they were; most of my friends over here (Colombian or extranjeros) couldn't muster such a good performance now, let alone on their first time! So, for anyone planning a trip to Colombia with their family, don't forget to enjoy a game of tejo; it's a great chance for them to spend some time in a different, less touristic atmosphere, and have a lot of fun at the same time…
Practical Guide: We played our game of tejo at Cancha de Tejo Los Amigos in Salento (Cra. 4A #3-32). It's a really traditional old tejo cancha in a beautiful town, with friendly owners, and good English spoken (by some). Highly recommended…
Chris