I remember travelling to Sri Lanka some years ago and being told that no matter how poor people were, going hungry was very rare as the abundance of fruit the country had to offer ensured there was always something to eat. Now I'm not sure if that's the same here in Colombia, but certainly there's an incredible amount of fruit here and, more impressively, a huge amount of diversity. In fact, there's a book in publication that details 150 commercial Colombian fruits. One hundred and fifty. Commercial! That means there's even more than that on the underground fruit scene! I wonder which fruit was the latest to sell-out?
Anyway, it's beyond the scope of this blog to list 150 fruits for you (sorry) but since fruit and food is such a big part of Colombian culture, here's five of the best we've enjoyed in Colombia (part 2 will contain 5 more):
Uchuva / Cape gooseberry fruit
I first tried these little, round treats when my housemate came home carrying a bag full of relatively familiar fruit, and then something that looked like pot-pourri. Naturally I was outraged. How dare she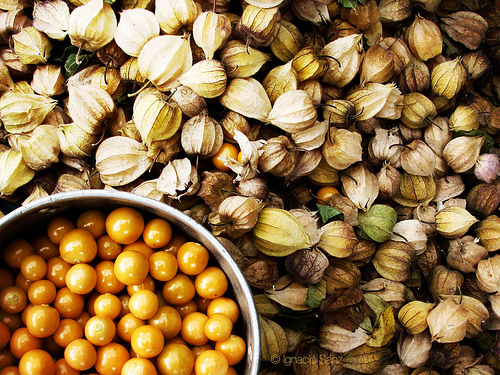 spend our food budget on pointless decorations, no matter how pleasant smelling it might make our humble abode?! Of course, upon closer inspection I found a small, marble-shaped orange thing inside. Turned out it was fruit. Turned out it was delicious, very sweet and very more-ish. It's pretty ideal for a small snack to munch on, or for jams and pies. Humble pie in my case.
Feijoa / Pineapple guava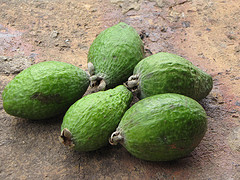 As with many of the fruits in this list, I first tried feijoa in the form of a smoothie (good tip, if you're unsure of what flavour smoothie the waiter/waitress just offered you, just accept it, it's usually delicious). It was less sweet than I expected but then I'm used to smoothies back home, where the fruit is almost always mixed with half a cup of sugar. Still, it was a great accompaniment to my meal and I've since tried it on it's own and, yes, it was lovely.
Lulo / Naranjilla
This is somewhat of a favourite in Colombia and it's not hard to understand why. Many times when I'm out in a restaurant my Colombian friends will implore me to try a lulo smoothie and so, not wanting to disappoint, I've tried it for the first time about a dozen times. Still, it's easy enough to act surprised when it really does taste that good. It stands alone just fine but the real triumph of the lulo is found in smoothie form. The fruit has a citrus flavor, not a million miles from a lime, but with an extra little something to it. I'd highly recommend giving it a go as a juice, especially if you like your juices hearty, healthy-tasting and green.
Maracuyá / Passion fruit
Another fruit that surprised me with its diversity. Apparently it comes in three different species, all of which you can get in Colombia very easily. My personal favorite is the granadilla strain of passion fruit, which you dig your thumb into and then suck out the delectable, sweet seeds you'll find inside. Of course, the other varieties you can't go wrong with and I'm sure we're all fans of passion fruit smoothies since they are out-of-this-world good (especially here in Colombia).
Guayaba / Guava
Unbeknownst to me there's an absolute ton of species of guayaba in the world. Although guava is available in some countries, it's still relatively rare and, as always, tastes much better direct from the source. In Colombia the fruit is utilised in everything from juices and pies to pastry and doughnuts. Yes, it really is that popular here and you'd be a fool not to try it.
Paul