Food is a huge part of getting to know any culture and in Colombia it's no different. Many of Colombia's cities offer a wide variety of international cuisine, fast-food chains and, oddly, English-style pubs. But we think the best way to get to know about Colombia's cuisine and, therefore, Colombia's culture, is by sampling the traditional food sold on the street. Here's a short introduction to a selection of foods you might want to try on the streets Colombia:
Arepas
Arepas are the staple of the Colombian street food diet. You'll find them almost everywhere in Colombia, although with slightly different variations. Your standard arepa is made of pre-cooked corn flour or corn dough which is then mixed with water and salt. The mixture is then kneaded into the familiar flat, round shape you'll see all over Colombia.
Variations include the arepa de huevo, which is a popular snack on Colombia's Caribbean coast. A single egg is placed in the arepa before it is deep fried, resulting in a quick and tasty snack.
There's plenty of other takes on the arepa, or you can just serve it with butter and salt.
Empanadas
Empanadas are popular all over Latin America, but Colombians have their own distinct spin on the classic recipe. Instead of the bread-based doughy exterior you'll find in, say, Argentina, the Colombian empanada is made of cornmeal. They can be deep fried or baked, but either way they're delicious. Depending on what region of Colombia you're in, you can find a variety of different fillings. In Bogotá the most popular is meat and potato but in Medellín they're huge lovers of chorizo-filled empanadas.
Perros Calientes / Hamburguesas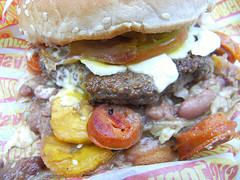 Hot dogs and hamburgers are everywhere in Colombia and, though not exactly an example of local cuisine, Colombians ensure that their hamburgers and hot dogs are suitably large and delicious. They usually come with an abundance of fillings, including pickles, bacon, ham, cheese, tomatoes, lettuce, beans, maize, chorizo and more. Frankly, there's often so much filling that you can't fit the whole thing in your mouth.
Fruit
There's a huge range of fruit in Colombia that you may not even have heard of: carambola, tomate de arbol, guarambola and lulo are just some of the fruits that you won't come across easily in the English-speaking world. Aside from the variety though, the real attraction of Colombia's fruit selection is its freshness, and this freshness isn't compromised when eating street food. In fact, often some of the best fruit you'll find will be from a man pulling along a wheelbarrow.
You will also find plenty of street vendors selling cups of melon, pineapple and papaya. Delicious and healthy.
Obleas Colombiana
This unique snack isn't found everywhere in Colombia, but it's worth seeking out. They're pretty much large, round communion wafers, which might seem a little plain at first, but once you smear some arequipe (Colombian caramel sauce) between two and make yourself a little sandwich, you'll soon be craving more and more.
¡Buen provecho!
Ryan