Manizales is called 'The City of Open Doors'. A beautifully located city with a buzzing nightlife, it's one of Colombia's most exciting cities to visit and, yet, remains delightfully off-the-beaten track.
Manizales is the capital of the Caldas department and, along with Armenia and Pereira, forms what is known as Colombia's Coffee Triangle. It's a region of fascinating biological diversity, stunning views and, of course, incredible coffee.
Manizales itself is one of the most spectacularly located cities in Colombia. Owing to its location in the Andes, the city is dwarfed by the snow-capped mountains that loom spectacularly over the horizon. This location also affords Manizales a variable climate and great biodiversity.
Manizales is a university city and, thanks to this, its cultural scene is thriving. Theatre, ballet, and music concerts are all commonplace events throughout the year. The strong student population also means the city boasts a great, relaxed nightlife. The main cluster of bars are found in El Cable, near Cable Plaza shopping centre. For sightseeing, a must-see is the Gothic Cathedral of Manizales, rare in Colombia for its Italian architectural design.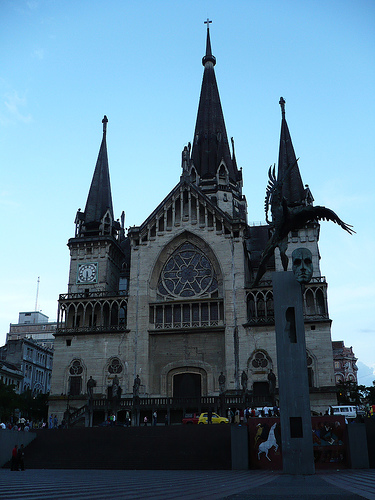 Ecotourists can also delight in ecological reserves such as Ecoparque los Yarumos and the Rio Blanco Reserve. Not too far away you can also take day-trips to Salento, Cocora Valley and the Termales of Santa Rosa.
One thing that you'll almost certainly leave Manizales with is a sense of Paisa culture. Unremittingly nice, tirelessly hardworking and fiercly proud, it's a distinct culture that is bound to welcome you with open arms, and quite possibly an open bottle of Aguardiente.
A bus from Bogotá to Manizales will take around 8 hours and cost about $50,000.
Paul