Colombia has more than its fair share of stunning coastline – about 1,800km of Caribbean and 1,500km of Pacific to be unnecessarily precise. However, possibly the most beautiful corner of Colombia's coastline is, in fact, right in the corner! Capurganá is a small town, accessible only by infrequent flights and daily speedboats, nestled away right at the edge of the country, where Colombia meets Panama. It is the perfect base to explore this length of coast, which seems to me to represent what most travellers are looking for: isolation, dramatic scenery and plenty of strong cocktails on a palm covered beach!
The whole region, in the department of Chocó, is a paradise: a jungle-covered labyrinth of tiny deserted beaches and little fishing villages at what feels like the end of the world. The waters are some of the best places to dive and snorkel in Colombia with a huge unbroken reef hosting a myriad of brightly coloured fish and other marine life. Visitors are regularly treated to the sight of pods of dolphins playfully surfing the swell of their boats, whilst those with a real love of nature can visit the town of Acandí for one of Colombia's greatest natural spectacles: every year, between February and July, gigantic leatherback turtles haul themselves out the ocean to lay their eggs – it's a once-in-a-lifetime kind of experience.
There are many other fun options to occupy your time during a stay in Capurganá. You could hire some horses for the half-day trip to the lovely waterfalls at El Cielo – let the horse be your eyes and keep looking up, as the trail is home to toucans, howler monkeys and parrots. Alternatively, if you'd rather let your own feet do the work, you can hike the pleasant 1 hour trail along the coast to reach the lovely beach of Aguacate, or turn left from Capurganá and spend another hour on foot to reach some fantastic natural swimming pools. Or you could just spend your time rocking in your hammock, soaking up the sun and enjoying the sights and sounds of the Caribbean. Cocktail in hand, naturally.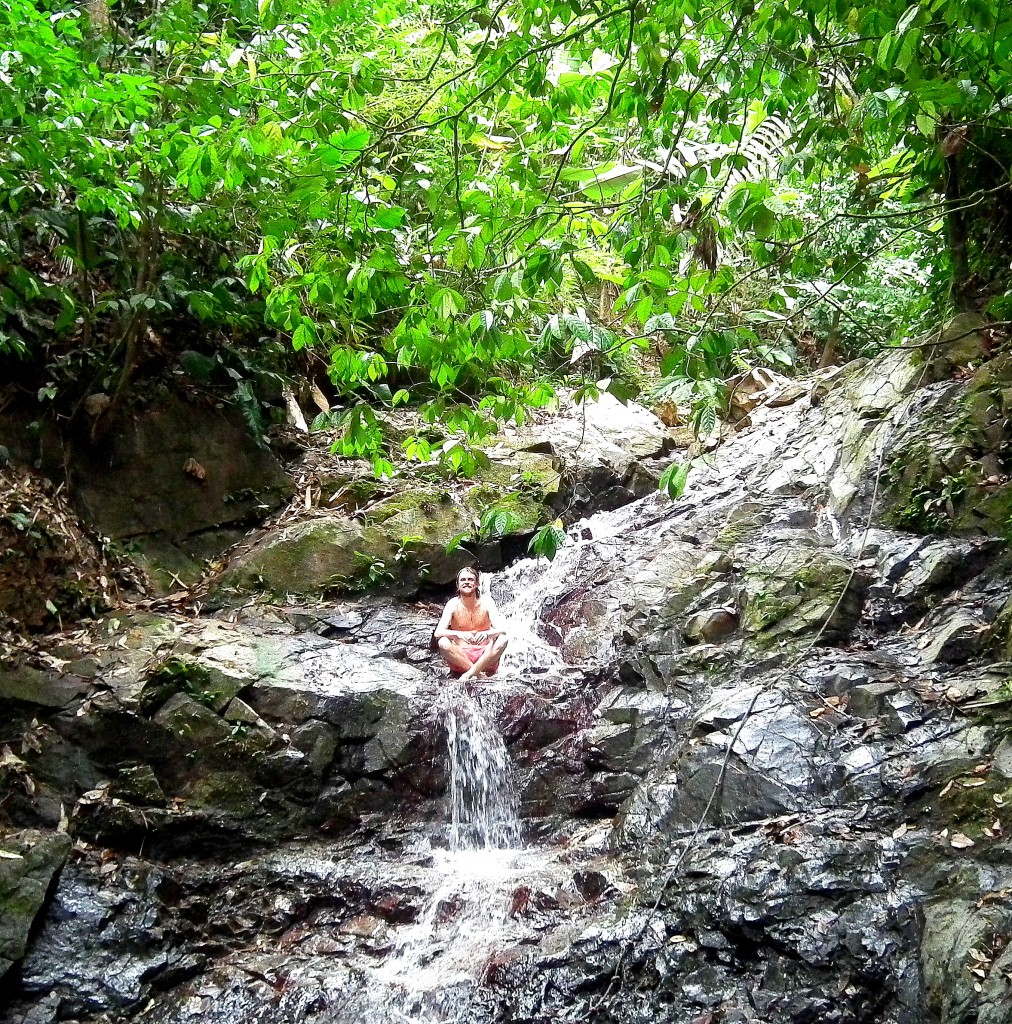 Capurganá itself is not too spectacular but it has a nice, friendly atmosphere and never really feels overly touristy (although cheap accommodation is plentiful and there is an abundance of reasonably priced restaurants selling the freshest fish around). Those seeking a quieter option should head around the next headland to the even smaller village of Sapzurro: the last settlement in Colombia (it's a 2 hour hike through the hills from Capurganá if you get seasick. Well-worth it if you love jungles and insects!). Sapzurro is so laid-back it's practically horizontal, but has some great hostels and nice hidden beaches with world-class snorkelling just metres from the sand.
Then there's Panama. For those who love beaches, cocktails and visiting new countries, it's about to get interesting. A steep 20 minutes hike uphill from Sapzurro leads you to the Colombia-Panama border (you'll need your passport. No stamp though, sorry). From here you can access only one tiny Panamanian village, but as an advert for the country it's doing very well! The town of La Miel is nothing special, but the town beach, Playa Blanca, is spectacular. A picture-perfect strip of curving white sand, aquamarine waters teeming with tropical fish, and a very nice lady who sells the strongest Coco Loco cocktails known to man, Playa Blanca is a fantastic day-trip and should not be missed (take a boat back to avoid the return hike). Plus it's a fun feeling stepping into Panama and out of South America!
How to get there:
From Bogotá/Medellín – From Bogotá take a bus to Medellín. In the Medellín bus terminal get a night-bus to Turbo. You will arrive in Turbo at about 6am. Go straight to the docks and reserve a place on the speedboat to Capurganá (cost is around $55000). Try to get in there early as there is strong competition for a seat at the back. Trust me; you want a seat at the back! The boat goes exceptionally fast, and as it flies over the waves and crashes back to the sea, those at the front take a pummelling which results in actual bruises. I got stuck at the front and was limping for about a fortnight!
From Cartagena: Get a bus to Montería, then change for Turbo. The whole trip should take 6-8 hours.
If you're interested in visiting any of these places See Colombia Travel would be happy to provide information and assistance.
Chris