I spent 5 days in Colombia's Chocó department in late August: it was my second visit to this Pacific coast department, and I can say with some certainty that it won't be the last. The principal reason for my visit to the Chocó was to watch the humpback whales that come to the area for a few months every year to breed and give birth, but I have found that there are plenty of highly persuasive reasons to plan a visit there, even if you can't make it during whale season. It's much easier and safer than people think to visit the Chocó: there are regular flights to the major settlements, and although it's not a low-budget journey, once you are there the costs aren't too high. So here are 10 reasons why you have to visit the Chocó (and, for the sake of clarity, this is just going to include the Pacific and inland parts of the Chocó: you can read all about visiting the Caribbean section here)…
1. To experience somewhere truly off-the-beaten-track…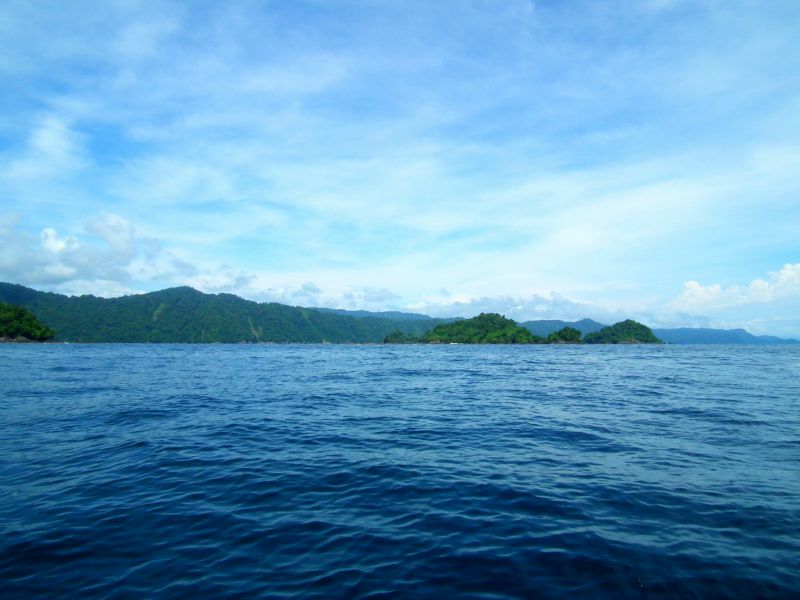 A visit to the Chocó is a visit to a Colombian region that is relatively cut-off from the rest of the country. There is virtually no road transportation in the region, and most people arrive by small planes flown over the jungle (more on that later) or long boat journeys from Buenaventura. This is part of the reason why the region is the poorest in Colombia, but for travelers this isolation represents a truly off-the-beaten-path spot. Colombia is not exactly overwhelmed by visitors yet, but the Chocó hardly sees any: during my time there I encountered a small group of foreigners staying at a few hostels and ecolodges, but, but and large, there were very few people visiting. All of this means that you can have a truly magical experience in a place not too many people have ever seen…
2. Beaches!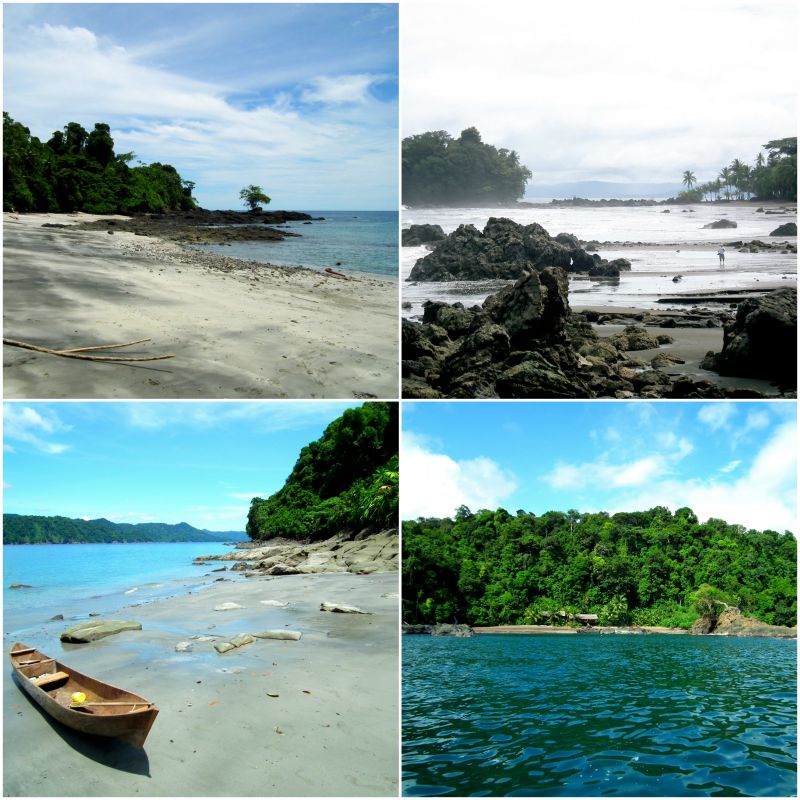 Sure, the Caribbean has the glamour…the white sand, cocktails and bikini-clad beauties…but the Chocó has some of Colombia's most spectacular beaches and, as per the previous point, you'll be sharing them with virtually no-one! From the dramatic, black-sand Playa Guachalito near Nuqui, to the tiny, untouched strips along the coast of the Utria National Park, there are few places better on earth for that Robinson Crusoe, lost-on-a-desert-island vibe than the Chocó. I mean, just look at those beach photos…seriously, look at them!
3. Surfin' C.H.O.C.O.
Colombia doesn't quite have the reputation for great surfing that other Latin American countries have, but it seems that the Chocó didn't get the memo! It might not be world-class waves, but for those with an interest in surfing, or a desire to learn, it's a great activity to combine with others on your visit. The Humpback Turtle hostel near El Valle rents boards, and the staff are always happy to help beginners catch their first wave. However, the best spot is seemingly further south, near Playa Guachalito and Cabo Corrientes. Ecolodges like El Cantil in Guachalito (near Nuqui) organize board rental and classes (a full surf course cost $243.000 – check their website for full surfing price listings). Apparently the best months are between April and December, so you should be able to combine some whale-watching with some surfing too. So hit up the Chocó and 'hang 10' (is that right?!)…
4. Turtle power!
It's not just about the whales in the Chocó; another popular wildlife activity is to head down to the local beaches in the dead of night (this makes it sound spookier than necessary…just go to the beach when it's dark!) to watch sea turtles come up from the ocean to lay their eggs in the sand. Roughly between late August and January are supposedly the best times to witness this incredible natural spectacle. But please, respect the animals when you are watching them – they come halfway round the world to lay eggs in peace, not have torches shone int heir face and camera flashes going off constantly! Specialized local guides are available, with proper experience and scientific knowledge, so make sure to arrange a visit with them to get the most from the experience.
5. Colombia's best festival?!
Entirely subjective obviously, but that's what our very own Azzam called the San Pacho Festival in the department's capital of Quibdo, when he paid it a visit a few years back…you can read all about Azzam's experience on the Colombia Travel Blog. Quibdo isn't the postcard-perfect image of the Chocó associated with beaches and whales: it lies inland, accessible by bus from Medellin in 8 hours, on the banks of the Atrato River. Mostly people don't bother visiting, but every year, between late September and early October (September 20-October 5 this year) the town comes alive with 2 weeks of raucous parades, music and plenty of viche (an alcoholic drink local to the Pacific region). Other Colombian festivals are certainly worth experiencing, and any visit to Colombia isn't complete without at least one festival experience, but San Pacho might just be the most under-appreciated and under-visited of the lot…
6. Birds, birds, birds!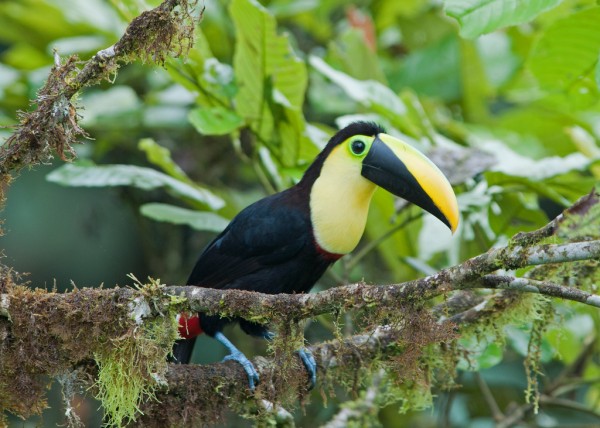 I know, I talk a lot about birds (see here, here, and here for more evidence of this!), but Colombia does have more species of bird than any country on earth after all! Colombia's feathered friends are one of the country's true jewels, and the Chocó has more of them than almost anywhere else! The coastal areas, with national parks like Utria, are home to wide beaches, open ocean and deep jungle, and this makes for a wonderful combination of bird species, whilst, inland, bird reserves like Las Tangaras and Cerro Montezuma host a wealth of endemic bird species that will have any birder salivating and then booking a ticket!
7. Things that walk and hop too…
The Chocó's wildlife doesn't just swim and fly…the region is home to a remarkable diversity of insects, amphibians, reptiles and mammals as well. Hike into the jungle to swim in lovely rivers and discover tiny poison dart frogs, their bright colours standing in stark contrast to the green surroundings; take a boat up the river to see turtles and river otters, and just hang out anywhere to enjoy the sight of thousands of butterflies lighting up the dim jungle…the Chocó is truly a natural jewel in Colombia's already fairly formidable crown!
8. Like a good swim?
Obviously the presence of water for swimming isn't in itself a reason for visiting one place over another: the Caribbean has it's fair share after all! However, the diversity of swimming spots in the Chocó's Pacific region is truly amazing – slip off the boat and watch whales pass before your eyes through your mask, take a dip in the warm waters off any one of the aforementioned beaches, hike into the jungle and refresh yourself in the cool river waters flowing down from the Western Cordillera, or head to Jurubida or Nuqui for some hot springs in the forest…the options are diverse and equally wonderful…just remember the snorkel and the bathing suit and you're set!
9. And a good meal?!
Obviously you're going to work up an appetite doing all that whale-watching, hiking, swimming and festival-ing, right?! Well, never fear, 'cause the Pacific coast has you covered! Delicious fresh fish is the order of the day, usually served with the ubiquitous coconut rice and patacones. However, there's more to Pacific coast food than this: a delicious cazuela del Pacifico is not to be missed, and the fish soups I had on day trips to Jurubida and Playa del Tigre were out-of-this-world delicious – the latter featured cockles that the chef had picked up whilst wandering around the wave-crashed rocks earlier than morning: freshness guaranteed!
10. And I can't forget about the whales…
You thought I'd forgotten, didn't you?! Most tourists pay a visit to the Chocó for this one simple reason: to spend some time observing the magical spectacle of humpback whales in the warm Pacific waters of Colombia. And there's a good reason why they do – the experience is a once-in-a-lifetime sort of thing…as the whales leap from the water with the mist-shrouded (or sun baked) jungle hills disappearing into the distance behind them, it's easy to feel very small indeed, and incredibly humbled by the natural world and our place in it. It's doubly amazing simply because of the lack of an infrastructure dedicated to whale-watching: you are usually sitting on a boat alone in the ocean with just a few companions and the whales for company. Sure, some boatmen can skirt a little close to the animals at times, and this will improve as tourism does, but to be sat in a tiny little boat, down at the level of the water, as these giants of the sea surface is a truly one-off experience. I'd urge everyone who can go to go!
So there you have it: 10 reasons why you absolutely must visit the Chocó! Any more that you can think of? Please leave us a comment below.
Chris