While no-one wants to ignore the long stretches of beautiful coastline that it has, there is far much more to a visit to Colombia than merely toasting yourself in the sun and occasionally taking a dip.
From snow-capped mountains to Mars-esque desert landscapes, Colombia boasts an overwhelming amount of variety. Here we collect 5 different landscapes you wouldn't expect to find when you travel to Colombia.
1. Tatacoa Desert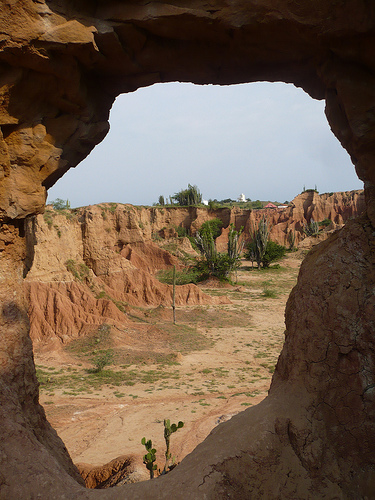 When talking about Tatacoa Desert, most Colombians describe the experience of a night spend under one of the clearest skies you'll ever see. A blanket of stars are always out in full force in Tatacoa, which for any city kid like myself is a treat. For me, however, the real draw of Tatacoa Desert is the Mars-like landscape that looks like nothing I've ever seen in my travels – with that and the night sky it's enough material for a brief, 'wow, we're so small and the universe is so big!' moment. Deep.
2. Sierra Nevada del Cocuy
Snow-capped mountains in Colombia is definitely not something you'd have put on your list of things to see before you die, simply because you'd have never expected it. But this is South America, and in South America Mother Nature decided that pretty much anything goes. The peaks of Sierra Nevada del Cocuy make for an incredible hike and should be experienced by any trekking enthusiast.
3. The Spanish Library, Medellín
Much is made of Medellín's remarkable resurgence, and perhaps nothing exemplifies it better than this library. Medellín's comunas were once strictly of limits to all, including citizens of the city, but today, thanks to the MetroCable built in the last decade, many people visit these areas as freely as anywhere else in the city. Travel to Medellín is incomplete without seeing this testament to the progress, hard work and optimism of Medellín's people, who have managed to transform these once dangerous areas into veritable tourist attractions.
4. Santuario de las Lajas, Nariño
The Santuario de las Lajas is one of the most impressive churches in the world. It took over 30 years to build and ranks among Colombia's most impressive man-made structures. A gothic style church, found among the hills and jungles of Colombia, it looms large in the hills of Nariño, both in terms of culture and physical size (it's over 100m high). Many people claim the area has healing power, which you might find hard to believe, but there's no doubting the remarkable nature of the church itself, which was voted one of the most impressive in the world on Trip Advisor.
5. Caño Cristales
'The River of 7 Colors', Caño Cristales, is a landscape that you don't expect to find anywhere, never mind in Colombia. A beautiful, unique area that largely remains off-the-beaten-track apart from for determined backpackers. It might be hard to get to, but Caño Cristales is worth every minute you spend planning, and all the surprises en route.