After the iconic travel company Lonely Planet issued Colombia with a resounding seal of approval in their annual 'Best in Travel' awards by named the country as the 2nd best country to visit in 2017 (you can read all about the award here), I started thinking that, although it's an amazing thing to see the country that we've been working so hard to promote for over 5 years included so high in lists like these, the 'Best in Travel' article itself doesn't give many actual reasons as to why Colombia should be top of your travel list. So, instead of just assuming that you know why you should be making a trip to Colombia a top priority in 2017, I'm going to give you some darn good reasons myself. 21 reasons to be exact. So here are 21 reasons why you have to visit Colombia in the upcoming year…
1. Now is the time to visit Colombia
Right now Colombia is in the perfect sweet spot between off-the-beaten-track and popular. What do I mean by that? Plenty of exciting and diverse places with amazing things to see and not too many visitors, but with a good tourism infrastructure, lots of hotels and hostels, and plenty of agencies and activities to make the trip a great one. If you're not too adventurous you can stay in nice boutique hotels and enjoy customized tours, but if you fancy something a little more 'out there' you can visit any one of the 20-odd Colombian departments that rarely see tourism…
2. Safety is getting better than ever
We've never claimed that Colombia is a completely safe country, but we have tried to redress the imbalance a little – a trip to Colombia isn't the dance with death that many people still believe it to be. Traveling in Colombia isn't like visiting rural France, but with peace talks ongoing between the government and guerrilla groups there hasn't been a safer time to visit Colombia in decades. Previously 'no-go' zones of the country are opening up to tourism, making the country an even more attractive prospect for those travelers worrying the country is becoming too popular.
3. It's not just the 'Gringo Trail' anymore
The classic traveler route of 'Bogota-Medellin-Cartagena-Santa Marta' is tried and tested and still (rightfully) popular, but travelers are starting to open their eyes a bit more to 'alternative' destinations, and realize that Colombia has a great deal more to offer than a classic 2 week itinerary. Even more gratifyingly, most of these destinations aren't even in the Lonely Planet guides so, if you plan well, you can hop around the entire country, experiencing jungle, mountains, coast, plains, postcard-perfect towns, and rarely see another traveler. For those people worried that 'the secret's out about Colombia,' just be a little more adventurous, and you can have lots of secrets of your very own…
4. The cities are booming
Far from the concrete jungles popularly portrayed in movies and Netflix, Colombia's cities are undergoing a real renaissance. Bogota is buzzing with new bars, restaurants, cafes and live music venues, whilst Medellin is becoming a real tourism hotspot, increasingly famed for it's nightlife, tourist attractions, and progressive urban planning. Even the coastal cities of Cartagena and Santa Marta are seeing more and more top bars and restaurants open, not to mention boutique hotels and hostels. Urban travel in Colombia has never been better!
5. And the coffee will get you buzzing!
There's not much more to say other than this: Colombia produces some of the world's best coffee and, increasingly, Colombia is the place to sample it. From a growing number of third-wave coffee shops in the big cities, to some of the most interesting and informative coffee tours out there in the coffee region, Colombia is the place to be in 2017 to enjoy the best cup o' joe you're ever likely to taste…
6. Colombian hospitality is unparalleled
This should really be No. 1 on the list. Colombians are just about the kindest and friendliest people you're likely to meet on your travels. The news that Colombia had been named so highly in Lonely Planet's list was generally met here with pride and happiness, and most travelers in Colombia are blown-away by the openness they experience here. A visit to Colombia in 2017 isn't just a visit to one of the world's most biodiverse countries, but also to one of the friendliest.
7. Art, culture, festivals etc.
Colombia isn't just booming when it comes to tourism, it's booming in art, culture, music and many other things. From one of the largest theatre festivals in the world in Bogota, to literary, street-art, modern art and music festivals, the Colombian capital seems to be hosting a different event every week these days. And then there are the hundreds of traditional Colombian festivals to explore – the second largest carnival in the world in Barranquilla, Pasto's Black and White Festival, and, most excitingly, the biannual Rionegro Carnival will be taking place in 2017. Get that plane ticket booked…
8. Sun, sea and surf
With both Pacific and Caribbean coastlines, Colombia has some of the best beaches you're ever likely to visit. From the dramatic Pacific beaches of Guachalito and Almejal, to the icons of Tayrona National Park and La Guajira, there are types of beaches to suit all tastes here. And it's not just for lazing around in the sun either – head to Costeno Beach surfcamp to learn how to ride those waves, or pay a visit to the new hostel collective on Isla Grande near Cartagena to kayak among the mangroves. Colombia's the place to work on that tan in 2017…
9. Incredible Ecotourism
As the second most biodiverse country on earth, Colombia has the nature element of your trip covered. And, as tourism booms, ecotourism is improving day-by-day as well. Whether you head to the Pacific coast to watch humpback whales, the Amazon to see pink dolphins, Tayrona Park for monkeys, or the Sierra Nevada for birds, Colombia is potentially the ecotourism destination of next year.
10. Birds everywhere!
Colombia is also the world No. 1 in bird species, with over 1,900 registered up to now. The beauty of birding in Colombia is that you don;t have to be an expert to enjoy it. Head out with Jungle Joe in Minca to see toucans and owls, visit La Guajira for flamingos, or head east into Los Llanos for incredible views of herons, storks and ducks. Or join an expert company like Manakin Nature Tours or Colombia Birding for a 2 week tour you'll never forget. If you really love birds, then make sure you're in Cali in mid-February for the annual Colombia Bird Fair as well…
11. Cultural diversity
Colombia is far from being a nation of Sofia Vergara's and James Rodriguez's – in fact, the country is about as culturally diverse as they come. Pay a visit to San Basilio de Palenque near Cartagena to experience a culture directly out of Africa, visit La Guajira to learn about the isolated Wayuu indigenous culture, or just get out to a club on the weekend in Bogota to dance to a fascinating mixture of African, indigenous and Caribbean rhythms…speaking of which:
12. Music you won't believe has been hiding from you all these years!
Colombia is enjoying a real cultural renaissance when it comes to music as well, and all you hipsters out there won't believe the music that's waiting here for you! Check out Bogota clubs like Latino Power, Matik-Matik and Casa 9-69, where you can experience talented artists cherry-picking from Colombia's cultural melting pot and making music so exotic and strange, yet so familiar, you won't be able to resist a dance. Chongo de Colombia, Ghetto Kumbe, Romperayo, Meridian Brothers, La Tromba Bacalao, Herencia de Timbiqui, Son Palenque…the list could go on for as long as you've got!
13. So many red rivers…
Tranquilandia in Guaviare, Las Gachas in Santander, the Atabapo River in Guiania…and none of those are even the No. 1 red river, Cano Cristales. For a surreal country, Colombia is certainly blessed with weird red rivers!
14. Some of the most hidden wonders on earth…
The Mavecure Hills, the Serrania de la Lindosa, Malpelo Island, Chiribiquete…these names are probably all quite unfamiliar, but are potentially some of the most remarkable places on earth! And they're all in Colombia…as I said, make 2017 the year you explore some of the world's most unknown wonders in Colombia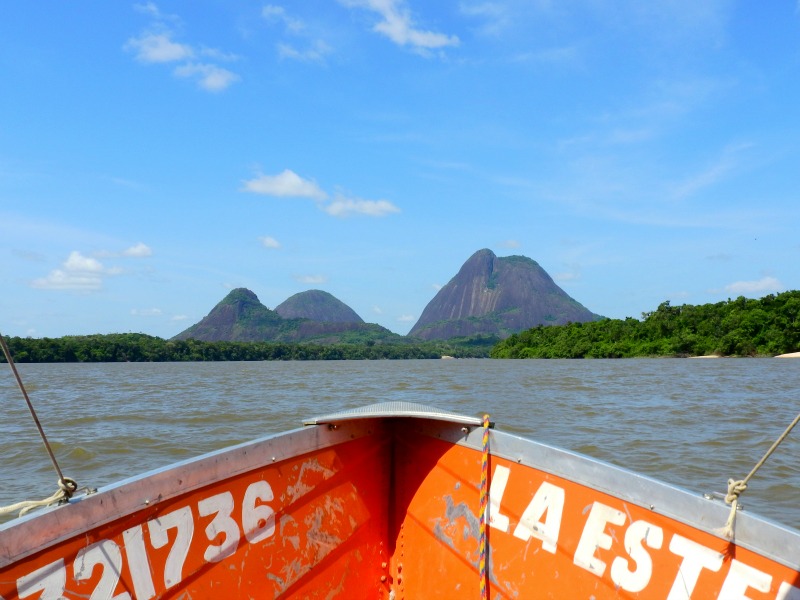 15. It's great value!
It's not quite how it was a few years ago, when the exchange rate was extremely favorable to travelers, but Colombia still represents great value for money, especially for those people traveling with a holiday budget –  2 weeks in Colombia vs. 2 weeks on a Caribbean island…the cost doesn't even compare! And flights out here are more plentiful and reasonably priced by the day!
16. Fruit, glorious fruit
Just take our fruit quiz and discover the wonder's of fruits you never even knew existed…all of them ripe to enjoy in Colombia in 2017 (pun very much intended!).
17. So many bucket list check opportunities
Paragliding, swimming with dolphins, diving with sharks, whale-watching, white-water rafting, climbing a volcano, learning to dance salsa, eating weird and exotic things, seeing a toucan…a visit to Colombia means you can effectively check about 20 different items off your bucket list in one easy trip!
18. You'll be in good company…
If you consider the Pope good company…he'll be visiting Colombia in a much-publicized trip in 2017.
19. There's nowhere better for souvenirs!
Coffee, woolen ponchos, rum, incredible handmade artisan bags, vases, clothing etc. etc. You certainly won't be struggling with all those family and friends souvenirs if you plan a visit to Colombia in 2017…
20. Some of the coolest hotels you'll ever stay in
You can stay in a floating hostel in the Caribbean, a hut on a hill in the jungle, a pyramid in the coffee region, a hammock suspended in mid-air in Antioquia…not to mention nights under the stars in the Sierra Nevada, on a beach in the jungle in Guainia, a hammock in the deserts of La Guajira. A trip to Colombia can also involve some of the nicest and most unique accomodation you're likely to experience…
21. Just look!
Chris