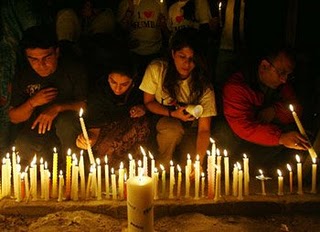 Nights in December are cold in Bogotá (between 8 and 10 C) but in spite of that, every December 7th, we Bogotans stop virtually everything we are doing to go out and light candles…. I'm not exaggerating, at around 7 PM almost everybody in Bogota (and actually the whole of Colombia – this tradition is now a nationwide event) is either on their balconies or in the streets with a package of candles of many colors and sizes, homemade lanterns and matches ready to change the city's scenery for a few hours.
This tradition, called "La noche de las velitas" (The night of the candles) dates back to the mid 1800 and started as a religious celebration honoring Maria Inmaculada. Until some sixty years ago it consisted on families getting together starting bonfires in the streets while chanting and praying, but in the upcoming years the celebration went way out of hand when people started to drink a little more than recommended and then proceeded to burn not only wooden logs, but also tires, old furniture, their old auntie's cats… you get the idea. So Bogotan streets would get very messy and filled with smoke and that started to become a problem, but the tradition was already installed among us.
Some thirty something years ago someone (I'm not sure who, and my parents and family can't remember) decided to transform this then chaotic celebration back into something much more family friendly, by this time the religious sense of the Noche de las Velitas had already vanished becoming more a gathering between friends, neighbours and families, and a good excuse to have some food and drinks and get to know your neighbours (if you don't know some of them , this night you will certainly do).
So the public bonfires were replaced by the public lightning of massive amounts of candles in streets and plazas,  which  for kids is just a great time to run freely and compete with the neighbours to see how many candles can they light, for youngsters is another good chance to get together with friends and party all night long and for parents and grandparents is a moment of remembrance and a chance to share with the young ones.
Besides that, Bogota's mayor's office plans many family night activities  like concerts and theater plays,  most of the bike lanes are kept open and shopping malls, stores and museums have extended opening hours that usually end with massive firework shows.
The night of the candles is a magic one, not only because of the beautiful and never ending sight of thousands of candles covering almost every single street of the city, but the magic comes mostly from the peaceful ambiance generated  by the gathering of many many people with the common task of making the city look a little brighter and a little nicer, sharing their time with other people just like them, chatting, partying and getting to imagine that, at least for one night, we all can get along.
Abrazos!
Marcela – Colombia Travel Blog