Cartagena Colombia, "La herioca" is undoubtedly a must for all tourists visiting the country. Located in the north in the department of Bolivar, Cartagena de Indias is the queen of the Colombian Caribbean, the historic city "old town" located in the center of the city is surrounded by impassable 13 KM of stone walls, adorned with colorful balconies, colonial houses, churches, and ancient castles. This place was declared a World Heritage Site by UNESCO. Its tropical climate, beautiful beaches, and the warmth of its people make it a perfect destination for any time of year. If you are thinking of traveling to Cartagena, keep reading; in this article, we tell you what to do during your visit to this beautiful city.
1. A free journey to the past, walk through Old town
During colonial times, when Colombia was part of the Spanish crown, Cartagena was one of the most important ports in the Caribbean. Tons of gold and gems go through the city and thousands of slaves from Africa. This colonial city, with its walls, cannons, castles, houses, and churches is preserved in perfect condition, offering a trip to the past literally for all visitors.
Walking through the fascinating streets of the old town is a magical experience, people can also on the walls and enjoy the wind and sea view day and night. And get lost in its labyrinthine streets, of course, now instead of stables and armories, you will find cafes, restaurants, boutique hotels, theaters, and shopping malls, combining everything in one place, and making the old town the best touristic attraction in the city. Enter the old town is FREE, but we advise you to bring some cash to enjoy a drink on a balcony overlooking the sea or buy a souvenir. With 70 dollars you can enjoy a good lunch, a good dinner, and a couple of drinks. Prices vary from place to place, but there are plenty of options for all budgets.
2. Meet the fortress: Castillo de San Felipe de Barajas
Perhaps the biggest fortress built for Spaniards in one of its colonies, The castle of San Felipe de Barajas, was an impregnable fortress that protected the bay of the city for a century.
It was the last bastion of the defense of the city in the war against the English empire, who in the war of "the seat" was about to take the city, but, thanks to the exploits of Admiral Blas de Lezo, the immense walls of the castle and the courage of the defenders, resisted the English siege, even being outnumbered 3 to 1 by the invaders. Since that last battle, the city acquired the name of the "heroic" and neither the castle nor the city ever fell into enemy hands.
The visit to the castle costs approximately three dollars but we recommend you hire a guide (approximately 20 dollars) if you like to know all the stories that gave rise to its legend. The castle has underground tunnels, which were key to the defense of the city, an assortment of provisions, and communication, some of them are available to the public, but if you suffer from claustrophobia, you may better avoid them, as they are narrow and dark.
3. Beaches
Here in Cartagena, you will find spectacular beaches, either to rest or to party.
Playa Blanca
The most popular beach in Cartagena is " playa Blanca", about 40 minutes from the city by boat on Isla Barú, white sand and crystalline blue water attract many visitors, especially on weekends.
Also, you can go to Baru by car or bus, a tour has a price of 15 dollars.
Morros beach
If you want to enjoy a beer and a good party, you can go to morros beach, a 2 km of white beaches with a great party atmosphere. It is a hotel zone with a large presence of locals.
In the last days of December until the first weeks of January, there is a party or festival every day and you can see the true beauty of Colombian women, who adorn the beaches with their presence year after year. This beach is within Cartagena, 10 minutes from the old town.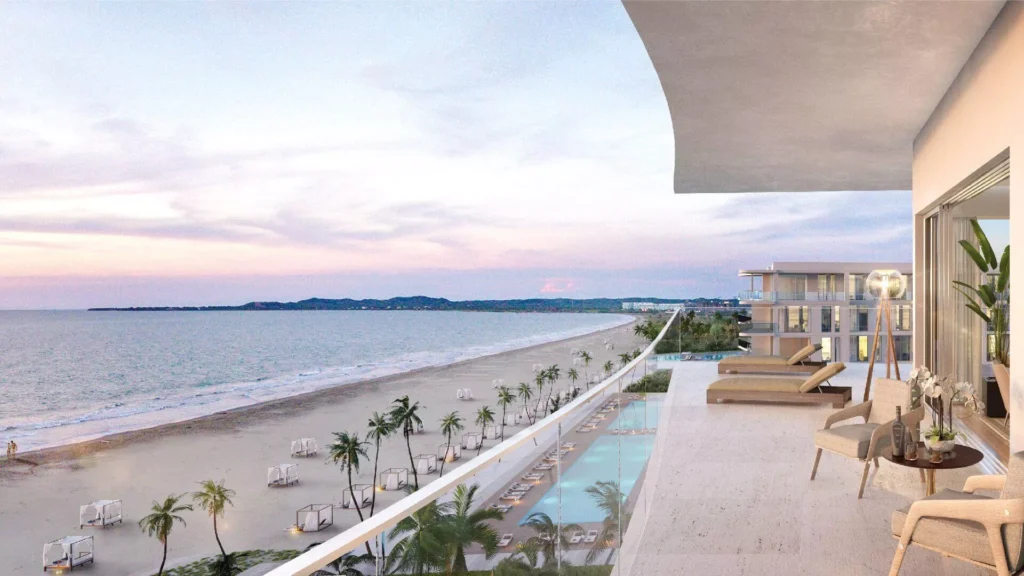 Castillo grande
It's the little and most exclusive neighborhood of the city an upmarket surrounded by mansions and modern buildings, this beach is way more peaceful and quiet, perfect for enjoying a book or swimming in the sea.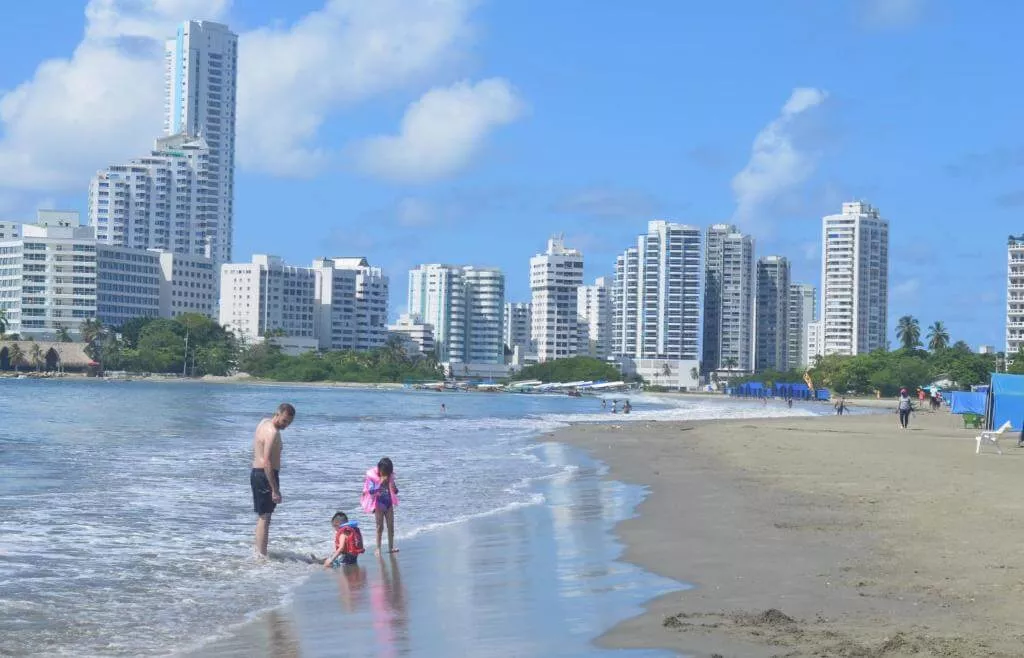 Punta de arena
A beautiful Caribbean beach is located in Tierra bomba, a beach town 10 minutes by boat from Cartagena. Its quiet white sand beaches and blue waters, and its historical and natural riches, have made this place an emerging tourist destination, ideal for escaping the hustle and bustle of the city and the busiest beaches of the mainland of Cartagena.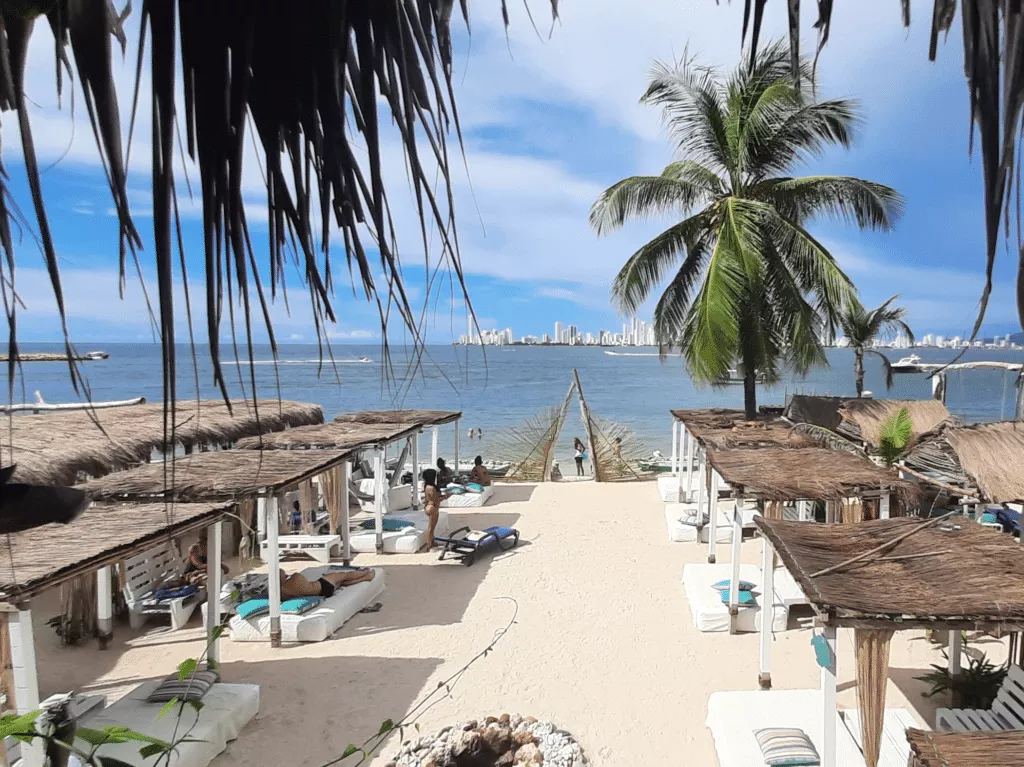 Rosario islands
A piece of heaven in the Colombian Caribbean, if your purpose is to visit beaches that are in more natural environments and farther away from the tourist areas, this is the ideal place for you. A small and charming archipelago consisting of about 28 islands must be reached by boat 1hore from the city. You can go for a day tour or find accommodations in some of the exclusive resorts or rent a private beach house for an unforgettable vacation.
You can find tours for 50 dollars or accommodations for 100 dollars a night.
Cholon
Cholon is in the rosary islands, but it deserves its own section because it has become a must-see destination for both foreigners and locals who want to have fun.
It is a beach where every weekend boats are parked to share the sun and music during the morning and afternoon.
Local fishermen are always present and you can enjoy fresh seafood to prepare in your boats, such as lobster, shrimp, and octopus.
Discover the city by dancing and drinking Chivas tour
An unusual way, but very cheerful and popular among the locals, is to get to know the city in Chiva.
Chivas are buses adapted for parties, they are walking party buses. They are popular in Cartagena for day tours all over the city, while going from one place to another you can dance, drink and meet the people on your bus. Depending on the tour you hire you can end the day in a restaurant or a disco to continue the party until the next day.
Take the bath of youth in the Volcan Totumo
This wonder of nature is located in the rural area of the municipality of Santa Catalina, Bolivar, being part of the Colombian Caribbean Region. The volcano is full of mud here you can take a bath which its natives call "curative mud", due to its therapeutic qualities, it helps for skin care and muscle toning, besides being their health qualities it's a very fun activity. To enter the Colombian mud volcano you must climb some stairs. The volcano is 15 meters high and its crater measures 4.5 meters in diameter.
Estimate budget to travel to Cartagena (in Colombian pesos):
Touristic activities
| | |
| --- | --- |
| Activity | Price |
| Entrance to San Felipe Castle | $25,000 |
| Entrance fee to Cerro de La Popa | $11,000 |
| Boat trip to Baru and back | $70,000 |
| Rosario Islands and Playa Blanca Tour | $90,000 |
| Entrance fee to Totumo Volcano | $15,000 |
| Capuccino in historical center | $8,000 |
| Cocktail/Shot in historical center | $30,000 |
| Domestic beer in a bar | $7,000 |
| Nightclub cover in the historic center | $50,000 |
| 2D general cinema ticket | $15,000 |
Budget Food and restaurants:
The average price of a restaurant meal in the tourist area of Cartagena is around $35,000 Colombian pesos ($10 USD) per person.
A fast food combo in chain restaurants (such as McDonald's, El Corral, Burger King, etc) costs between $25,000 and $28,000 Colombian pesos.
Of course, you can find 5 stars restaurants and fancy food all over the city, but if you need to save money s good option is to eat in restaurants where the locals eat. The executive lunch, or ordinary lunch as it is known in Colombia, can be had for between $12,000 and $15,000 pesos.
Budget Transport
| | |
| --- | --- |
| Activity | Price |
| Bus fare | $2,600 |
| Minimum cab fare | $7,300 |
| Nightly cab fare surcharge | $700 |
| Typical cab fare, medium distance | $2,000 |
| Cab from Airport to Centro Historico | $15,000 |
| Cab from Airport to Bocagrande | $21,000 |
| Economy car rental price | $370,000 |
Get around in Cartagena
Cartagena is a small city, but if you want to be safe and see all the cool places in the city you should take the transportation at once. The advantage is that once in the area you can do your tour walking.
Taxis, uber or DIDI are the easiest way to get around the city. If you choose taxis ask your accommodation for average prices to not get ripped off, taxis don't use mater and don't show the rates.
Rent a car if you go on one day tour, There is no heavy traffic and you can visit beach towns around the city. For that, you need to have a valid driving license and up to 21 years. Rents can start from 100mil pesos a day.
Renting a bike is an option, but if you don't know the city it would be better if you hire a guided bike tour to avoid shady zones of the city. The bike costs 6mil pesos an hour
Public transportation Metrocar bus is the main transportation method in the city. A one-way trip costs 2,600 COP. But again if you don't know the city we recommend passing the bus to avoid shady parts of the city
Things to know before you go
Cartagena is a city with too much humidity. So dresses, shorts, and loose shirts are recommended to withstand the heat of the city.
You will notice that both in the walled city and on the beaches there are many street vendors, avoid eating from beach vendors mainly, as they will charge you three or four times more than their real price. Sellers will often offer a free sample and then request payment, so be careful, nowhere in the world do you get anything for free
Cartagena is one of the safest cities in Colombia, but we recommend that you always keep an eye on your belongings, especially in the evenings when leaving the discotheques.
If is your first time in the city and you don't speak anything of Spanish, is better to book tours from your hotel or get them to recommend reliable places with guides that speak English.