For our 2 week culture and history trip itinerary: click here
Over the next few weeks, we will be writing a series of posts containing sample 2-week Colombian holiday itineraries (including additional activities for those with 3 weeks or a month); these itineraries are designed to give readers an idea of how they can make the most of their time and see the best that Colombia has to offer. Each itinerary will focus on a particular region or aspect of Colombian tourism i.e. Caribbean coast, wildlife lovers, culture-vultures, etc. Whilst Colombian travel is still dominated by backpackers, people are increasingly seeing Colombia as the perfect destination for a short vacation.

Colombia's Caribbean coastal region is perhaps the most visited part of this beautiful country, and a popular destination for people with only a few weeks to spare, due to its variety and wonderful climate. But how to make the most of 2 weeks in the Caribbean? This sample itinerary includes a range of activities and experiences to make it the best 2-week holiday ever:
Day 1-3 – Cartagena
Spend these days in Cartagena and its surroundings. The old walled city is a UNESCO World Heritage Site and one of the jewels of the Caribbean; a couple of days wandering around its cobbled streets is the perfect introduction to the beauty of Colombia's Caribbean. On one of the 3 days, you might consider a day trip out to the Rosario Islands: a simple boat journey from Cartagena's docks, these islands lie in a national park and contain gorgeous sandy beaches and perfect reefs for diving and snorkeling. Alternatively, you could take a day trip to San Basilio de Palenque, a former freed slaves city, and a fascinating slice of Afro-Colombian life.
CHECK OUT OUR TOP 5 DAY-TRIPS FROM CARTAGENA HERE
Day 4-5 – Santa Marta
Travel to Santa Marta (planes or buses are an option; allow more time with buses), and enjoy the history of one of Colombia's oldest cities. The historical waterfront is beautiful, and there are some fascinating museums, in particular the house where the Liberator, Simon Bolivar, died. If one day of history is enough for you after Cartagena, then take a day trip out to Taganga, and the nearby beaches.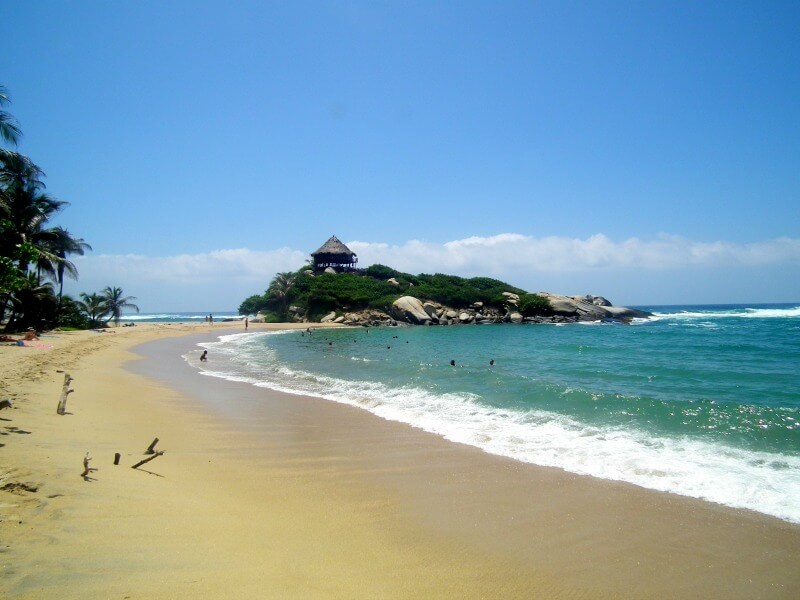 Day 6-7 – Tayrona National Park
Hop on a local bus and head to Tayrona National Park: After a few hours hiking in the pristine coastal rainforest, get yourself a tent or hammock down by the beach and fall asleep with the waves crashing in your head. During the day, the choice is yours: relax on one of the many beaches or hike into the jungle in search of ancient ruins, birds, and monkeys.
CHECK OUT OUR COMPLETE 4-PART GUIDE TO TAYRONA NATIONAL PARK HERE
Day 8-9 – Palomino
Once you've left Tayrona, continue up the coast until you reach the little beach-side town of Palomino. The beach here is stunning, and the town gives access to the mountains and indigenous villages of the Sierra Nevada de Santa Marta. Also, on offer is the chance to tube down the river; beginning in the cloud forest, you meander slowly downriver over a few hours until you reach the sea. It's an amazing experience.
CHECK OUT OUR COMPLETE GUIDE TO TUBING IN PALOMINO HERE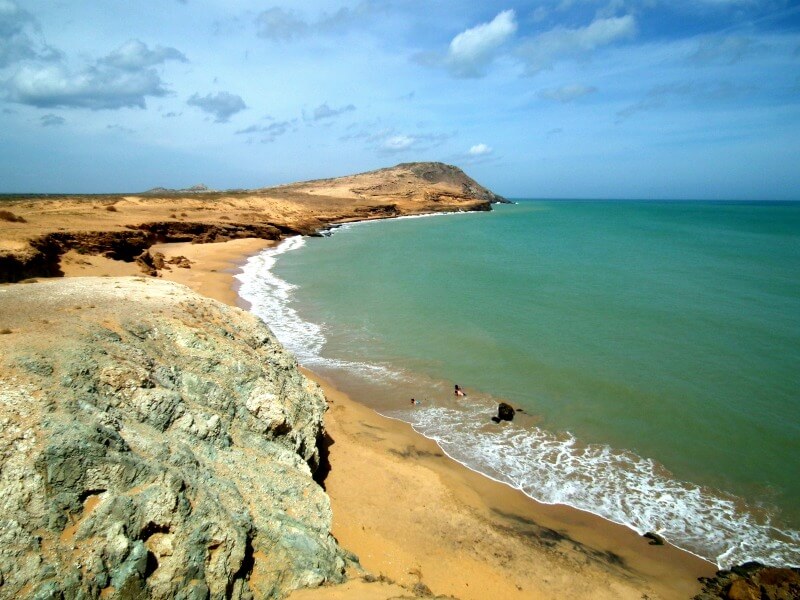 Day 10-12 – La Guajira
From Palomino take the bus north along the coast to Riohacha, the gateway to the Guajira Peninsula, South America's most northerly point, and one of the most surreal landscapes in Latin America. From Riohacha you can jump on a truck up to Cabo de la Vela, and spend a few days enjoying the coastal desert; with its gorgeous sunsets, rolling sand-dunes, and delicious fresh seafood.
HERE'S OUR TRAVEL GUIDE TO VISITING CABO DE LA VELA
From Cabo, you can either return to Santa Marta or Riohacha to fly home. If this all seems a bit too busy, you could always drop a day in Cartagena or Santa Marta.
Extra Time?
If you have more days to spare, there are many more activities you could add to this itinerary:
Minca: From Tayrona, instead of heading north straight away, consider traveling inland into the mountains to stay in this pristine little mountain village. With unparalleled views of the sea and snow-capped peaks, some of the best birdwatching in Colombia, and the opportunity to take a dip in a series of waterfalls, Minca is the perfect place to relax and cool off after the beach.
Punta Gallinas: From Cabo, instead of returning home, take a bus or boat a few hours further north to the very tip of the continent for increasingly Dali-esque spectacles: flocks of flamingos, huge sand-dunes that crash right into the sea, and the best fresh lobster you'll ever taste.
WANT TO VISIT PUNTA GALLINAS? FIND OUT HOW HERE…
Capurgana and Sapzurro: For those with plenty of time and a sense of adventure, you can head West from Cartagena to Turbo, jump on a speedboat and spend some time on the beaches of the Darien Gap, right on the Panamanian border. Capurgana is a bit more touristy, and Sapzurro is incredibly peaceful, but both present the chance to dive and snorkel on one of the best-preserved reefs in the country and hike in the diverse jungles of the Darien. Plus, how often can you walk out of one continent into another? A traveler's dream destination!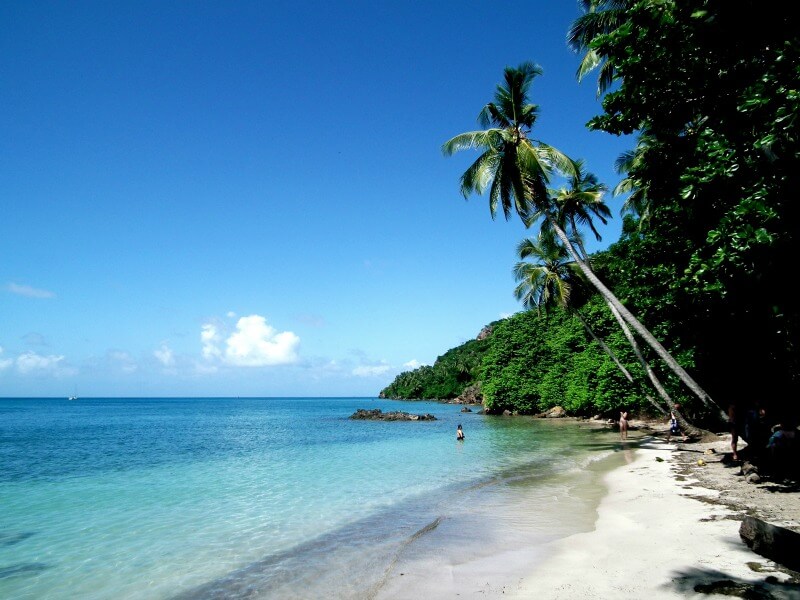 San Andres and Providencia: Grab a flight from Cartagena and spend some time on Colombia's two paradise Caribbean islands. San Andres is more touristy, while Providencia has retained an old-world Caribbean charm, along with its gigantic coral reef.
So there you have it: the perfect Caribbean coast itinerary for anyone with limited time but a real thirst to see as much of Colombia's diversity and beauty as possible. Obviously, this itinerary is simply a suggestion and is certainly a busy two weeks, but it allows for maximum experiences in minimal time. If you have any questions or need any clarification, please get in touch, we always love to hear from our readers.
To visit any of these destinations, quote here!
Chris