San Jose del Guaviare has long been one of my top tips for adventurous travel in Colombia: there's a red river that's the double of Cano Cristales, remarkable 10,000-year-old rock paintings in the jungle, and amazing biodiversity. However, in May I had the opportunity to visit yet another spectacular spot in the jungles of Guaviare department: Damas del Nare Lake. It's a name that doesn't register a reaction from most people in the country, and you won't find it in any guidebooks, but it's a little ecological paradise just waiting to be discovered. I saw birds, monkeys, amazing plants and trees, and swam with Pink River Dolphins. I have scarcely enjoyed a wildlife-watching excursion more in my life.
I was travelling to Guaviare to take part in the Global Big Day 2017 – a worldwide competition to see how many species of bird you can spot in a single 24-hr period – as part of a small group of birders and scientists aiming to get a good total for the department. There were about 10 of us and during a meeting the day before we established which areas we would be covering, and what species we would be aiming for. I was – although I already knew this – assigned to Damas del Nare Lake and would be travelling with my friend Cesar Arredondo, who also operates an excellent tour company in San Jose: Guaviare Biodiverso.travel. Part of the idea of us travelling to this lake was to give me the chance to also get to know the tourism potential of the area.
We rose early, leaving the hotel in our massive 4×4 jeep/tank hybrid at around 4 am. We wanted to make sure we were arriving at the lake in the early morning to maximise our birding chances. We drove south from San Jose for a short time, before turning to the east down a dirt road which would lead us to the lake. During some research the previous day I had realized that we would be travelling the same route as the paramilitaries who committed the horrific Mapiripan massacre in 1997. In a neat twist of fate, it transpired that we would be making the journey almost exactly 20 years to the day – it really emphasised the huge changes that have occurred in this region over those 20 years. Where once this faint line on the map was a road leading to death and suffering, we were off to observe birds and discover the area as tourists.
The drive was a long and muddy one: we were well into the start of the wet season, so it was a blessing that we were travelling in such a hardy vehicle. The rain started pounding down just as we arrived at the end of the road, at a small finca on the edge of a river. There were toucans in the trees, and parrots flying overhead, and we took shelter under the metal roof of the farmhouse until the rain subsided a bit.
We then set out, rain ponchos on, and umbrellas up (it sounds weird, but it's a good way of birding in the rain), on the small muddy trail towards our boat pickup point. The species we spotted on that short walk – Muscovy Duck, Bare-necked Fruitcrow, Cream-coloured Woodpecker – established that we were well-and-truly in the Amazon. The trail was flooded at points and I thanked my lucky stars for the rubber boots I had picked up in San Jose a day earlier.
When we arrived at a small house by the creek, we were met by Pacho, the operator of EcoNare, the small ecotourism business operating on the banks of the lake, dedicated to taking the few tourists who make it here out to Damas del Nare to spot the Pink Dolphins. It is a community-led project, which benefits various local families. We jumped in his long canoe and set out through the flooded forests for some more birding.
The journey through the flooded forest was magical: surrounded by the crowns of the giant trees, we spotted multiple birds and three different species of monkey, including many fantastic views of Brown-woolly Monkeys, which watched us intently from overhead and posed calmly for my camera. We were, at least in relative terms, not that far from Bogota, but I felt as if I was in the depths of the Amazon. The biodiversity more than matched up to anything I had seen on a trip around Leticia for instance.
After some excellent birding through the creeks and streams of the flooded forest we headed to Pacho's house for lunch: some of the freshest fish I have ever tasted, plus some unbelievably good aji spicy powder made from fish as well. We then birded extensively around the trails alongside the lake, picking up one species that would turn out to be the only one of its type spotted in Colombia that day, a Stripe-necked Tody Tyrant. Exhausted already from the long journey and early morning, we jumped back into the canoe and headed out onto Damas del Nare Lake itself.
The lake is a little oxbow lake surrounded by jungle, and particularly notable for its population of Amazon River Dolphins, or Pink River Dolphins. This population are especially relaxed around humans, having lived directly alongside the few inhabitants of the area for many years. As we motored slowly along the lake, Pacho slapped the water, calling out "Tati, Tati." It turns out that that's the 'name' of one of the dolphins, are they are so familiar with Pacho and his boat that they often 'answer' the call. They did appear quickly and surrounded our boat, jumping and splashing right alongside us.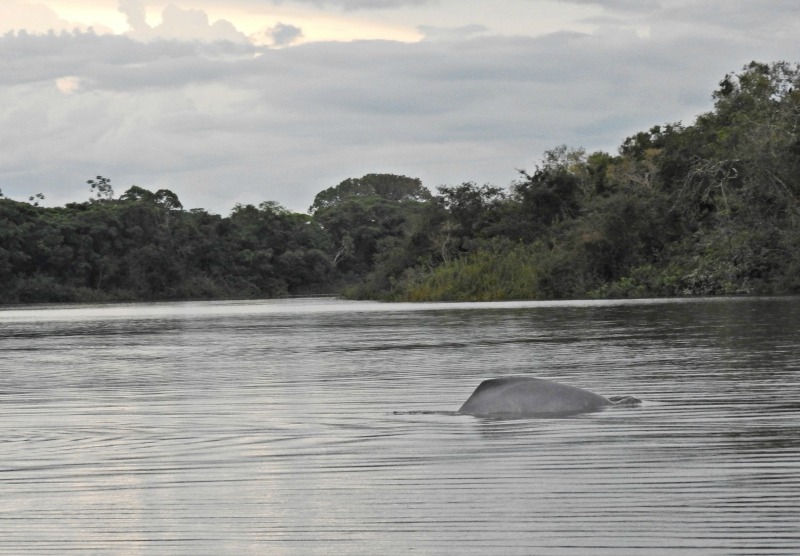 I jumped in for a swim, and they passed within feet of me. One of them even brushed my feet in the murky water. I noticed that they were even pulling on the thick blue rope at the front of the boat, and ended up engaging in a truly surreal tug of war match with one of them. At one point it stopped pulling and I relaxed, my hands still gripping the rope – as if it knew exactly when I had let my guard down, the dolphin gave an almighty tug, pulling me down completely under the water to the cackling laughter of our guide. Seeing and interacting with these beautiful wild animals was one of the most exciting natural experiences I have ever had. I must confess that I couldn't wipe the grin off my face for hours afterwards.
It was getting late, so we moored up the boat and started walking along the fringes of the jungle towards our camp for the night, Villa Lilia. A small eco-campsite run by two brothers from Quindio, it was located about an hour's walk back from the lake into the jungle, alongside former coca plantations – the scorched ground, a legacy of glysophate spraying some 10 years ago, was a stark reminder of the damage that the drug trade has wrought in these forests. We ate a fish dinner, took a look around the surrounding trees for owls, and went to sleep
The next morning was a bit of a mad dash to make it back to San Jose in time for a midday bus back to Bogota – returning over the lake at dawn was stunning, and we were lucky enough to spot a rare Crestless Currasow from the canoe. There was one slightly hair-raising moment when our 4×4 got hopelessly stuck in the thick mud, but after about half an hour of piling rocks into the deep divot beneath the wheel, desperately looking for some purchase, we managed to free ourselves and made it back to the city just in time.
The Global Big Day ended up being a triumph for Colombian birding: as a country, we spotted well over 1,400 species and were crowned 'World Champions' in the process! However, the real enjoyment for me came from getting to experience a completely wonderful place, and have a truly off-the-the-beaten-track travel experience: Damas del Nare Lake doesn't appear on many 'best of' Colombia lists or in any major newspaper profiles, but it's a stunningly beautiful and remarkably biodiverse place, just waiting to be discovered by nature lovers and adventurous tourists. YOu can check out a video of our Big Day made by Cesar below, as well as all the details about how to do the trip for yourself.
You can visit Damas del Nare Lake yourself – I travelled with Cesar of Guaviare Biodiverso.travel: you can contact them through their Facebook page here, or call Cesar – 313-478-5605. The trip can be done as a day-trip or you can arrange to stay over at Villa Lilia as we did. It's a long drive in a big vehicle, so it's not cheap (contact Cesar for exact prices) – I would recommend travelling in a small group of 4-6 to bring costs down, or you could ask Cesar to join up with another group. It is also possible to reach the lake by boat along the Guaviare river, which takes less time. All of this can be arranged with Guaviare Biodiverso.travel. 
Chris