Moving to Colombia is something that is often met with trepidation from family and friends (not to mention by the mover him- or herself) – the common perception of Colombia as a dangerous and lawless place is changing, but this is still a prejudice held by many. However, the majority of people who move to Colombia (or even travel here for a good amount of time) usually find themselves coming to the conclusion that, in spite of some challenges and frustration, Colombia is a marvellous and magical country. They often fall in love with the place. Then (not always, but often) they go back home, or move on to another country. They leave Colombia and find themselves missing it…
No two people are the same, so the things that foreigners miss about Colombia vary from person to person; however, there are several things that the majority of people who live in Colombia love about it and therefore miss when they leave. So here are the top 10 things foreigners miss about Colombia when they have to leave…
1. The kindness of strangers
How does the old saying go? "You can always depend on the kindness of strangers." Well, as a British person I had certainly come to disbelieve that statement (recent events haven't helped get rid of that view!), but living in Colombia has certainly restored my faith in the basic kindness of people. This isn't to say that every Colombian is universally kind or friendly, or that English people are all mean and curmudgeonly, but it definitely seems like a higher percentage! People who leave Colombia often find themselves pining for the days when they could strike up a friendly conversation with a person on the bus, in a bar, at the supermarket, on a flight (the list is endless), and end up invited to a finca for the weekend! I'll never forget turning up in the village of El Cocuy and ending up being guided around town by the local hardware store owner, before being put up in his house for the weekend. I could be wrong, but I don't see that happening in an English village…
2. Dance to the music!
I can't speak for all countries, but I can speak with some knowledge of my own and let's put it this way: English people don't dance like Colombians! And I'm not just talking about ability, I'm talking about that all-encompassing tendency of many Colombians to break into song and dance at the slightest hint of a salsa tune floating on the breeze from a nearby bar. I watched Colombia lose to Chile in the Copa America recently and at the final whistle condemning Colombia to defeat people just got up and started to dance. Call me crazy, but I just can't imagine England fans reacting that way! Even if you're not a dance lover, something about Colombian's insatiable need to move their feet is infectious, and indicative of the joie-de-vivre that many foreigners miss when they leave.
3. The infinite travel possibilities…
Sure, air travel means that, if you can afford it, you can travel all over the world from anywhere…but it's not the same as living in Colombia and being able to visit the Caribbean, Pacific, Amazon rainforest, plains, deserts, picture-postcard villages, cosmopolitan cities, and ancient indigenous civilizations without ever having to cross the border into another country. The excellent bus network and great budget airlines have made Colombian travel even more open and accessible, and moving away and realizing that a Caribbean holiday from the UK is going to cost you an arm and a leg is a sad and depressing realization…"Sigh, remember when we could fly to Santa Marta and the beach for £20?!"
4. The holidays!
Colombia is one of the countries with the highest number of national holidays every year! This one is simple: when foreigners go home they tend to miss the unbelievable number of holidays they got off work when they were living in Colombia. There's no catch here: we just miss not having to go to work like 17 extra days of the year! And speaking of which…
5. Tierra Caliente!
This one might only really apply to Bogota, but this is where the majority of foreigners live, so sue me! We miss the holidays, but we also really miss the chance to take advantage of those holidays by fleeing the city for just one hour and arriving at lovely little houses with hot sunny weather and swimming pools. You can defend England as much as you like but we don't have that option on the table that's for sure!
6. Menu of the day
OK, so a menu of the day can get a little repetitive, and it's not always the greatest food in the world, but I'd defy any foreigner who leaves Colombia to admit that they don't sometimes wish for the days when they could go out for lunch, get a soup, a main course and a fresh juice and part with the equivalent of about $3 for the experience. I couldn't eat one of these menus every day (it's just too heavy for me at lunchtime), but it's great to have the option there for a staggeringly cheap, and usually pretty good, meal.
7. Domicilios
We've written about this before (just like No. 8), but sometimes it's the little things that matter…and one of the little things here is being able to get absolutely anything delivered to your door at almost any hour of the day. That's all: no further explanation required. Let's move on…
8. Tiendas
If I could import anything to the UK from Colombia I'd go for either the next thing on this list, or the culture of tiendas. Just being able to go to a little shop and drink some beers with your friends before a night out or after work (without breaking the bank) is a simple pleasure that many people miss way more than they realized they would when they stop living in Colombia. Going out for some post-work beers in London requires you to take out a second mortgage on your flat (assuming you actually own it!)…I know that if I ever left Colombia I'd pretty soon be wishing for the days when I could knock back a couple of Pokers with my friends, listen to some too-loud vallenato tunes, and pay a couple of dollars for the privilege.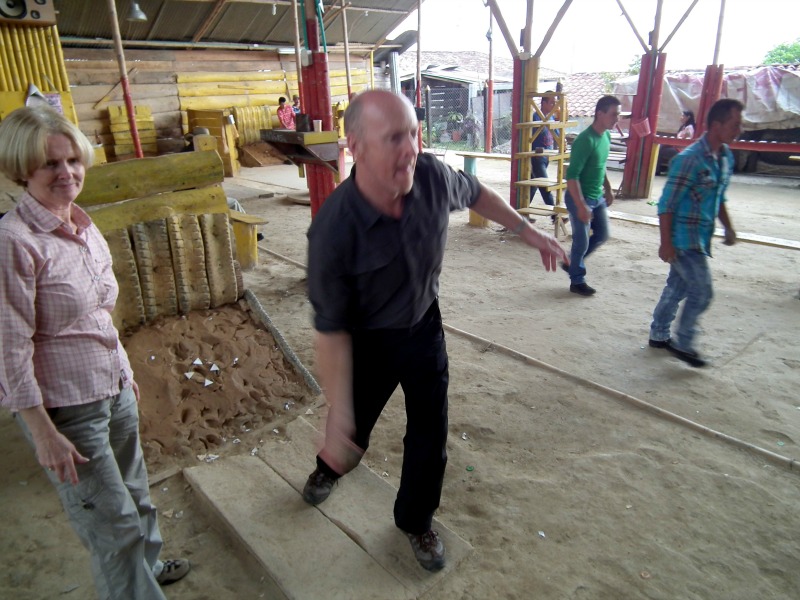 9. Tejo!
Right, so maybe not all foreigners play tejo on a regular basis (I do…), but c'mon…heavy drinking + gunpowder and explosions = mad, crazy funtimes! I'd defy anyone who has played a game of tejo or two to admit that they don't kind of wish that it was possible to play in their home country! And that's the point: no matter how much you can recreate some of the things on this list, tejo really isn't one of them! Even my parents played tejo and loved it…
10. Colombian people
So No. 1 sort of covers this point, but it's not just about the kindness of most Colombians: there's some intangible quality that Colombians seem to possess that makes it very easy to miss them when you leave. Sure, people can often be annoyingly late for things here, and I could do without the queue-jumping…but somehow I always come out loving Colombian people no matter what irritates me sometimes! It's like a magic formula: a dash of friendliness, a pinch of dancing skills, a soupçon of optimism. Mix it all up and you've got Colombians, the best people I have ever met, and the thing I miss the most whenever I leave Colombia (which is as little as possible!).
Chris