It's no secret that Bogotá loves to party.
The Bogotano bar-hopper/club-goer is spoilt for choice. You can choose to down spirituous liquor at crazy underground dives, cooler-than-cool hipster joints, or swanky cocktail lounges. Anything from cheap and raucously cheerful to outrageously decadent establishments are just waiting for your patronage.
>> Curious about Bogotá's hipsters? Who wouldn't be. Learn more about them here.
Faithful old Candelaria is packed full of charm, but also places to get silly in. Happening Chapinero has cornered the game on cool, with its heady mix of hipster and gay bars, as well as great little clubs. Further north, around Zona T, there is a bewildering array of classy bars, big and small, and some of the best clubs in town.
Top-notch house is served up to those in the know at Radio Berlin (take your sunglasses to hide from the sunrise as you finally stumble out for a cab). Bogotá's love of salsa is in evidence at Galeria Café Libro, while Theatron in Chapinero is massive, and packed. And then there's also Andres Carne de Res out there in Chia, always spoken of in hushed tones, which richly deserves its reputation for an over-the-top, crankingly good time.
>> Want to know more about salsa and Colombian music in general? Check out our handy guide.
Obviously these clubs are worth a mention, but just what are the coolest nightspots in Bogotá? The ones you have to check out before you leave?
These ones.
5. A Seis Manos
The French-run A Seis Manos is nestled in an unsuspecting street in Bogotá's city centre. The modest facade belies the large, open space that makes up the bar, and certainly gives you little reason to think that inside would be one of the city's most vibrant, bohemian spots.
A Seis Manos runs events almost every day of the week, including film showings, indie gigs, salsa shows and more. In fact it's easier to think of it as a cultural centre with a bar than merely somewhere to get your drink on (although it's great for that too, with reasonably priced cocktails and beers on offer). The crowd – generally the elite of Bogotá's arty, hipster crowd – are ready at all times to bust into their groove (this is Colombia, after all), but are equally content to just stand there and, y'know, look cool.
Essential information
Calle 22 # 8-60
4. El Candelario
El Candelario is something like the wardrobe passage into Narnia; many people will tell you that they've been there at some time, but can't really remember when, or where it is, or how much time they spent there. Contrary to local folklore, it's easy to find. It's a big old place full of weird stuff hanging on the walls and ceilings situated right in the middle of La Candelaria, near the corner of Carrera 5 and Calle 13. It's open as a restaurant serving cheap and cheerful eats during the day, but it really shines from Thursday to Saturday evening. Downstairs fills up first, with the Candelaria Club Crowd – an enthusiastically friendly mix of locals and gringos – getting all hot and sweaty to a heady mix of salsa, merengue, R'n B, rock, and whatever else the DJ feels like offering. Upstairs takes a little longer to heat up, but there's often more room for dancing if you really want to cut things up.  It's the perfect place to party into the wee hours (it goes til 3), and we're of the opinion that it's difficult to have a bad time there.
Essential information
Carrera 14a # 83 – 56
3. Armando Records
We happen to think that drinking on a rooftop is a pretty good idea most of the time. But when it's smack-bang in the middle of the city's most happening area, while grooving to hot music with an even hotter crowd of bright young things, well… that pretty good idea has just become a damned fine idea. In Bogota, that damned fine idea has a name: Armando Records.
Very rarely, a club gets everything spot-on. And when you're partying in such a place, it all seems so very simple. All you need is great music, an excellent location, décor that doesn't try to do too much, and an awesome bunch of people lining up to get in. Armando Records, right in the heart of shiny Zona Rosa, has got all of these aspects covered. Do yourself a big favour and do what Bogota's smartest hipsters, glamours, and associated life forms do: head to Armando's rooftop on the weekend after around 11, and get ready to have a rollickin' good time.
Essential Information
Calle 85 #14-46
2. Latora 4Brazos
Hidden away in Bogota's Chapinero district you will find a gaudy red neon sign and a door leading to one of the city's best places for a boogie.  I love the feeling of walking into a uni mate's house you get when heading to Latora. A uni mate with enough dosh to constantly hire awesome musicians you can get down and dirty to.
The sparsely decorated and simple venue contains a large main room and bar area, with some seating and plenty of space to move around in. Just through here there is a small room with sofas and, for some reason, a massive empty frame surrounded by light bulbs. Perfect for annoying Facebook photos.
There is also a small balcony which looks onto the main feature of this club – a massive 'outdoor' (smoking is allowed here despite the fact that it is clearly indoors) room with a bar, DJ booth and plenty of beautiful people.
Essential information:
Carrera 8 #40A – 18
1. La Villa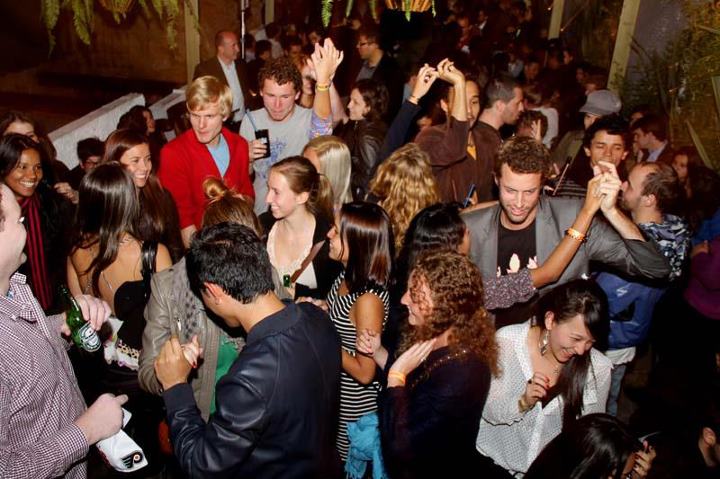 Nestled smack bang in the middle of Bogotá's pumping Zona T district is La Villa, a club that would be easy to miss if it weren't for the throngs of trendy Bogotanos and expats queueing impatiently outside its doors.
Thanks to its classy décor, frequent drinks deals and superb atmosphere, the club has become a staple of the city's incredible nightlife. At the weekends DJs spin a unique mix of  electro, rock and pop, all infused with distinct Latin grooves that keep the place packed full of people throwing shapes, swigging drinks and just generally kicking back and having the time of their lives.
In the week you'll find two of the best parties available in the city: Gringo Tuesdays and Exchange Salsa. Both events are geared towards a mix of locals and foreigners. Gringo Tuesdays kicking off at 6pm as a language exchange before it erupts into a party, while Exchange Salsa starts with a free bilingual salsa lesson (vitally important to newcomers in Colombia) before it turns into a free for all with a heavy Latin vibe. Inolvidable.
Address:
Carrera 14a # 83 – 56