La versión de este post en castellano aquí : https://seecolombia.travel/blog/2016/05/como-viajar-de-manera-independiente-a-los-cerros-de-mavecure/
Thanks to the recent Oscar nomination (Colombia's first) for the epic jungle feature El Abrazo de la Serpiente ('The Embrace of the Serpent'), one Colombian adventure travel destination looks particularly set to benefit in 2016 and beyond: the Cerros de Mavecure, or Mavecure Hills, in Guainía department, near the city of Inirida, which feature prominently in the film. The stunning cinematography is sure to spark people's interest in visiting the Cerros de Mavecure, and the surrounding jungles of Colombia's Amazonian east. It's possible to arrange a tour to the hills: all-inclusive (bar flights), multi-night visits to Inirida and its surrounding attractions are offered by many adventure tour companies in Colombia. However, if you want to travel independently to the Cerros de Mavecure it can be a little trickier to organize…but it is possible. So here's another "How to Colombia" travel guide: how to travel independently to the Cerros de Mavecure…
How to get to Guainía:
Guainía is so isolated in the jungles of Colombia's eastern Amazonian regions that it's basically only possible to fly there: Cesar Gaviria Trujillo Airport in Inirida (also known as Puerto Inirida) has very limited flight options, but it's not hard to get a flight to Guainía. Your best bet is flying with Satena Airlines from Bogota: they operate several flights a week between the cities, as well as a couple from Villavicencio in Meta; Air Colombia also flies twice weekly from Villavicencio. As of writing, the border between Colombia and Venezuela remains officially closed, so you'll definitely need a return ticket if had originally planned to travel over the border.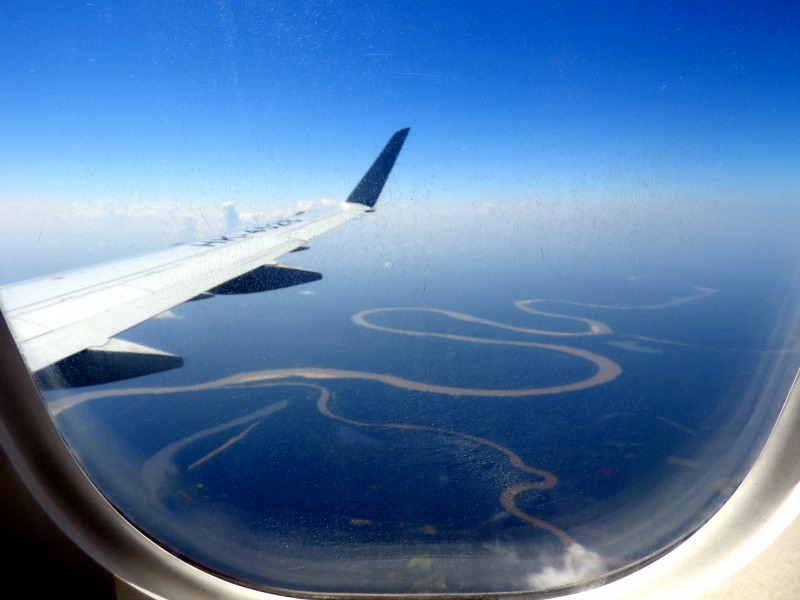 As with most flights, cost depends on the season and how much you book in advance: I booked a flight for January (considered high season) several months in advance and managed to get a return flight (Friday to Friday) with Satena for less than 600.000 (around US$200 at the current exchange rate – January 2016). Less notice in high season can push that past the 700.000 COP mark. If you fancy braving the wetter months of September-October or April-May, you can expect to pay a little less: more like 500/600.000 COP.
Check the Satena website for exact flight dates and prices.
The flight takes a little over an hour: try to get a window seat on the right hand side of the plane (as you fly to Inirida; left as you fly back), for a distant view of the Cerros de Mavecure as the plane lands in Guainía.
How to get to the Cerros de Mavecure:
This part is a little trickier: much of the information you'll find online about how to visit the Cerros de Mavecure is really out-of-date and inaccurate as of 2016 – many travel sites quote information about public boats, or voladoras, from Inirida to El Remanso, the indigenous settlement at the foot of the hills, mentioning costs of around 30.000 COP. This information is incorrect as of the time of writing. There are currently no public boats between Inirida and El Remanso…making independent travel to the Cerros de Mavecure a little trickier than you might have thought. However, it is still possible. But here's the catch…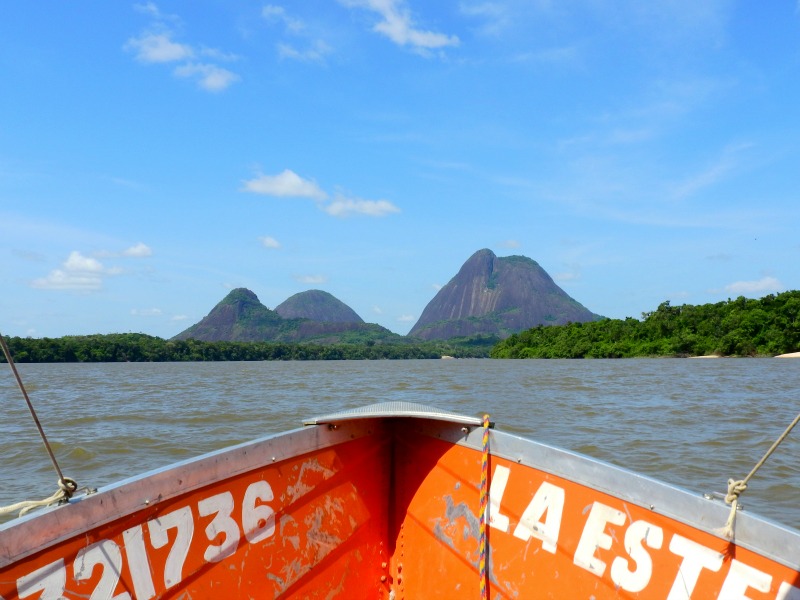 Unless you have a very solid bank account, you'll need to get a small group together to make visiting the Mavecure Hills possible independently: I met 3 guys from Medellin in Hotel Toninas in Inirida who were also looking to travel there without a tour, and who had come to Guainía clutching the same misinformation as me. We went down to the riverside docks and chatted to some boatmen and boat-owners, looking to get a return boat for 2 nights and 3 days to the hills. At the middle pontoon building (the red and blue striped one) we met Don Ramon – he arranged us transport with his contact Jose, who would take us to the Cerros, remain with us, taking us around the local area on the boat as we pleased, and bring us back after 2 nights for 700.000 COP total (the cost for one night and two days would have been closer to 500.000 COP) – significantly cheaper per person than a tour of the same amount of time would have been. Solo this would have proven too expensive, but for a group of 4/5 it's a very reasonable price. Don Ramon is a reliable and trustworthy man – you can contact him on 320-861-0249 or go down to the pontoon and ask for him.
In terms of getting a group together, this could prove a bit harder for solo backpackers: the best option is to ask around on forums and Facebook groups in advance to try and get a group together or join a pre-existing one, or to arrange in advance to do the trip with some other travelling friends. If this proves impossible then perhaps booking a tour in advance would have to be the final option to make sure you get to visit the Cerros de Mavecure.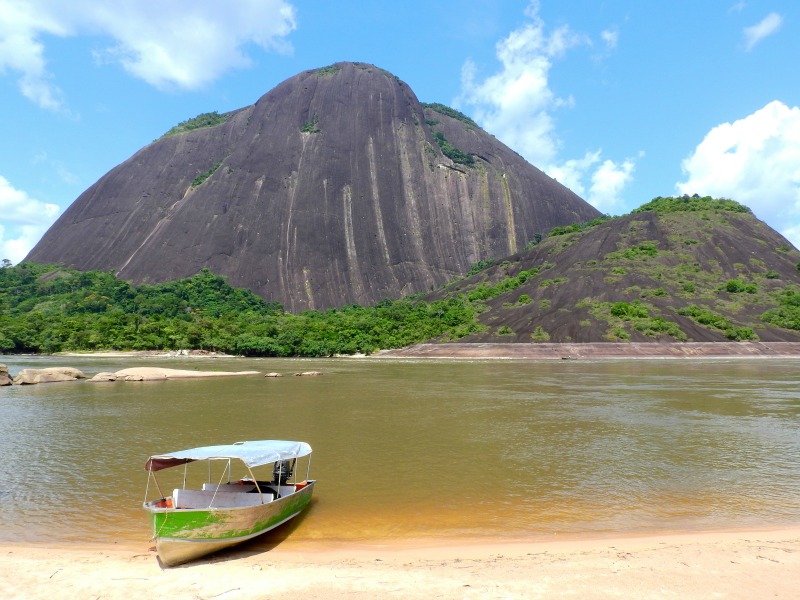 We left at 8am on a Sunday morning and returned around lunchtime on the Tuesday (although we have stayed a few more hours if we'd chosen to: as long as the return journey won't be in the dark). The boat takes just under 2 hours each way, and is a very smooth and comfortable ride – we travelled in a small boat with room for about 5 plus the driver and bags, with a sunshade over the top: essential in this weather!
Where to Stay at the Cerros de Mavecure:
Accommodation when visiting the Cerros is very limited: the best way to visit independently and on a budget is to bring a tent and camp out on the beach – this is not only free of charge but also a stunning way to spend a couple of nights, with the Cerros de Mavecure looming over you, the river running 5 metres from your 'bed' and the stars blanketing the sky over the jungle at night. As 'hotels' go, it's not bad at all!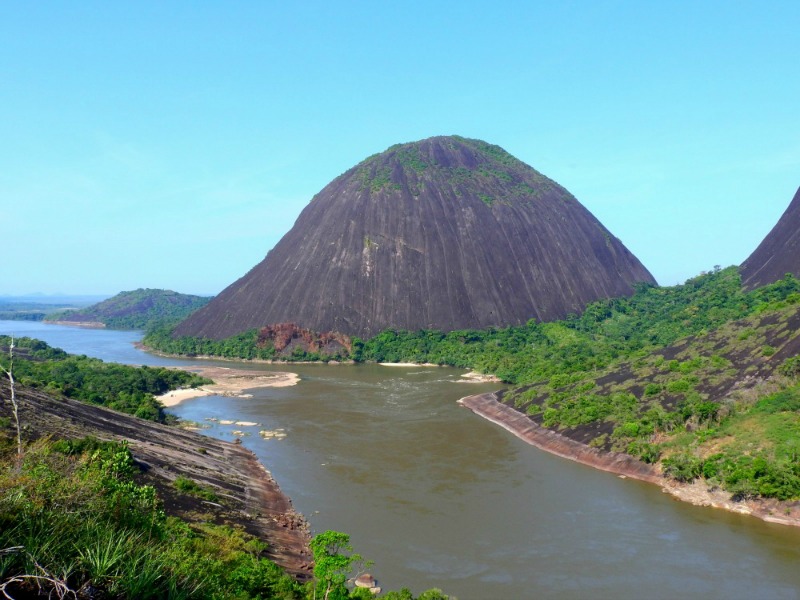 In the wet season, when the river rises and the beaches disappear you can opt to stay in El Remanso: options are basic and should cost in the region of 20.000 COP, but, when I spoke to members of the community in January, they told me that they are planning to build a small shop and guesthouse on the river's edge this year in time for next year's high season – there was no word of cost: it should be a little more, but for much more comfort.
What to do on a visit to the Cerros de Mavecure:
Visiting the Cerros de Mavecure isn't simply a matter of taking a boat for 2 hours, taking a good look at the rocks, and heading home – a 2/3 day visit to Mavecure offers several activities to enjoy, beyond just gaping at the majesty of Mavecure.
The first, and really most important one, is climbing Mavicure Hill, the smallest of the 3, which offers stunning views over the surrounding jungles, and the other two hills. A local guide, hired in El Remanso, will come along with you for 50.000 (ask if he can bring a rope: there are a couple of sections where a rope is not a bad idea!): it's not strictly necessary, but it's better to put some money back into the community, as well as make the climb with someone who can tell you more about the rock's place in local lore and mythology.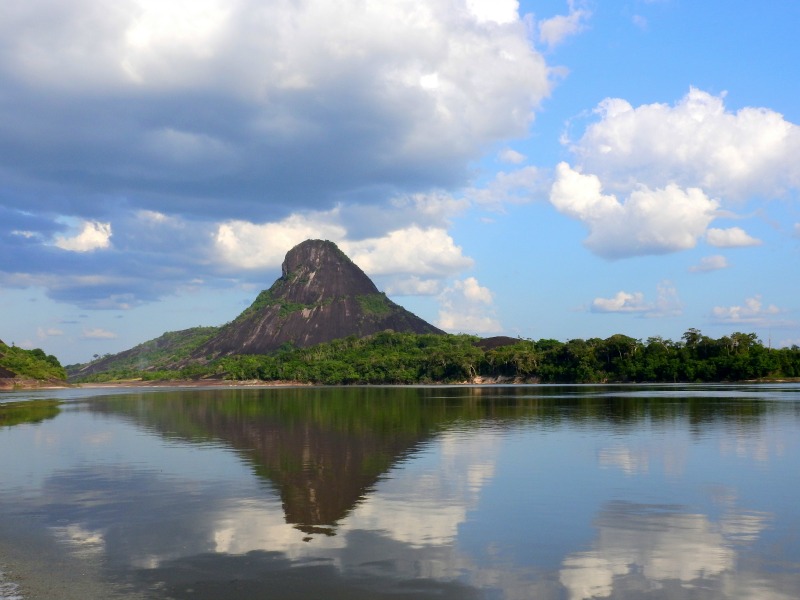 When to climb the Cerros de Mavecure? I went up twice, once at 3pm and once at dawn, and both trips were, naturally, incredible. However, dawn was a truly magical experience: I set off with the guide at 5am, and we were able to really take our time in the cool of the morning, and enjoy the hike as well as the view. The 3pm ascent was equally beautiful, but the actual climb up was a lot more punishing in the heat. Also, at dawn the jungles that somehow cling to the sides of the rock are more active and alive with birds and animals: including the (according to my guide) incredibly deadly snake that we saw just off the path!
The view from the top of Mavicure is truly astounding: a heart-stopping 360 degree panorama, taking in Mono and Pajarito, as well as many other smaller outcrops dotted along the horizon, the rivers and jungles sweeping away into the endless vista.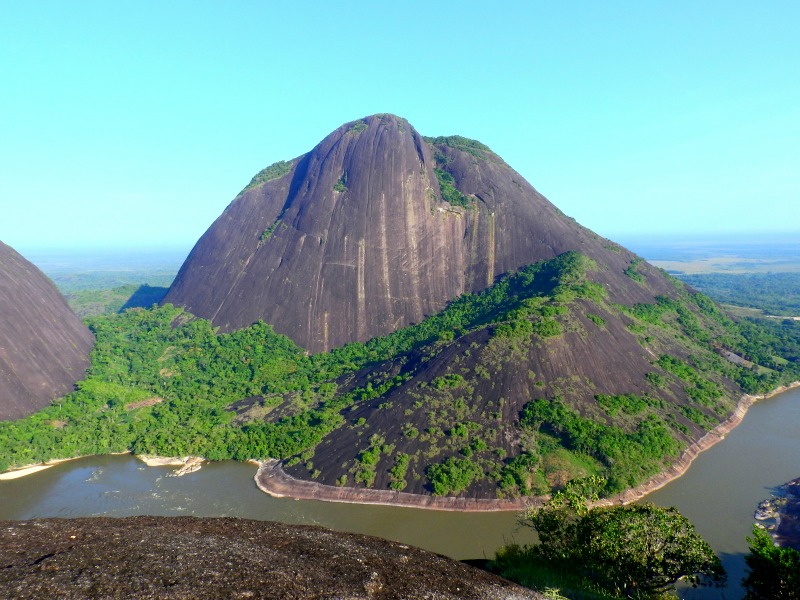 What else is there to do on a visit to the Cerros de Mavecure? On the second morning, we contracted a guide for 60.000 COP to take us to the top of Cerro Diablo, a smaller hill, hidden behind Pajarito and Mono, and with amazing views of both: it's actually a slightly tougher ascent than Mavicure, but that's because it's rarely climbed, making it a tad more satisfying as well! The hike takes about an hour and a half each way: bring water, and lots of it, because it's an exposed climb in the baking sun! The view makes up for it though, as you can take in the majesty of the hills from a completely different angle…
Other than hill climbing, there's not a whole lot else to do: we spent some time in El Remanso, learning what we could about local legends and stories (and watching Lionel Messi win the Ballon d'Or – they fired up the generator and practically the whole town crowded around the tiny TV to watch the diminutive Argentine collected his fifth trophy); we swam in the cool waters of the Inirida River alongside our camp, and we took the boat a little further upriver to visit El Venado community, for another beach and another angle on the Mavecure Hills. 2 nights and 3 days was the perfect amount of time for all of this, and on an independent visit to the hills, this is the timeframe that I'd strongly recommend.
What to bring for a visit to the Cerros de Mavecure:
If you want to visit the Cerros de Mavecure independently then you'll need to bring some extra things that a tour might otherwise cater for. Here's a complete list of what to bring:
Tent and sleeping mat: in the dry season you'll be unlikely to need a fancy waterproof tent, but you will certainly need one if you choose to visit any other month. The mat is optional, but the sandy beach can be a little uneven, so it'll be more comfortable.
Food and drink: it can be possible to get basic meals in El Remanso (we managed a breakfast and dinner), but it's by no means guaranteed, so bring enough food and drink (listed below) –
Water: lots of water! For three people we brought 4 6-litre bags of water, and it was barely enough! It gets hot and the hiking makes you seat! A bag of this size cost 1.800COP in the Inirida supermarket, so there's no excuse to no bring enough!
Snacks: bags of nuts, crackers, and crisps to fill the gaps between meals and keep you energy up on hikes.
Tins of tuna: a few tins of tuna and mixed vegetables can make a serviceable meal when combined with some crackers or bread.
Pasta and packaged sauces: for a simple and cheap dinner.
Coffee, tea or panela: for an evening hot drink
Obviously the food you bring depends on your appetite, but bring enough for a strenuous couple of days. The supermarket in Inirida has all you'll need at decent prices.
Pots and pans: you can make a fire on the beach in dry season easily enough (but make sure to bring a lighter or some candles to get it going quicker), but you'll need some pots or pans to cook anything – we bought a basic metal pot on the street in Inirida for 8.000: it didn't hold up too well, but it did the job.
Sunblock: no explanation needed here…
Some warm(ish) clothes for the evening – it doesn't exactly get cold, but you might feel a little chilly in the middle of the night.
A torch: it's just useful at night – no streetlights here!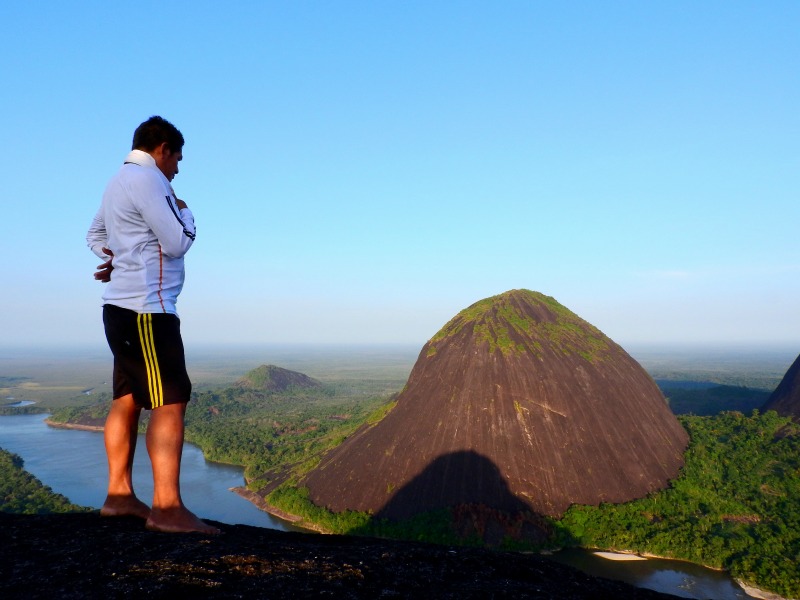 So that's the complete guide on how to visit the Cerros de Mavecure independently. If you have any further questions or need more advice, please don't hesitate to comment.
Chris