Alright kids, it`s time to get your Halloween in Colombia on. And that means getting your costume on. I guess you could go for the same old same old standards of a bedsheet with two holes cut in it (terrified just at the thought of it), a Scream mask (get it? like in the movie?) or a bit of white make-up (you supposed to be Lady Gaga or something?). I guess you could. If you were totally laaaaaaame. But if you take the plunge, and boldly decide to not be totally lame, why not have a go at a Colombian take on Halloween? Here are a few ideas to get the pumpkin rolling.
El Sombreron
We`ll revisit the story of this behatted horror tomorrow, but basically, this guy with his outrageous taste in hats, just like the Wu Tang Clan, is not anything to have aggressive relations with. Important features you should know if you want to be the Man in the Massive Hat, apart from the fact that you need a massive hat, is that you ride a spirit horse, have two heavily chained hell hounds in tow, and are pretty mean on the old guitar. Oh, yeah: you`re dead, too.
Important costume features to consider:
The most important feature you need, if you`ve been paying attention at all, is the widest-brimmed black hat you can muster. I remember my Mum used to make a pretty mean (and way tough) Easter Bonnet for me back in university. I totally mean Primary School, so maybe take some inspiration from Mrs. Giles. Bust out a slightly muddy (this gent hangs out a lot on river banks) old black trenchcoat or poncho, a thick-stringed guitar, long fake nails and some of those creepy white contact lenses. For the pizza of resistance: drag around a couple of stuffed scary dogs on chains. And laugh wickedly. A lot.
El Mohan
Another tried and true terror from traditional Colombian mythology perfect for Halloween in Colombia, this cannabalistic monster likes nothing more than eating barbequed children. As you do. A little more natural in his styling, El Mohan doesn`t cut quite the dashing figure that old El Sombreron once did. And that just adds to his dirty, horrific charm.
Important costume features to consider:
Bloodstained fingernails even longer and more tapering than the Man in the Hat`s; a ridiculously long wig you`ve made appropriately lank with copious amounts of gel; black contact lenses; a corpse-coloured body suit. A nice touch would be some charred children chorizos skewered on a barbeque fork.
Jose Asuncion Zombie
This is for those who want their terrors as literary as possible. Here we put a poetic spin on the zombie theme, by taking inspiration from the tragic story of Colombia`s first poet. You`ll cut quite the striking figure as a refined, impressively-bearded hipster member of the Walking Dead: here`s an example of the get-up the living Jose got around in: "a velvet suit, leather gloves, bouffant silk tie, a silver watch hanging from a gold chain, and an ivory case for his visiting cards." Only difference now is that you`re after brains.
Important costume features to consider:
If you haven`t got one already, get a fake, gloriously thick beard. Wear the finest suit you can get your claws on, but dirty it up a bit. The usual zombie make-up is in order; but the final touch should be a circle drawn around the precise position of your once-beating heart, within which is the bullet hole with which you once took yourself from the land of the living. You should stumble around moaning "One night. One night all full of murders" as much as you can.
The Dead Nun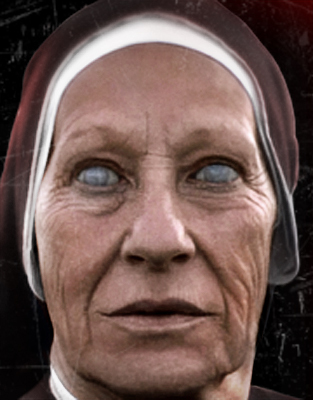 This terrifying visitor from the other side of the grave is based on a spooky urban legend that goes around Bogota. Not only are you a nun that is already dead, but you´re quite the football fan.
Important costume features to consider:
You´re not going to get anywhere without a nun´s habit, so sort that out first. Get some cloudy contact lenses to add to the effect of your cadaver makeup. A nice touch would be a pair of football boots. Spend the night saying that you´ve "just got to pop off to get some money to pay for that, dearie." And, try to avoid paying for things.
OK, so there are my four ideas for the right way to do Halloween in Colombia. I had another one about Shakira, with a lie detector strapped to her hips and an outrageous accent, but I thought it better not to mention that one. Any other truly Colombian costumes out there?