Well, after realising that I've indulged in a couple of rants this week, and that it is Friday… Friday, perhaps what I really need is a nice little weekend away. Luckily enough, Colombia, as always, has the goods in this department. Here are our tips on how to get out of the big smoke of this country's three largest cities, kick back, and forget all about chats with backpackers, Instagram accounts, and pointy bras…
1. Bogotá Option: Guatavita.
So, the Spaniards tried to invade an entire continent just to get to the lake in the above picture. They weren't after a beautiful, relaxing weekend away, but the riches promised from the Legend of El Dorado. Fools!
After robbing the gold that had been used in sacred Muisca ceremonies, and having a few goes at draining the lake, they finally gave it up. They may have flogged the gold, but they couldn't flog all the beauty of the place, which is its real treasure today.
Just one and a half tantalising hours from big, bad Bogotá, Guatavita is the first choice for a handy little weekend away. Not only can you gaze out at the azure water nestled in its verdant hills (I could've used "blue" and "green" just then, but where's the fun in that?)  and imagine the magic of the distant Muisca days, but you can also kick back in the town, also, somewhat confusingly, called Guatavita. This town is something of a replica of the colonial, whitewashed town that was submerged in a local dam (you may be lucky enough to spy the old church spire still), but no less charming for all that. If you're taking that special someone away with you, make sure that your path somehow crosses The Lovers' Bridge. Guatavita: it might sound like a healthy breakfast cereal, but is in fact a delicious weekend-away option.
2. Medellin Option: Santa Fe de Antioquia.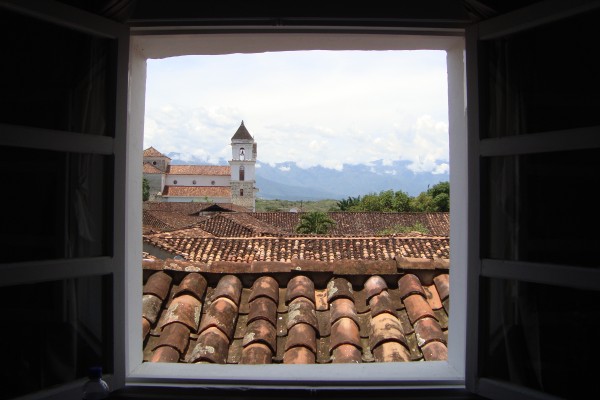 Founded way back in 1541 as a gold-mining town, Santa Fe de Antioquia (brevity may be wit, but not the name of this town) is just one of those little jewels of towns Colombia seems to have by the bucket-loads. We all love Medellín, but, if after a while you start to think, "All this modernity and innovation is fantastic, but where are the cobblestones?", then this perfectly preserved piece of the nineteenth century is where you go. It's only 2 hours away by bus, and as soon as you alight, you feel the calm rise right out of the cobblestoned street at your feet. The most strenuous activity we'd suggest here is a nice jaunt on a horse along the hills. Remember, you can't spell "Relaxo" without "relax…"
3. Cali Option: Lake Calima.
When you're sole-weary from all the salsa and party-party Cali can throw your way, maybe it's time to give Lake Calima a go. A three hour bus ride through some stunning scenery (right, Sarah?), this gorgeous artificial lake is hidden away in hills dotted with fancy-pants hotels and chalets. Camping's also available on the banks, as are some sticky circles otherwise known as obleas. As there's a pretty stiff wind fairly often, some rapscallions get up to kite-surfing, windsurfing, and all sorts of nonsense. Go ahead and get into it, if you like. I'll be up at El Chalet getting my Swiss on. Don't mind if I fon-due!!
Bonus Round: From Anywhere to Cartagena.
We reckon Cartagena's a good idea at any time. Why not have a little bit of a splurge and catch yourself a plane to Colombia's beautiful, steamy and – watch out, I'm using that adjective again – sassy Caribbean jewel? Stroll around the Old City, maybe jaunt off to the Rosario Islands, or party it up in the best Rebecca Black tradition. Cartagena will not disappoint. It is sassy, after all.
There you are, kids: some pretty nifty (if I do write so myself) ideas for ways to relax after getting down on Friday. After all, it's Friday…Friday, don't you know?