Read Part 1 of the Top 10 Colombian Travel Destinations for 2016 here
Continuing on from Part 1 of this guide to the 10 Colombian destinatons you have to visit in 2016, here's Part 2: featuring red rivers, a whole department(!), a festival, a town you've definitely heard off (but should visit before it gets too popular), and a delightful little pueblo in the mountains…read on and be inspired (we hope) to travel Colombia in 2016…
6. Guadalupe, Santander
Just 5 or 6 hours by bus from Bogota lies Santander's version of the iconic Cano Cristales, the red river of La Macarena National Park in Meta. That river flows red due to the unique plant life growing in the water, whereas the red rivers of Guadalupe, particularly Quebrada Las Gachas (pictured) takes on the surreal color due to the rocks it flows over. Guadalupe itself is a pleasant little Santander town; all white-washed walls, fresh coffee drying on porches, and a rock-hewn church towering above it all. It would most-likely be worth a visit in itself, however, it's the remarkable red rivers surrounding the town that push Guadalupe from "worth a visit" to "must-visit"…Hey, over 100,000 Instagrammers can't be wrong, right?!
7. Cordoba Department
Last year's list featured Norte de Santander department and, as we said then, we obviously don't mean the entire place! However, every year we travel around a department that offers a wealth of activities and beautiful places that seems criminally undervisited; this year it's the northern coastal department of Cordoba. Flights to the capital, Monteria, are massively cheaper that to other major cities on the coast and, as it lies less than 5 hours from Cartagena, it's worth starting a coastal trip with some time in this undiscovered department. From the 'pueblo patrimonio' of Lorica, with it's gorgeous market hall on the Sinu River, to the deltas and mangroves of Tinajones further towards the coast, Cordoba offers tremendous variety. And let's not forget Monitos: this tiny little fishing village/town just an hour from Lorica offers miles of white-sand beach fringed by palm trees –  I spent four nights there in December and had a small hotel to myself, with a shaded balcony and a hammock, ten feet from the sea, all for the princely sum of 15.000 COP per night! Plus, this coast is the jumping off point for boats to nearby Isla Fuerte, perhaps the most beautiful and least-visited of the Rosario Islands…
8. San Pacho Festival, Quibdo
Colombia is (rightly) known for its festivals – there are hundreds of them, celebrating such diverse subjects as the egg arepa, corozo fruit, and the humble donkey…The most visited are undoubtedly Barranquilla's Carnival, the Blacks and Whites Festival of Pasto, and several of Cali's various festivals. However, the departmental capital of Choco, Quibdo, lying a bouncy 8 hour bus from Medellin, offers a remarkable festival, which is a testament to Colombia's remarkable cultural diversity. The San Pacho festival is definitely the new hipster festival of choice in Colombia (maybe the San Antero Donkey festival…): it's less visited, more obscure, and perhaps more downright drunken fun that any of the rest of them put together! You can read all about our visit to San Pacho a few years back here.
9. Palomino, Guajira
I know, I know: you've totally heard of Palomino, and plenty of travelers already go there. Well, I went 5 years ago, when there was one hostel and no visitors: so there! But seriously, all "holier than thou" travel bragging aside, 2016 is definitely the time to visit Palomino if you haven't already. Building work is continuing apace along the small roads leading towards the beach, and a luxury hotel complex can't be far off: enjoy the (relative) peace of this lovely little beachside community now, before it goes the way of Taganga (which I truly pray it won't!) – make sure to get up nice and early to go tubing along the Palomino River (far fewer people, and far more nature), and take a stroll at first light down along the beach to where the river meets the sea; a truly atmospheric site at dawn. Palomino is already popular and entrenched on Colombia's backpacker circuit, but get there before it passes the tipping point!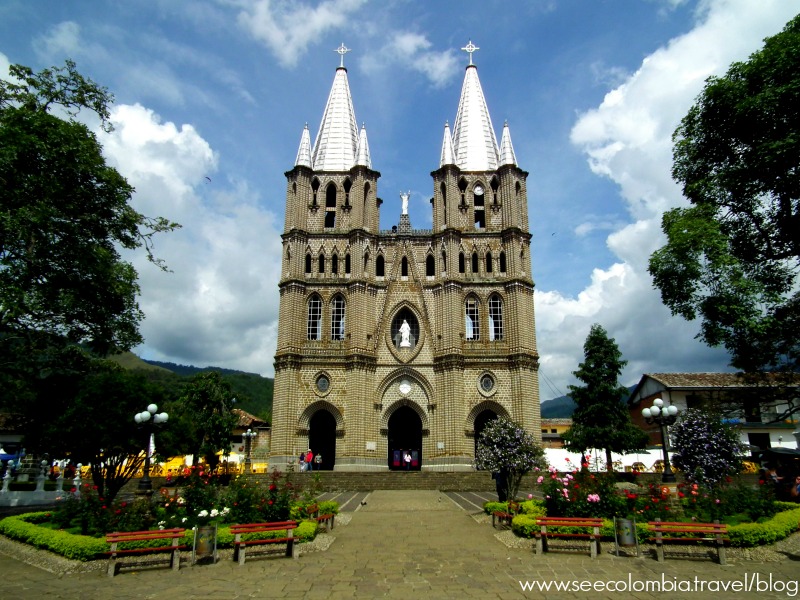 10. Jardin, Antioquia
This year's small town of choice has to be the delightful pueblo of Jardin, about 4 hours south of Medellin into Antioquia's coffee growing regions. The town isn't by any means a secret like Guadalupe, but actually it's all the more lovely for its popularity with Medellin weekenders. The main square has the unusual setup of lots of tables and chairs all around the cobbled space, meaning there's a lovely evening atmosphere, as coffee and beer drinking locals, mingle with tourists, and Jardin's young male population proudly strut their horses around the outskirts for all to see. Throw in world-class birdwatching, wonderful local coffe, and fantastic hikes to local waterfalls, and you've got a perfect long weekend town, just a few hours from one of Colombia's most visited cities. Read all about my visit to Jardin here – I called it one of my favorite new Colombian destinations (now that's consistency!).
So there you have it, our Top 10 Colombian destinations for 2016: some obscure, some off-the-beaten-track, and some that you just have to visit now before everyone catches on! Make sure to let us know in the comments if you have any other suggestions for hidden Colombian treasures (not the sunken galleon kind…actually, if you have any sunken galleon tips definitely let us know!) that we have to check out in the upcoming year!
Chris