Thanksgiving is an especially US holiday, but it's one that, in our rapidly consumer driven culture, is fast becoming a popular global celebration. It's traditional on Thanksgiving to go around the table, one-by-one, and all say what you're thankful for that year. So, in the spirit of Thanksgiving (and if we have to put up with the bad side of the holiday – Black Friday shoppers, canned cranberry sauce, American Football – then we're sure going to make the most of the good side!) here are 10 reasons that we at the Colombia Travel Blog are thankful for Colombia…
1. Colombian people
Colombian people are generally just about the nicest and most welcoming people I've ever met, and I'm thankful to live in a country that's full of them! When people ask me what's so amazing about Colombia I usually just answer: "It's full of Colombians." 
2. Colombia's incredible diversity
I'm not sure there's anyone specific I can thank for this one, but I'm extremely thankful that I live in a country where I can jump on a bus in the Andes and be in the jungle by morning, or hop on a 45 minute flight and go from mountains to the sweltering heat of the Caribbean coast. Living in Colombia has probably saved me thousands of dollars in travel costs, simply because it's like having access to 5 countries for the price of 1. So I guess I'm thankful for the Caribbean, the Pacific, the Andes, the Coffee Region, the llanos, Amazonas, Orinoquia…the list could go on.
3. Tienda Beers
Hang out on a Friday night in a small shop with a rickety metal table with a few friends, vallenato music blaring on an ancient jukebox, and several rounds of beers at 2.000 COP a bottle? Yes please! And thanks Colombia: the humble tienda beer remains my favorite way to enjoy a night out. I even miss it when I'm in the pub…and I'm English!
4. Colombian passion
I still love the fact that you can tell when Colombia are playing a football game because it seems like everyone in town is decked out in a bright yellow shirt. When Nairo Quintana is competing half of the country is glued to the TV screen watching…cycling! The national anthem plays every day at 6pm on the dot on all radio stations. I've never been an especially patriotic or passionate person when it comes to my nationality, but I'm thankful to live in a place where people wear their love of their country on their sleeves.
5. The Arepa de Huevo
I've said it all much better here: "The Arepa de Huevo – Colombia's Best Food?!" Basically I am incredibly thankful to whoever invented this fried disc of deliciousness…
6. Colombian music
Living in Colombia has made me fall back in love with music, which was, for many years, my greatest love. I was always the music nerd at school and university. However, after several years living in Manchester I realized that I had almost completely lost my passion for music made by 4 men with guitars, drums, bass and a cynical take on the world. Enter Colombia…with tambores, gaitas, cuatros, accordions etc. etc. Living here has opened up an entirely new world of incredible music to me, and caused me to regain my passion for discovering new artists, going to concerts, dancing and enjoying music. So I'm thankful for all the incredible Colombian musicians responsible for that…
7. Colombian coffee
As a coffee lover I'm thankful that I live in the country with probably the best coffee in the world. Sure, most of Colombia's best coffee still gets exported but there's a growing movement of excellent baristas and cafes in Colombia's major cities, and I can always hop on a bus to the coffee region to sample the world's best coffee direct from the source. So I'm thankful for all the people who's hard work and passion goes in to producing my favorite drink in the world!
8. Tejo
A game where increasingly inebriated folks hurl metal discs at actual gunpowder until it explodes?! Yep, that's tejo, and it's Colombian and I couldn't be more thankful that I live in the only country where I get to play this mad and wonderful game!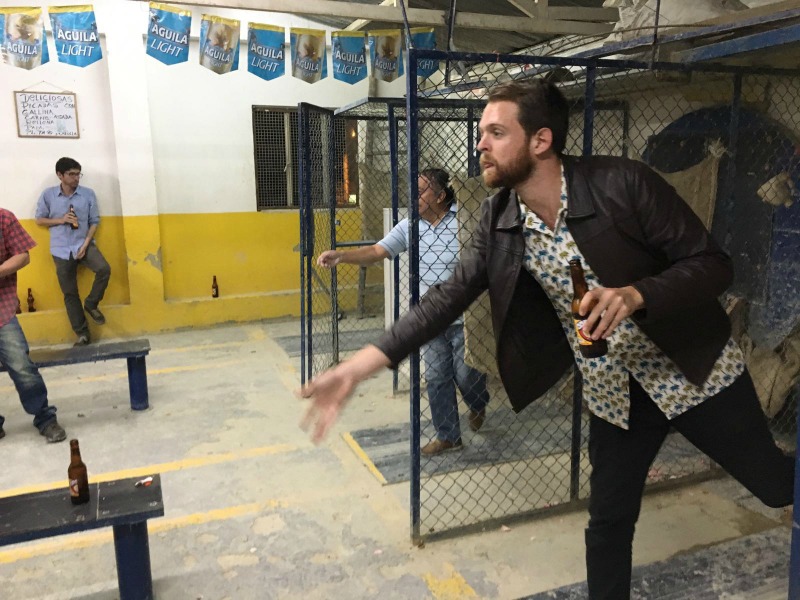 9. Colombia is home to nearly 2,000 species of birds…
I'm thankful that Colombia is the No. 1 country for birds on earth! This is an especially personal one – when I wasn't a music nerd at school, I was a bird nerd. And let's face it, the first one is way cooler in most people's book. I had also lost some of my passion for my childhood hobby living in England, but moving to Colombia brought back my love of birds with a vengeance! There are almost 2,000 species of birds in Colombia, including some of the most magical ones you can imagine – toucans, flamingoes, hummingbirds, macaws, quetzals – and I can regularly be found clutching a pair of binoculars trying to see them all (hey, it's like Pokemon Go but, you know, real!). I've seen more than 700 species in Colombia now, and I'm thankful for every single one of them, and the 1300-odd ones that I still have to spot!
10. Colombia has welcomed me with open arms
This could really be the one and only thing I'm thankful for, because it basically subsumes all the other reasons on this list – in the 4 years that I've lived here I've felt almost nothing but completely welcomed and adopted into Colombian culture. For that I am extremely thankful and grateful to Colombia and it's people.
Chris