Valentine's Day is a strange 'holiday' in Colombia…mainly 'cause it's not, strictly speaking, a holiday here at all. Colombia celebrates it's own version of the "romantic" day with 'El día del amor y la amistad' every September, on the third Saturday of the month. If I'm being honest I prefer the Colombian version, love and friendship being far less divisive and potentially lonely than just the love bit. However, as with much of the world, globalization seems unavoidable, therefore February 14th has become somewhat popular in Colombia. That still doesn't make it massive, but what is massive is the number of foreigners increasingly spending time here, either as residents, part-time residents, or travelers – these are the folks really preoccupied by how to spend Valentine's Day in Colombia. That's really who this post is for: those people from all over the world, either living in or visiting Colombia, and looking for something romantic to do this Valentine's Day in Colombia. So here is a list of (for my perennially single money) of the 10 most romantic places in Colombia (some of them cities, some of them towns, some just particularly special places or swanky hotels), for all you lovers out there…
1. The Walled City of Cartagena
Yeah, it's an obvious one…but that doesn't make it wrong! The cobbled streets, dashes of color, and fancy restaurants of Colombia's most iconic Caribbean city have long drawn couples from around the world hoping to recreate that 'Love in the Time of Cholera' vibe…without the cholera and rescuing-parrot-from-tree-related death (SPOILER ALERT!) of course! Wander the cobbled streets by day, enjoying the churches and museums, then grab yourself a table at one of Cartagena's myriad little diners and enjoy a romantic meal; maybe finish up with a few cocktails on the city walls before returning to whichever delightful boutique hotel you've chosen…a romantic's dream! TripAdvisor has a good list of the 10 Most Romantic Hotels in Cartagena to help you out.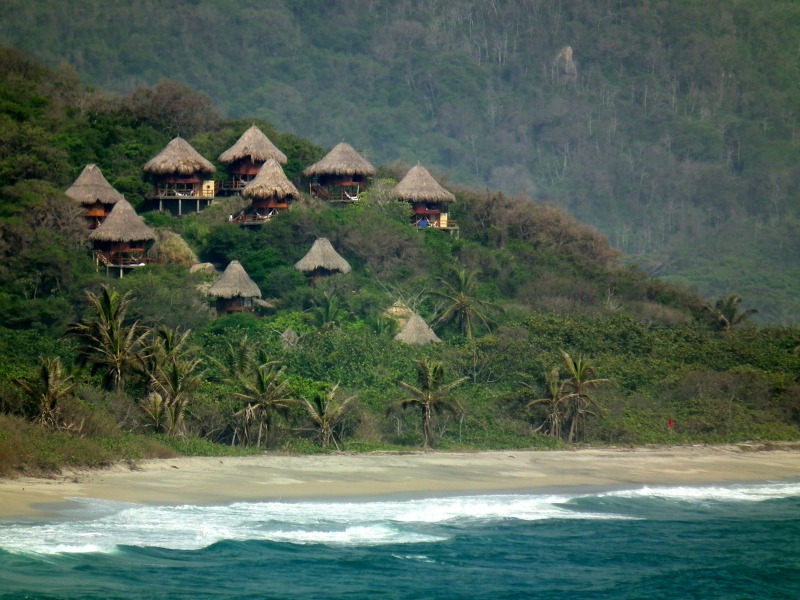 2. The Tayrona Park EcoHabs
Possibly the most romantic hotel in Colombia (although my one visit was with my parents and I slept in a too-small-for-me pullout bed on the floor, so not to much romance on the cards there for anyone involved), the Ecohabs are those iconic little thatched roof huts perched invitingly on the jungle-clad cliffs overlooking the beaches of the Caribbean in Tayrona National Park. Each hut contains a sea-view, separate terraced area, complete with hammocks, and a spacious, luxurious room. The Ecohabs also have a semi-private beach, excellent restaurant and spa. I see your Colombian Valentine's Day going something like this: wake up, breakfast in bed, day by the beach, brief break for couple's spa treatments, fancy seafood dinner, sunset on the balcony with a couple of cocktails…I should do this for a living…or get some cash and a girlfriend…
3. Barichara
Personally this would be high (maybe top) of my list of romantic Colombian Valentine's Day spots – Barichara is everything that Cartagena lacks when it comes to my idea of romance: it's peaceful…actually, that's about it! Much more of a daytrip destination, Barichara's softly-lit, cobbled streets and whitewashed facades become virtually deserted after dark and, with a plethora of delightful boutique hotels and several sweet and romantic eating spots, wandering Barichara's historical alleys could make for the perfect peaceful Colombian Valentine's Day…
4. Salsa dancing in Cali
A little change of pace after the sleepy romance of the previous places on the list, but for some couples this might be the perfect Valentine's Day plan in Colombia – find a nice hotel in this vibrant city, get on the fancy clothes and dancing shoes, and head out into the night to a classic, old-school salsa discoteca to dance the night away in the city where the love of salsa outstrips all else! Spots like Bar Latino, La Matraca, or El Rincon de la Salsa are keeping that old spirit alive, and represents a truly romantic spot for music-lovers: drink some cold beers, shot back some rum, and dance 'til you drop! The Guardian have a great list of DIY salsa dance clubs in Cali here.
5. Mompos
I know, my version of romance so far is largely quite a lazy, sleepy one…but, hey, most people don't consider bungee jumping a viable romantic activity, so sue me! Anyway, Mompos is the perfect place for that aforementioned sleepy, quiet Valentine's Day in Colombia: stay in La Casa Amarilla, with it's delightful courtyard and romantic rooms, and spend the evening enjoying some jazz and a few cold beers in one of the town's lovely little squares down by the river. It's an off-the-beaten-track Colombian Valentine's Day that you'll be telling the (if it all works out) grandkids about…
6. Isla Mucura
Back to the beaches, but this time it's on a Caribbean island! Isla Mucura is part of the San Bernando Archipelago and is dominated by the luxurious Punta Faro Hotel, an upmarket hotel with a private beach, delicious seafood-based restaurant menu, and a spa in a little thatched, open-sided hut overlooking the sea. You can laze around on the beach by day, sipping Pina Coladas under the Caribbean sea umbrella (pictured above) and, by night, take a boat over to nearby Tintipan Island for a super-romantic Valentine's Day treat: swimming with bio-luminescent plankton, which sparkle and light-up as you move through the dark water…my tip, draw your partner a heart with living, light-up plankton: instant romance/originality points!
7. Providencia
Another Caribbean island, Providencia has a more laid-back, traditional Caribbean vibe than Isla Mucura, but a bit more to do, being a larger island with a town and everything! With plenty of lovely, beachside hotels overlooking the crystalline waters, and some of the best snorkeling and beaches in Colombia, Providencia would be an excellent spot to spend Valentine's Day in Colombia – spend the day driving a golf-cart between the picture-postcard beaches, pausing for seafood and cocktails, take a boat trip out to Cayo Cangrejo island for some snorkeling (and cocktails), then enjoy a candlelit dinner, followed by cocktails at Roland's Reggae Bar on the beach (you could also have some cocktails at dinner)…now I'm just thinking of cocktails…but I'm sure you'll love it!
8. A finca in the Coffee Region
This is pretty different to the previous two romantic places but, hey, sweating in the Caribbean sun ain't for everyone! The coffee region departments of Quindio, Risaralda and Caldas are full of spectacular, boutique hotels in old coffee farms: it's all babbling brooks, rolling green hills, cowboy-hatted old farmers, and woolen blankets by a warm fire, plus a hosts of other cliches, but you get the message. I would particularly recommend Finca El Ocaso in Salento or Hacienda Venecia near Manizales in Caldas – both a working coffee farms, and accommodation is in a traditional old house, complete with movie-quality veranda. Take a stroll through the grounds, watch the hummingbirds on the veranda with a steaming fresh cup o' joe, enjoy a trout dinner, and then cuddle up in an old four-poster bed under a big blanket…romantic, right?!
9. The Tatacoa Desert
Now the desert might not seem like an especially romantic place, but you're wrong, OK! Just kidding, but seriously, the Tatacoa desert could potentially be on the most romantic places on this list for one key reason…the stars! Now stars have been a romance staple since Hollywood was invented: there's nothing more perfect for a cinematic romantic signifier than two lovers gazing up at the stars together – Tatacoa has the best star-gazing in Colombia, even has a observatory, so logically it's perfect for a romantic getaway. Spend the day by the pool (I promise I won't advocate cocktails), then wander through the desert (take a torch just in case!) and gaze up at the stars. A perfect Valentine's Day in Colombia! 
10. Villa de Leyva
Much like Barichara earlier on the list, this lovely little town in Boyaca was seemingly hand-crafted by romantic couple with Valentine's Day in mind: sleepy cobbled streets, boutique hotels, lovely little candlelit restaurants on squares: check, check and, check! Not only that, but Villa de Leyva also has an award-winning vineyard and winery: the stuff romance is made of (if Paul Giamatti has taught me anything and, believe me, he has!), right! Stroll around the cobbled streets by day, take a winery tour, taste (and drink, obviously) lots of wine, then enjoy a romantic dinner of the main square…
So there you have it: Valentine's Day in Colombia. And these 10 amazingly romantic spots don't just have to be limited to February 14th, either! Any time of the year is perfect to enjoy a romantic getaway in Colombia…it doesn't even have to be romantic in a couples sense: just go and enjoy them anyway! But it's nicer with someone you love…
Chris