One of the things I have loved the most about traveling in Colombia has been the country's remarkable ability to keep surprising me; each time I think my personal 'best places I've been in Colombia' list must surely be impregnable to newcomers, I visit somewhere else that insists on muscling in to the list! San Cipriano was one of those places, as was Mocoa in Putumayo…and the delightful little colonial town of Jardin, nestled in a green valley of coffee and curubu plantations in southern Antioquia department was most certainly one as well…
I visited Jardin on a puente (Colombian long-weekend holiday) in June and am already hoping to be back as soon as possible…why? The town has pretty much everything that I personally look for in a Colombian pueblo: lovely colonial architecture, a pleasant and friendly atmosphere, excellent coffee, hiking (to an amazing waterfall), and world-class birdwatching nearby.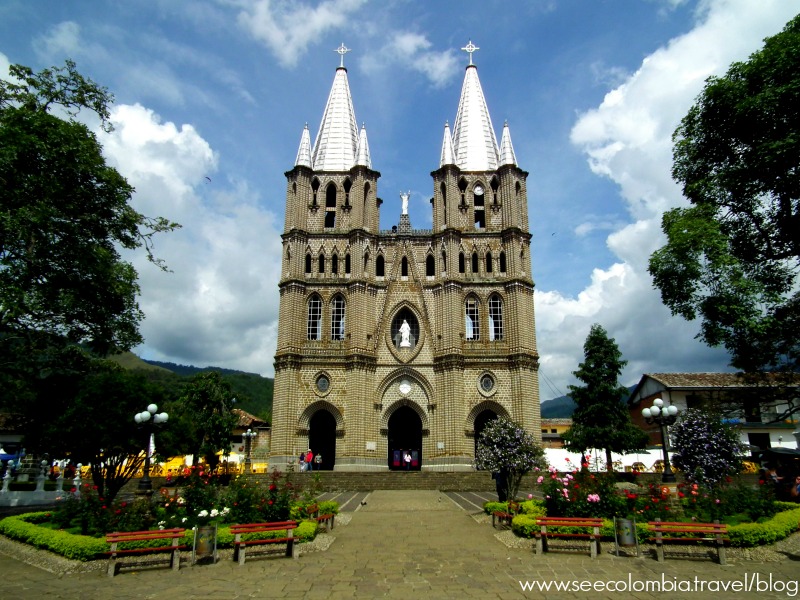 There's a pretty long list of activities to occupy you in Jardin, and most of them are perfect if, like me, you try to stay active when you travel. Arguably the most popular thing to do is take a horse or hike along a mountainside trail to the hidden Cueva del Esplendor: a large cave hidden away in a grove of tropical forest (seriously, it was like something from 'Fern Gully' – anyone else love that movie?!), with a postcard quality waterfall falling directly through a hole in the cave roof (I'll be writing a more detailed post on this hike later in the week). Swimming in the pool is permitted…but gosh-darned cold!
You can also hike to the Cueva de los Guacharos: a similar cave containing a colony of the eerie oilbird; go rappelling in either cave; take a horse-ride around the coffee plantations that surround the town; do some paragliding to truly appreciate the jaw-dropping scenery; or hire a bird-guide and visit the ProAves reserve above the town to try and catch a sight of the highly endangered, endemic Yellow-eared Parrot – these huge, macaw-like parrots were very recently rediscovered, and number only about 300 in the wild, so you'll be seeing something pretty special. You can also take the little cable-car up the hillside for a nice panoramic view of the town…Any one of these things can be easily arranged through your hotel or the town' tourist information office.
However, if you're not much of a serous birder, it's definitely worth walking ten minutes down the valley out of town and paying your 10.000 to visit the Andean Cock-of-the-Rock lek…"what?" I hear you ask! This unusual and uncommon bird is bright red, and has a wonderful habit of gathering together at dawn and dusk to 'lek'…which basically means jump up and down making mad noises in the hope of attracting a mate. Jardin might well be the best place in South America to guarantee a fantastic sighting of these often elusive birds…so make the effort and go and see them!
The town itself is a delight, especially in the evenings, when (unlike many little towns I've visited) the main square is full of little table and chairs, and people sit out in the cool Antioquia evening for a bunch of beers or maybe a coffee. The atmosphere is wonderful; I would happily spend weeks in Jardin just to sit out on that plaza every evening. In the daytime, the main attraction is just wandering the old colonial streets, along with a visit to the Clara Rojas Pelaez House Museum on the main square: for a small donation, the delightfully eccentric curator will take you on a tour of the house, which is especially interesting for its collection of old photos of the town.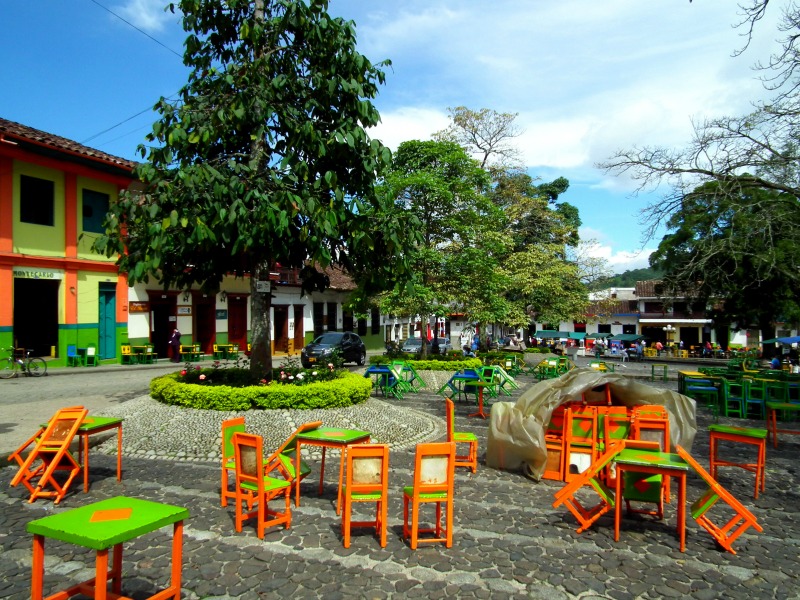 How to get there: Getting to Jardin is a little long-winded but wonderfully easy: first get yourself to Medellin. That's the really easy bit! Then make your way to the southern terminal in Medellin and seek out the information windows of either Transporte Suroeste Antioqueno or Rapido Ochoa: check the bus times (each company has 6 daily departures, spread over the day), pay your 18.000 COP (one-way cost), and get going…I'd recommend trying to score a window seat on the left-hand side of the bus on your way there, and vice-versa on the way back: the views over the green valleys of Antioquia are beautiful, and a seat on this side has the most consistent views throughout the 4 hour journey.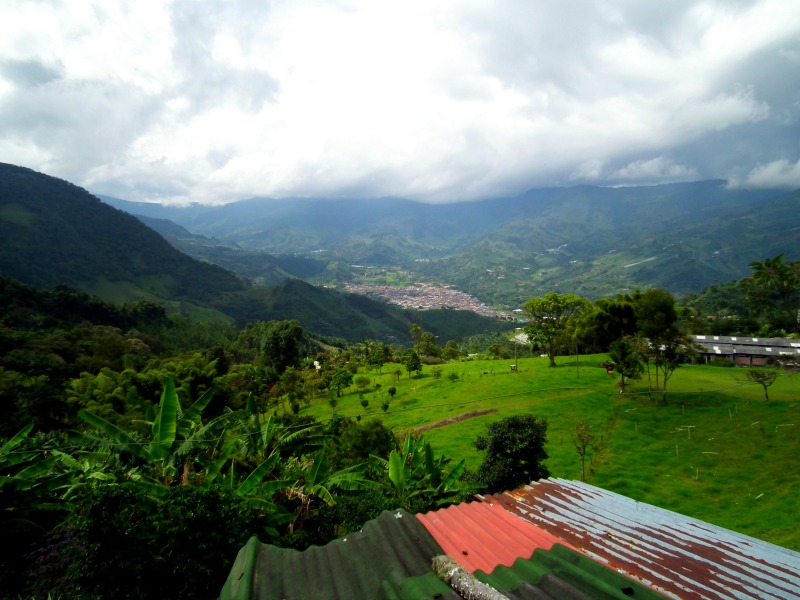 Where to stay in Jardin: You have several options here – the town still doesn't have a properly budget backpacker hostel, but there are many hotels and guesthouses dotted around the town. My friend and I (on account of busy holiday hotels) stayed in La Casona hotel, just half a block from the main square: it was basic, but the room was comfortable and well-appointed (price: 100.000 for a double and single bed on holidays, and 60.000 for the same normally). However, from everyone I have spoken to, the best places to stay generally are two hostel/guesthouses located just outside the town, set in the beautiful countryside: Condor de los Andes and Hostal Selva y Cafe.
Chris