There's another puente (or Colombian national holiday) next weekend and, instead of heading a couple of hours away to tierra caliente, I have (happily) accepted the 'offer' to accompany some friends on another trip to Mocoa in Putumayo – my third this year! The majority of Colombians have never visited the department and most foreign tourists to Colombia pass through the country without even realizing that the southern department, where the Andes crumble into the Amazon, even exists. So why am I booking a bus for my third visit of the year? Surely the guidebooks and tourist agencies would have realized if it were that good, right? Wrong! Putumayo has a slightly dodgy reputation, and much of the department is still to be treated with caution; however, the capital city of Mocoa and it's surroundings has been safe for a while now, the news just hasn't travelled very far yet…
So visit Mocoa, and experience it while it remains undervisited! Need more convincing?! Here are 10 reasons why you have to visit Mocoa! 
1. Off-the-beaten-track exploration
As I mentioned, very few people have really clocked onto the potential and beauty of Mocoa – therefore the area remains gloriously untouristy and underexplored. There are a couple of hostel options, very sporadic buses, and very few luxuries: sounds like a travel dream, eh?! The thing is, it really does! A visit to Mocoa will yield amazing travel experiences for very little extra effort, and will give you a great "I've been there" travel tale for your next flashpacker hostel…
2. Accessible Colombian Amazon
Colombia isn't famed for it's Amazonian adventures: the capital of the country's largest Amazon department (the appropriately named Amazonas), Leticia, requires a non-too-budget flight to visit, and many of the eastern jungle departments are still considered pretty dicey to visit. Therefore, many people experience the jungle in Peru, Ecuador or Brazil (which is still amazing!). However, Mocoa offers the chance to visit some stunning jungles, amazing rivers, and view some remarkable wildlife, just a night-bus from the nation's capital. It's also really accessible from other towns and cities in Colombia's southern backpacker circuit, making a detour fairly easy. It might not be the vast rivers of the Amazon, but Mocoa offers a similar-yet-different jungle experience at a fraction of the price, plus the whole 'no visitors' things I already mentioned!
3. Waterfalls!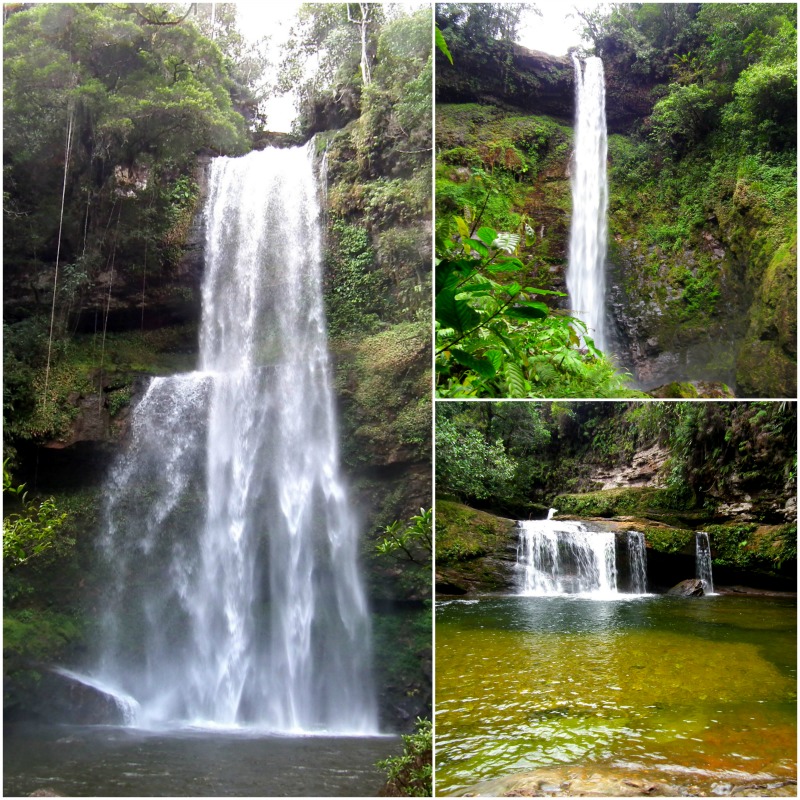 Backpackers love waterfalls. It's been proven by a team of scientists working all-hours in an underground Swiss bunker. Love 'em! Every backpacker town outside the frozen tundra has a waterfall tour available. Sometimes it can get a little tiresome – not every point of collision between gravity and water is the greatest thing ever. However, in Mocoa you can visit some of the most spectacular (and spectacularly isolated) waterfalls you will ever see. From Hornoyaco falls, set deep into the jungle, down a rock-strewn, rope-bridge path, to the Fin del Mundo hike (click here for my full post on this), where a series of lovely small falls build to an 80m drop-off into the misty jungle below; Mocoa is a town of waterfalls. This scientifically makes it backpacker heaven. Point proven.
4. Wild-swimming
If waterfalls aren't your thing and you prefer something a little less turbulent then Mocoa still has you covered – there are also a wealth of places to visit just for a pleasant swim in cool waters with beautiful surroundings. The aforementioned Fin del Mundo falls all look over delightful, bottle-green swimming pools, with rocks nearby to cannonball from. Other worthwhile swimming trips include the Rio Afan and Rio Mandiyaco canyons, where the river has cut lovely creek-like channels into the rocks carving their way through the jungle. Or even the Rio Dantayaco which sits about 10m in front of the best hostel in town and, on weekends, is full of locals enjoying the fast-flowing, fresh water. NB. do not forget swimming shorts!
5. Jungle livin'
I mentioned a hostel in the previous point: this is the (under new ownership) Casa del Rio, and it's one of my favourite Colombian hostels. Why? It's a little shabby, and certainly not a party hostel…but it has a charm all of it's own. Set over a large garden with a creek flowing through it, and with a garden replete with tropical birds (including wild toucans and parrots) and wild monkeys, the Casa del Rio is a lovely place to spend a few days. It has the swimming river in front, dorms (with a good breakfast included) at 29.000COP, and a pleasant, sociable atmosphere, since, purely by being there, most of the guests are fairly like-minded.
6. It's super cheap!
A bus ticket to Mocoa from Bogota cost less than 70.000 (down as low as 55.000 depending on the season) – that's about 20 bucks! The hostel is good value (as mentioned above), and, the best part: the activities are basically all free! The fun stuff all involves hikes through the jungle to swimming holes and waterfalls, with barely an entrance fee to pay. Food is cheap (and cheerfully basic!), as is booze. You won't spend a lot of cash in a few days in Mocoa, that's for sure!
7. Monkeys will sit on your head…
The Paway Centro Ecoturistico Amazonico (read all about it in this post) is an amazing little animal rescue and rehabilitation centre set deep in the jungle not too far outside Mocoa. They provide homes for rescued Amazonian wildlife, including macaws, monkeys and turtles. Many of these animals are preparing to be released back into the wild so their interaction with humans is limited. However, Chonta and Chonto, a pair of Colombian Brown Woolly monkeys are too tame for that, and are simply living out their days in something approaching their natural habitat. They are supremely friendly, and will spend the entire visit sitting on your head and pulling your hair. Which is objectively awesome.
8. The most extreme Colombian selfie?
You decide!
9. It's a city of Indiana Jones bridges!
Seriously, these things are everywhere! If, like me, you love the idea of walking across rickety rope bridges deep in the jungles of Colombia, Indiana Jones-style, then you'll love Mocoa! Ad how could you not, right! Have you no soul!
10. This baby monkey
Point thoroughly proven…
Chris