Colombia is a pretty geographically diverse place: you can go from desert, to plains, to jungle, to high Andean mountains to ocean in just a couple of days here, so getting around can sometimes be tricky. Most people fly, take buses or drive, but there are many other forms of transport in Colombia that are like tourist attractions in themselves, which is one of my favorite things in travel: if even the so-called dull part is an experience then so much the better, right!? So here are 5 of the craziest, most bizarre, or just downright exciting transport options in Colombia:
1. Chiva buses
A chiva isn't mad in the traditional sense, in fact, for many rural Colombians it's a common mode of transport; but the fact is that for visitors to Colombia, the experience of riding around in one of these super-colorful, open-sided buses is a pretty unique and bizarre one. You have two options for riding in a chiva: either take one as public transport in a more rural department of Colombia, or join one in it's more modern incarnation as a 'party bus.' The second option is where the fun/madness starts: drive around the city with blaring music, alcohol flowing, and people dancing away in the middle of a moving vehicle! The kind of thing that would never be allowed in England, and that's why I love it!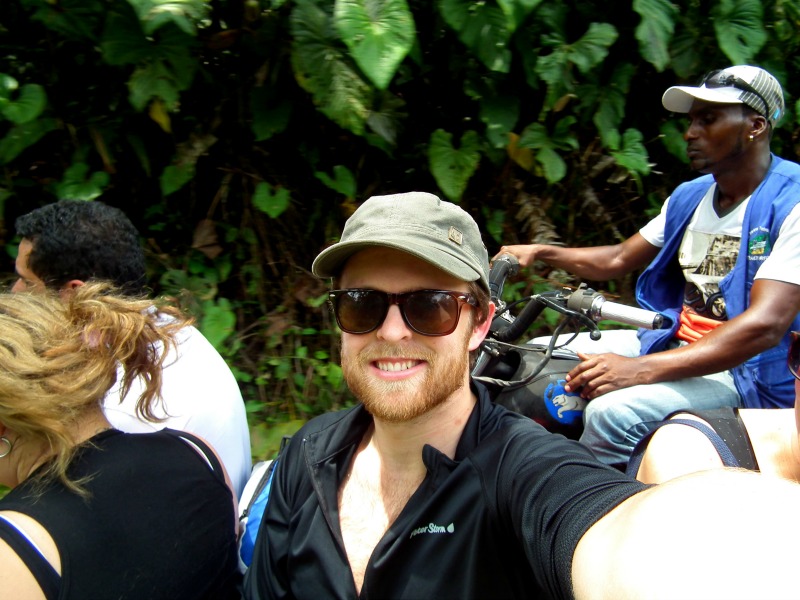 2. Brujitas into the jungle…
We've written in more detail about the brujitas of San Cipriano in Valle del Cauca, but, needless to say, these remarkable motorbikes on wooden platforms zipping along a jungle-clad trainline into the forest make this list easily! How could they not?! Especially when I tell you that when your brujita comes face-to-face with another, one has to be lifted from the tracks and replaced once the other has passed! And don't get me started on the panic when the distant whistle of the train is heard…madness at it's best and most innovative! Here's a video we shot there. 
3. Tuk-tuks in Guatape
Just the like the famous tuk-tuks of South-East Asia, the little town of Guatape in Antioquia has a fleet of colorful, three-wheeled vehicles, also known as moto-chivas, decorated with bright images inspired by the town's famous zocalos: the 'skirting boards' around the front of the the town's buildings which depict local stories, customs and traditions. These little vehicles are a really fun way to see the sights of the town and are like tiny tourist attractions in themselves with their bright colors and friendly drivers.
4. Tiny propeller plains over the jungle…
If you decide to take an off-the-beaten-track trip in Colombia to one of the under-explored departments in the east of the country or the Pacific coast Choco in the West then you'll probably fly with an small airline like Satena. For anyone with a fear of flying, this might not be the best idea, but for anyone who still gets a childlike thrill at the experience of soaring over the land below, this is an incredible option. These airlines fly in small, ex-military planes, usually seating only about 10 people: these propeller-style planes are an incredible way to see the vast jungles below you, and landing is a real thrill!
5. Mototaxis in La Guajira
A moto-taxi (essentially hitching a ride on the back of someone's motorbike) are common all over the Colombian coast, but it is in La Guajira when they become a really amazing addition to your travel experience: the sensation of the desert wind in your hair, and the sand whipping around your ears as you speed through the coastal deserts of the Guajira peninsula is part of the package when it comes to visiting Colombia's extreme north...just remember not to rest your flip-flops on the exhaust whilst you're driving: I learned that lesson the hard (burning, smelling rubbery) way!
There are so many crazy, fun ways to get around in Colombia that this list could have been longer! These one's just represent my personal favorites, and the transport that I think adds most to your travel experience in Colombia. Any other suggestions? Please leave them in the comment section: thanks!
Chris