The small Caribbean island of San Andres, whilst technically part of Colombia, lies just 70km from the coast of Nicaragua and is, along with it's neighboring island of Providencia, one of Colombia's most stunning Caribbean regions. With it's breathtaking 'Sea of Seven Colors', rich cultural heritage and marvelous diving and snorkeling opportunities, San Andres is a highly popular holiday destination for Colombians. However, with the rise in budget airlines such as Viva Colombia, San Andres is becoming increasingly popular as a traveler's and backpacker's destination as well.
How to get there…
San Andres is only really accessible by plane, but that's alright, as there are many flights to the island with a variety of operators: LAN, COPA, Avianca and Viva Colombia all fly to the island from Bogota on a daily basis, and COPA operate one daily flight from Cartagena. Prices vary, but if you avoid booking on a Colombia national holiday, and try and travel during the week you can get especially good deals, with return flight prices as low as $100.
Where to stay…
San Andres, unlike nearby Providencia, is geared up for mass tourism; most of the island is geared towards package tourism, and large hotel chains and operators are dominant. However, there are a number of small, family-run guesthouses around the island as well. For backpackers though, El Viajero Hostel is a good option. With dorms at 40.000 COP (with bathrooms and air-con), a bed is a good value for San Andres. It's not the cosiest option, but you'll be spending all your time out and about anyway!
What to do…
This is where it get's interesting! San Andres is full of wonderful activities to keep you busy for as long as you choose to stay. The more active can dive at one of the islands many excellent sites (including several wreck dives), enjoy a day's snorkeling at El Acuario (a return boat trip costs 10.000 COP; when they advise you to wear water-shoes, listen! There are sea urchins everywhere), rent a jet-ski, go kite-surfing…the list goes on. Just don't bother with the manta ray experience: when I was snorkeling at the Aquarium, a ray swan into the area, and was immediately corralled by an opportunistic local for 'fun' photos with the tourists – the poor creature was surrounded by people, grabbed and moved around, and, when it made an effort to swim away, dragged back into the circle. It was an example of mass tourism at it's worst, and I highly recommend not bothering! Otherwise, San Andres' underwater world is a paradise waiting to be explored.
For those with less energy, renting a golf-cart (80.000 for a full day) and driving around the island is a wonderful way to experience the different beaches and attractions all around the island – the 'Hoyo Soplador,' a blowhole-like spot on the south coast of the island; Morgan's Cave, where Henry Morgan is supposed to have hidden his treasure; Rocky Cay, a lovely little island that can be walked to from the shore along a sandbank. Driving around the island non-stop would take about 3 hours, but you really need a whole day to take your time and enjoy it.
What to eat
When it comes to food, San Andres can be a little tricky for the traveler on a really tight budget; the island's excellent fresh fish and seafood doesn't come cheap, but it's worth a little treat for a few days, as the food really is great. During my weekend on San Andres I enjoyed fresh fried fish, cazuela de mariscos, ceviche, mouth-watering shrimp…None of it was cheap (30.000 for a fried fish, 40.000 a cazuela), but it was all amazing! The main town has budget eating spots for fast-food and sandwiches, but it's not quite the same! Breakfast is free in the hostel, so you can save there.
Drink prices vary: a good cocktail will generally set you back between 15-20.000 in a bar, and around 10.000 on the beach from a coconut. A beer generally comes to about 3.500 in most places.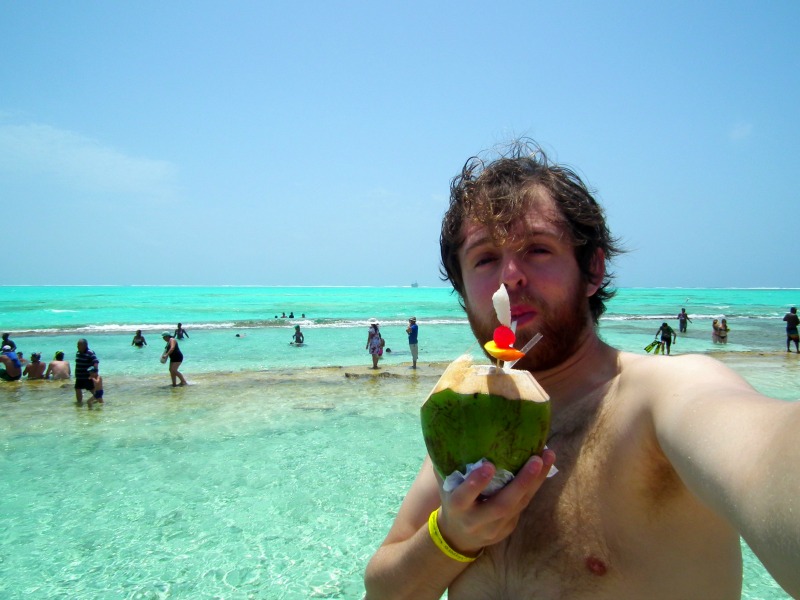 So there you have it: a basic traveler's guide to San Andres island. If you have any other queries, please don't hesitate to contact us or leave a comment below.
Chris