This month Bogota is playing host to its very own month of music, or 'Festival of Festivals' as I've also seen it called. Basically, if you're coming to Colombia (or you're already here) this May you're in for a magical, musical treat. Colombia isn't exactly short of music on any other given day, however, this month will see a number of special festivals taking place throughout Bogota, featuring some of the biggest and best names in Latin music. The slogan for this event is "Bogota Vive la Musica", which pretty accurately sums up Colombia's general philosophy towards music, to be fair.
This past weekend, as you will have already read if you regularly follow this blog, was Salsa al Parque: a 2 day free concert taking place in Parque Simon Bolivar, celebrating the best of salsa music. But all in the past now, I hear you cry out…what of the future, See Colombia Travel?! Well, luckily for you, over-dramatic reader, the future is looking very bright and musical indeed…
On Wednesday, May 14th, Plaza Bolivar in La Candelaria will play host to the third annual 'Concierto de la Esperanza', or Concert for Hope. This (once again) free festival will be attended by tens of thousands of people, and has previously been headlined by Spanish hippy fella Manu Chao, and Mexican rockers Cafe Tacvba. This year's incarnation promises to be the best yet: support acts include Colombian musical luminaries Toto la Momposina, Systema Solar, and Bomba Estereo, whilst the honour of headlining goes to genuine megastar Puerto Rican hip-hop behemoths, Calle 13. It's gonna be good…
However, if you're still not satisfied, there's even more in Bogota's Month of Music to get excited about. One unofficial event that I'm nonetheless excited about takes place this Friday, May 16th, and is hosted by popular Chapinero club-night, Latino Power. Featuring a long-awaited live return from Los Piranas (and at just 15.000 COP for 2 live acts, and 2 DJs), the night is called Demencia Tropical, and is celebrating the release of a new compilation from record label, Galletas Calientes. Expect mad, abstract Tropical sounds, and some pretty hip Chapinero types.
And it just keeps going. This coming weekend will see Parque de los Novios host 'Colombia al Parque', which will feature 2 more days of absolutely free music, including another performance from Toto la Momposina on the Saturday, and one from my personal favourite Colombian group, Frente Cumbiero on the Sunday.
Another massive Colombian group, Pacific coast hip-hop stars ChocQuibtown, will be bringing their Choco-infused rhymes to Bogota on Friday May 23rd, with a show at Teatro Jorge Eliecer Gaitan. It's one of the few events of the month that isn't totally free, but it'll be well-worth the reasonable ticket price to see this Latin Grammy award winning act do their unique thing…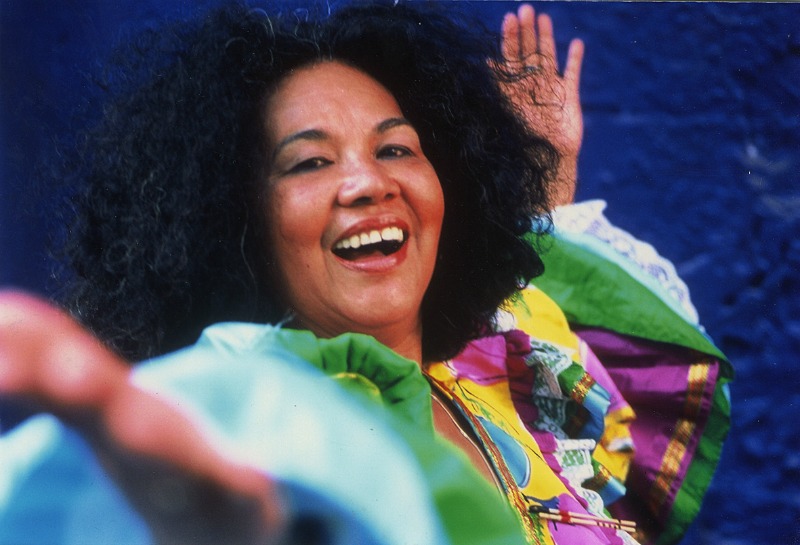 There are so many more live acts, musical workshops, and generally hip-swivelling good times planned for this musical month of May, that it would take up a needlessly long time for me to list them all…needless to say, there are loads! So keep an eye out for posters and flyers, get down to the ones I've already mentioned, and do what Colombians seem to do best: celebrate life and music. I'll see you there (I'll be proudly sporting my award for 'Most Alliterative Blog Post Title of 2014)…
Chris