My dearest C,
Even after spending 6 years at university learning how to read and write, I'm finding it almost impossible to muster the words that might just make it over this empty sheet and find the right home in your heart, and there express exactly how the love I have for you fills up my days and nights with its joy.
I'd be lying if I claimed I'd never loved before – and how weary my own heart has been after those loves' ravages. So weary, I sometimes thought I was over that whole caper for good, and wasn't even too upset about it. That's why the love that came flooding over me after coming to know you leaves me in a constant state of breathless shock. A flash-flood knocking me off my feet with its force – rushing as it did straight out of the blue. Just when I wasn't looking for it.
And the craziest thing about all this is I don't quite understand it. Don't quite understand you. There are so many strikingly different facets that make you who you are – so striking that I'm at a loss to say how they could possibly fit together to form such a glorious harmony. I feel I know you completely, unquestionably and profoundly; while realising there is so much more about you that I can't wait to discover as this word-defying power sweeps me along. I know I risk cliche by saying that there's noone like you anywhere on earth, but I've never felt this about anyone with such conviction. Anybody who takes the trouble to brush past the tired, old rumours about you and to get to know you by themselves, would have no trouble agreeing with me about this.
Open. Beguiling. Plaintalking. Mysterious. Simple. Complicated. I don't understand you, but I know you to the depths of my being.
I don't know quite where I fell into this profundity of love. It could have been while diving into the bathwarm Caribbean at 8 in the morning drinking in the jungle brazenly pushing itself into the powderblue sky in front of me. Or while deliciously wasting another evening away in a coffee-cowboy billiards bar. Sharing the stories written right into the walls of an old pirate city. Or it could have hit me unawares while lost in a cloud of powder, paint and foam. I know for sure I was feeling it on one of those countless hazy Bogota nights, bouncing from bar to bar. You know which one I mean.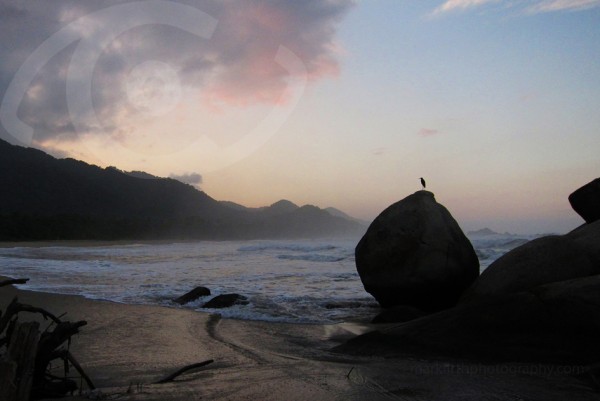 It's not important exactly when it hit me, though. I feel it, and I'm an infinitely richer being, now that I'm riding its wave.
I guess what I'm trying to say is, thank you for letting you be known. I feel this love for you – profound as it is – grow every moment, and can't wait to know ever more facets of your being as it continues to sweep me along.
I'm not too proud to proclaim it to the world.
Te amo, Colombia.