Today's post comes from our friend and fellow Official Blogger Diana from Bogota Eats and Drinks. Diana, thanks to her upbringing and educations, knows a great deal about food and her blog is a great source of information for where to eat and drink in Bogota (as the name suggests). We recommend checking it out. Now, over to you, our foodie friend:
"Colombian food is bland" – I hear this all the time and although I'm part Colombian and possibly a little biased, I have to defend my country's cuisine. Maybe it's bland if you compare it to Mexican or Thai, but making that kind of comparison is a lot like comparing apples to oranges.
Colombian food has its charm, rooted in peasant campesino culture and with frequent traces of European and African influence. It's true that there are a lot of arepas and plantains and much of the food ends up being fried, but don't knock it until you've tried it. Keep an open mind. Colombia has been enduring decades of civil war so I believe the food here is meant to comfort and not necessarily to impress – not yet at least! You aren't just eating food; you're eating the intangible heritage that represents a nation, its people and their collective history – and this is the case in any country you visit.
While there are several Colombian regional cuisines on offer in Bogotá and dozens of restaurants to choose from, I would recommend the following 5 spots to get you started on developing a taste, and hopefully a liking, for Colombian gastronomy:
1) La Puerta Falsa
Calle 11 No. 6-50 – La Candelaria
This tiny restaurant off the Plaza de Bolívar has been around since 1816. The most popular dish is the tamal wrapped in a banana leaf and steamed. This dish is traditionally served with hot chocolate, fresh cheese, almojabana and buttered bread. La Puerta Falsa prides itself on serving hot chocolate made with water, not milk – the traditional way in which this beverage has been prepared in Bogotá for over a hundred years.
2) Las Margaritas
Calle 62 No. 7-77 – Chapinero
Las Margaritas was founded in 1902 and serves other traditional Colombian fare that is difficult to find elsewhere in the city, such as the Thursday special – Puchero Bogotano. Essentially, this is a kind of stew with a variety of vegetables and meats. The vegetables and meats are served separately and covered in "hogao" (a sauce made from tomatoes, onions, and Paipa cheese) and the broth where they were cooked comes separately. You can also enjoy Bogotá's iconic Ajiaco – the city's signature soup made with three different kinds of potatoes and guasca leaves. Shredded chicken, avocado, capers, cream and ají (Colombia's number one spicy condiment) are then added to the soup to suit the diner's taste.
3) Piqueteadero Doña Nieves
Calle 65 No. 3B-48 – Chapinero
This place is probably the most rustic on the list and has been in the making for 65 years. The specialty is gallina or hen – a traditional dish served mainly in the country side. This family business has strived to maintain the original way of cooking the hen and its side dishes – yucca, potatoes, plantains and an arepa from Boyacá. The meal begins with a hen consommé then the friendly waitresses bring you a banana leaf-lined basket brimming with pieces of hen. Often visited by politicians and actors, the gallina at Doña Nieves continues to draw crowds from all walks of life.
4)  El Portal de La Antigua
Calle 85 No. 12-80 – Zona Rosa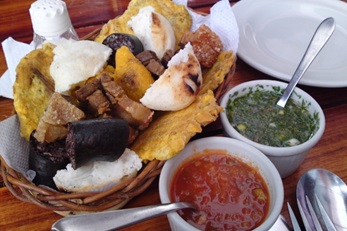 This place isn't as old as the previous restaurants but it's a good option for sampling Colombian cuisine if you are looking for a more contemporary setting. The highlight at this restaurant, located in Bogotá's popular "Zona Rosa", is the Bandeja Paisa from Antioquia. Their menu is extensive and has dishes from various regions of Colombia. A good choice for an appetizer is the sampler basket with chorizo, morcilla (blood sausage), arepas, patacón, empanadas and chicharrón (pork crackling).
5) Fulanitos
Calle 81 No. 10-56 – El Retiro
Fulanitos serves traditional cuisine from Valle del Cauca, where Cali is located. Their specialties include aborrajado (a surprising creation consisting of ripe plantains with cheese and guava paste and then deep-fried), marranitas (another surprising appetizer where green plantains are mashed up, studded with pork crackling and deep fried – a sinfully guilty pleasure), chuleta de cerdo (kind of like a pork milanese Cali-style), and the beverage known as lulada (pictured below) made with chunks of lulo fruit – tart, sweet and delicious. There are several branches of this restaurant but the one at the address above is the original and everyone agrees that the food here is the best.
BONUS RESTAURANT
El Motorista
Carrera 50 No. 23-30 – Near the US Embassy, off of El Dorado Ave.
Well, if the first 5 restaurants didn't whet your appetite for exotic cuisine, you should definitely try chigüiro. The meat from this animal tastes like a cross between chicken and pork and is widely eaten in the plains of Colombia (Los Llanos) and Venezuela. The interesting part is that it is also the largest rodent on the planet, but don't let that put you off! It's really actually quite delicious and the experience of eating a plate-full of meat and potatoes with your bare hands is a carnivore's dream. Wash it all down with refajo – a refreshing combination of Colombiana soft drink and beer. Buen Provecho!
Diana
Bogota Eats and Drinks