I first visited Santander department in 2014 and it has remained one of my favourite departments ever since: I have been fortunate enough to return many times over the past 3 years and last month I had the welcome chance to return again. I was invited on a press trip by Ando Viajando magazine and Viva Colombia (thanks again to everyone involved, it was great!) – we spent 3 excellent days visiting popular tourism spots around San Gil, including Barichara, the Chicamocha Canyon, El Gallineral Park, and were also invited to experience some adrenaline sports first-hand in and around San Gil itself. It was an action-packed 3 days, and provides a handy little mini-itinerary in itself – our 3 days in Santander could very easily be yours, and you would have a cracking long weekend if you basically did all of these things yourself. So here's what I got up to in Santander…
The Chicamocha Canyon
Colombia's largest canyon, and one of the biggest in the world, the Chicamocha Canyon dates back roughly 46 million years, and has a depth of up to 2000 metres! Much of the area is a protected national park, and it can visited in several different ways. The best tourist option for visiting the Chicamocha Canyon is to stop at the Chicamocha National Park on the road between Bucaramanga and San Gil (basically equidistant: 2 hours or so from each place). The park is an interesting mixture of really touristic attractions and natural beauty, with a waterpark and petting zoo rubbing shoulders with historical monuments, museums and viewpoints. Luckily there is more than enough to keep you interested even if all the add-ons don't sound like your cup of tea: my personal highlights are the small Guane Museum (an anthropological and archaeological museum dedicated to local indigenous cultures), the impressive monument to Santanderean culture, which straddles a ridge above the entrance and offers commanding 360 degree views of the canyon, and the cable-car across the canyon. The cable-car holds the distinction of being the longest of it's kind in South America at 6.3km – the ride takes about 30 minutes each way and leads you across the wide expanse of the canyon to the Mesa de los Santos on the other side (more adventurous travellers could then carry on from the other side and visit the beautiful coffee haciendas and farmers markets of the Mesa). More extreme activities, such as paragliding and zip-lining are also available (I would particularly recommend paragliding).
Visiting the Chicamocha Canyon was one of the highlights of the press trip, and is very easy to do for yourself. Adult entrance costs 25.000 COP, but I would personally go for the combination entrance+cable-car ticket at 50.000 COP. This fee gets you into all the museums and monuments, plus a return ride on the cable-car. It doesn't include any of the extra activites, such as the extreme sports, but you can pay for those as you decide at the booth of each activity. And if you are especially active you can also sign up for the inaugural Chicamocha Canyon Race in late-May: at dinner one evening we met the organiser and it certainly sounds like an extreme runners dream!
Extreme Sports in San Gil
San Gil is famous for one thing in particular: adrenaline sports. The towns privileged location near the canyon and surrounded by rivers and waterfalls means that adrenaline junkies will be in complete paradise over a few days in the little town. Paragliding, rafting, zip-lining, caving, rappelling, bungee-jumping…there is so much on offer in San Gil for fans of throwing themselves off things! We were invited to take part in a few activities. Bungee-jumping was up first (sadly that's not me in the photo below: travel insurance issues prevented me from jumping this time) – several members of our press corps took part and it looked incredible. It's one of those jumps that people dream of doing: 70m directly over a fast-flowing river. Get your jump right and you will even dip into the water! We were invited to take part by Colombia Bungee Jumping: a jump costs 70.000 COP (1.000 per metre jumped basically…).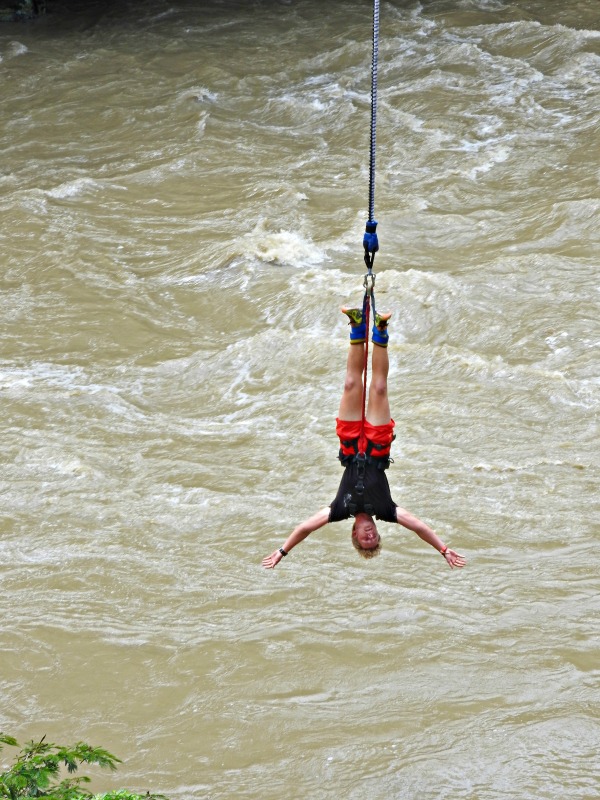 After the bungee jumping we hopped into a van and drove along the Fonce River to enjoy some rafting. There are several white-water rafting options available in San Gil – more extreme folks can opt for a full-day riding the (much larger) waves of the Suarez River, but on a tight press-trip schedule we didn't have time for that, so we enjoyed about 40 minutes of level 2 and 3 white-water along the Fonce. Full trips usually last a couple of hours and finish up in the town itself. Even for a short time, the rafting was great fun – the guides were professional and fun, the white-water was impressively raging, and the surroundings were beautiful. A couple of sections of rapids were genuinely tough to navigate and I took a fairly epic dip on the final section, tearing my shorts from top to bottom in the process (not a pretty sight for my raft-mates!). Great fun!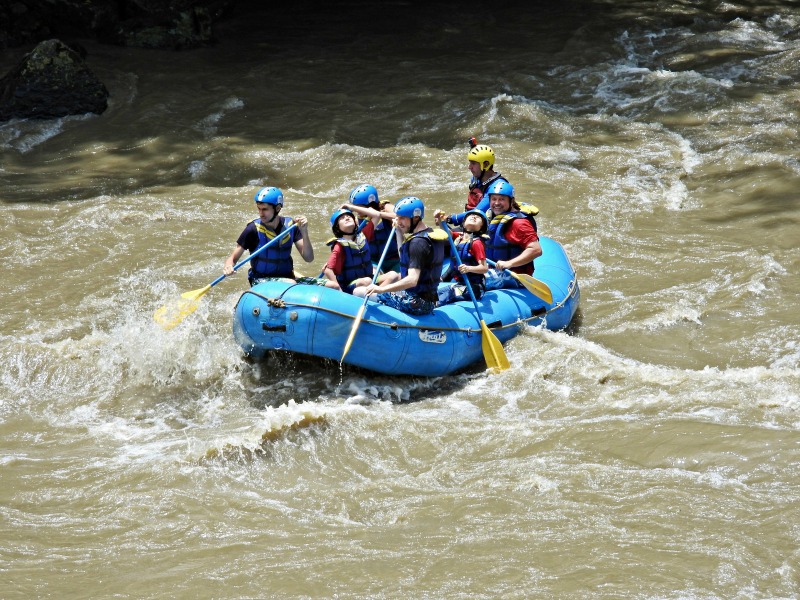 The final adrenaline activity on this trip took place on the final morning – we took a short trip out of San Gil (on the road to Barichara) to a restaurant offering wonderful panoramic views of San Gil for a quick breakfast before the drive back to Bucaramanga. The place is called El Peñón Guane, and is basically a restaurant and adventure sports centre – it would be great place to stop for breakfast or lunch, take in the view of San Gil and enjoy some zip-lining…just like we did! They have a really beautiful zipline route, which crosses over a deep canyon and back again. It costs 30.000 COP for a ride and is definitely worth the cost.
There wasn't time on this trip for all of the excellent extreme sports that San Gil offers, but I would highly recommend making it an obligatory stop on your Colombian trip, for at least a few days anyway, to make the most of one of South America's extreme sports capitals. But even if the blood-pumping, head-spinning extreme activities aren't for you, it's still worth coming here, if only for our next stop…
Barichara
Colombia's so-called 'most beautiful town' is just 40 minutes or so by bus from San Gil (and I only say 'so-called' to be fair to the many other stunning pueblos of Colombia – Barichara would be thoroughly deserving of the title) – most people only visit for a day-trip, but I would highly recommend spending at least a night there, when the tourists have gone home and the cobblestone streets are dimly lit by soft street lamps and are almost empty. During the day it's well-worth enjoying the two hour hike to nearby Guane, an equally lovely little town, along the old 'Camino Real.' Otherwise just do what I did on this trip: stroll the old streets, soaking up the atmosphere, and occasionally stopping for a tinto or a peek into one of the towns many craft and art shops.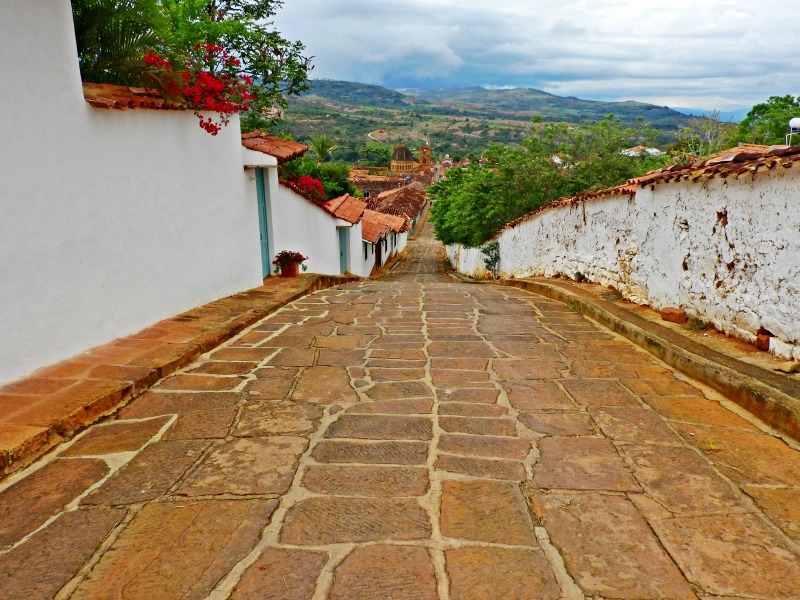 Parque El Gallineral
This lovely natural park in San Gil is very under-visited by travellers, but is definitely worth strolling around one morning during your time in the town. With a swimming pool, a couple of bars and restaurants and a nice little cafe, the park caters to travellers of all budgets and persuasions. A nice way to enjoy the little slice of urban nature would be to head down in the morning, grab a cup of coffee, and stroll the nature trails, enjoying lovely sightings of birds, tortoises and friendly red squirrels. Most of the parks trees are covered in thick hangings of pale moss, giving the entire park a somewhat mystical vibe. Open from 8-5 every day, and with adult tickets costing just 6.000 COP, there's no real excuse not to pass by El Gallineral for an hour or two, even if it's just to relax and get your heart rate down after some bungee jumping!
So there you have: my 3 days in Santander department with Ando Viajando and Viva Colombia. I also have to thank our generous hotel hosts for the trip: Hotel Terrazas de la Candelaria. The hotel was great: comfortable rooms, a beautiful dining area with sweeping views of the valley leading up to San Gil, good food, and some really excellent swimming pools. I'd highly recommend it to anyone with a slightly higher budget looking to enjoy a more luxurious stay in San Gil.
As I said before, this trip was certainly jam-packed, but this itinerary is certainly doable in 3 or 4 days for the active and busy traveller. There is convenient bus transport to all of the places involved and plenty of companies offering the extreme sports as packages. Plus, San Gil is well located on the road between Bogota and the Caribbean coast, so there's really no excuse to skip it!
Chris