The northern Colombian city of Valledupar is famous for a few things and, although not especially well-known by travelers to Colombia, is especially iconic for it's status as the birthplace and spiritual home of vallenato music, a traditional folk music form which has become arguably Colombia's most popular musical genre (at least within the country). And the most important celebration of vallenato takes place once a year in the sweltering hot Caribbean streets of Valledupar: the Festival de la Leyenda Vallenata, or the Vallenato Legend Festival. This festival is essentially a giant party throughout the region, but it's true goal is to crown the King of Vallenato, which basically comes down to the best accordionist.
Throughout the main days of the festival, stages are erected in various plazas in Valledupar, and artists compete in front of judges to move onto the final, which is held in the main stadium in town on the Saturday night. The most fun part of all this is that the stages are surrounded by thousands of seats and small bars, and accordionists and vallenato groups set up shop all around the square to practice their tunes. For me vallenato is best enjoyed with a cold Aguila beer and a group of people loudly singing along, so this was perfect! It also gave me a great chance to snap some shots of accordionists doing their thing, which you can enjoy below…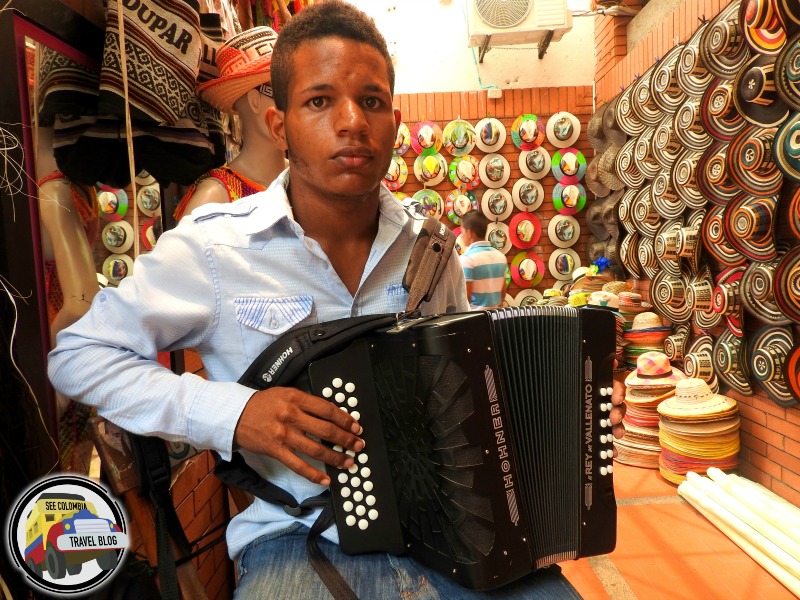 Visiting Valledupar for the Vallenato Legend Festival is not common for backpackers in Colombia – Valledupar already isn't especially touristy and the prices go up a lot for the festival. However, I can honestly say it's worth the time and little extra money – the festival is a truly off-the-beaten-track event for Colombia travelers, and a real expression of the best of Colombia: great music, friendly folk and true cultural significance. Plus, where else can you drink whisky down by the river in the middle of the day and seem totally normal?!
Chris